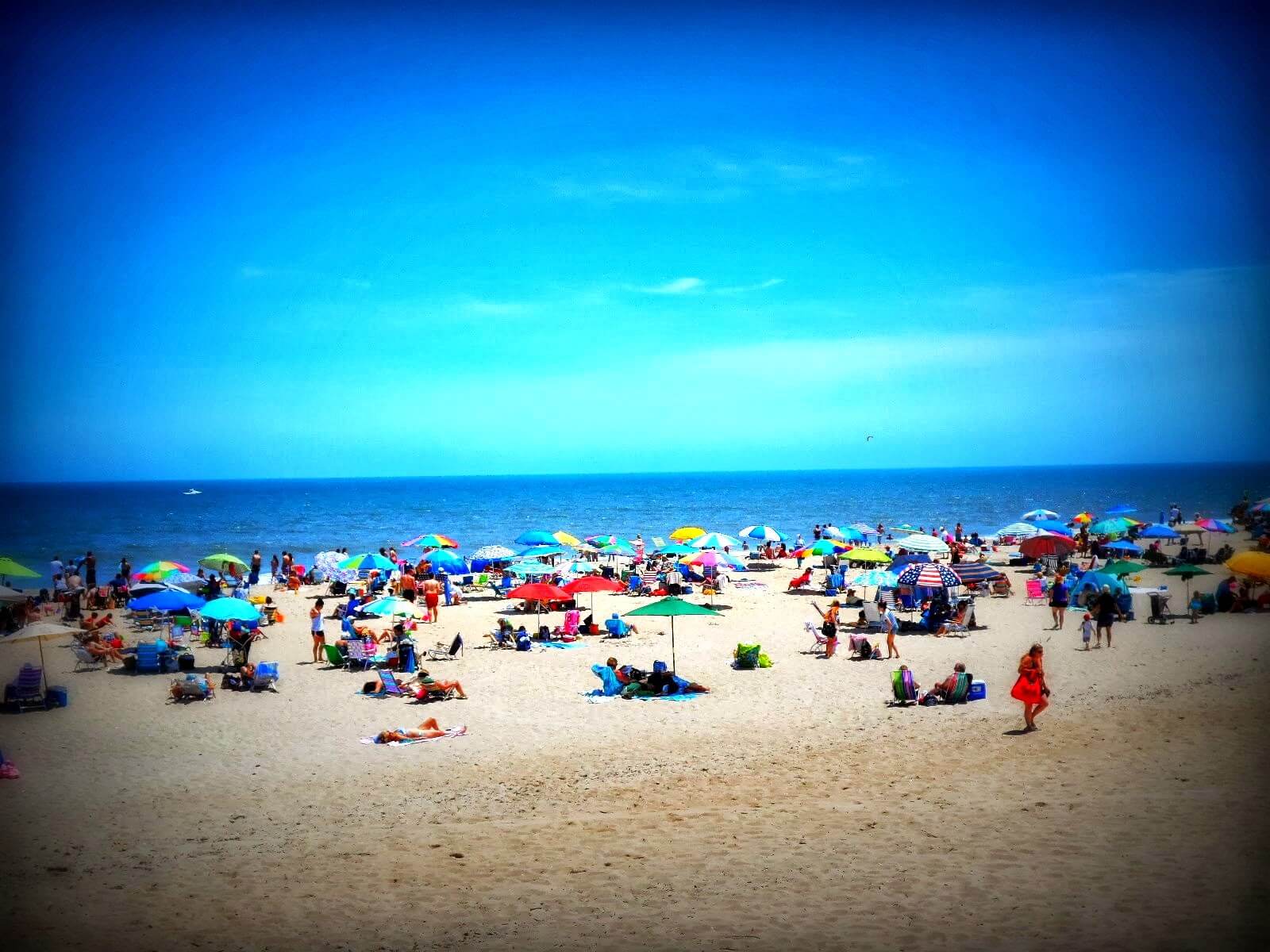 After spending practically every other summer weekend on the beach, for the two years Mal and Peter lived inВ Maryland, I kind of got used to that luxury! Instead of associating summer with steamy, NYC heat (which I do love), I found it synonymous with long days laying out in the sun and cooling off in the waves. (Which I love even more!)
So when Mal and PeterВ moved back to New YorkВ last year, I vowed to find a summer share so we could keep spending weekends on the beach.
That didn't happen.
I got caught up with life (the new job, etc.). And before I knew it, summer was here. I had missed the summer share market by months.
As a consolation, I decided that the next best thing would be to rent a beach house for a weekend—and fill it with a lot of our friends. Luckily, our friends were game. The hardest part was finding an affordable rental!
The market is insane—especially if you start looking for a July rental in June. I spent a good two weeksВ speaking with realtors andВ scouring rental listings for every beach town in New York, New Jersey, Delaware and Maryland. (I'm not exaggerating! The places I looked at included Fire Island; Montauk; the Hamptons; Long Branch; Ocean Grove; Asbury Park; Lavalette; Long Beach Island; Avalon; Cape May; Ocean City, NJ and MD; Rehoboth Beach; Dewey Beach; Lewes Beach; Bethany Beach…and more.)
In the process, I learned:
No one rents for just the weekend in high season.В Unless you want to pay a ridiculous amount of money—as in, $3,000 for two nights for a house that sleeps eight.
Prices are crazy.В Everywhere I looked, most low-end rentals (small homes that slept six to eight people) generally started around $3,000, though most were at least $5,000—or more. Much more.
Most rentals are Saturday through Saturday.В I don't understand that—because you don't get a full weekend! One realtor I spoke to told me it's because it's hard to find people willing to clean the homes on Sundays. Um, ok.
Contrary to what I'd assumed, Sandy-affected areas were not offering steeply discounted rates.В In fact, a Long Beach Island relator told me that most owners aren't lowering prices because they're hoping to recoup some of their losses.
My new goal in life is to buy a beach house an hour away from the city.В Because it's probably much more doable than buying an apartment in Manhattan. And it would be a great investment because I could always rent it out. And I'd never have to deal with the crazy rental market again.
I eventually found one home that was (miraculously) a Sunday to Sunday rental, available the dates we wanted to go. The price was low enough—shocking low, actually—that we were willing to sign a week's lease, even though we'll only be using it for four nights. (Hopefully, it'll be in pretty good condition!) And it's in Bethany Beach, Delaware—a town I loved visiting the past few summers, and home to our favorite blue crab restaurant.
But mostly, I'm looking forward to a few days on the beach surrounded by good friends.
Hooray for summer!