Whenever anyone asked me how my trip to London was, my automatic response was: "It was amazing! I ate sooooooooo much!!" Which prompted most people to respond: "Really? I thought the food wasn't that great over there."
I can't speak to how London's overall dining scene is, since I was there for such a short time. But everything I ate was fabulous. Reen planned an awesome itinerary for my trip, which revolved around two of my favorite activities: eating and wandering around. Each day, we trekked for hours, getting to and from every restaurant.
I couldn't have asked for a better arrangement. Along the way, I saw tons of the city and walked off a fraction of the calories we consumed. And, best of all, we got to catch up on everything that's been going on with us on opposite sides of the ocean, for the past year!
Some highlights:
Despite flying in on a red eye, I was still game for a long walk from Reen's Marylebone apartment to Spitalfields. We had a late lunch at the English Restaurant, a wonderfully old school place. It's housed in building from the 1670s, and the interior has gorgeous wood floors and dark wood booths. The restaurant has a lovely menu, which includes some refined takes on British standards. We shared a delicious salmon roulade and an omelet.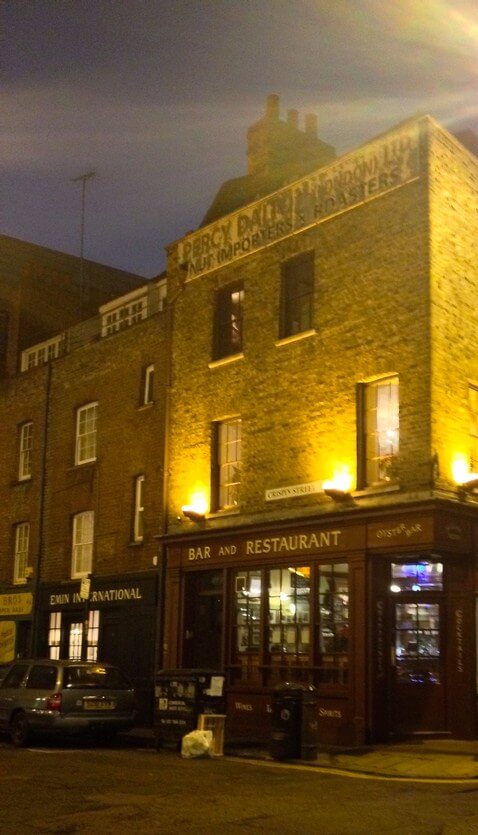 Later, we had drinks with some of Reen's co-workers. I don't remember either of these two things from my previous trip to London, but I'm convinced we need both, in the States: The ability to stand outside a bar and drink. (As long as you're in a designated area.) And mulled wine. Seriously, it's one of the most amazing drinks I've ever had. How has it not infiltrated bars on this side of the pond?
The next morning, we embarked on another long walk to Maltby Market. Along the way, Reen led us down Drury Lane, which she knew I'd love for one reason: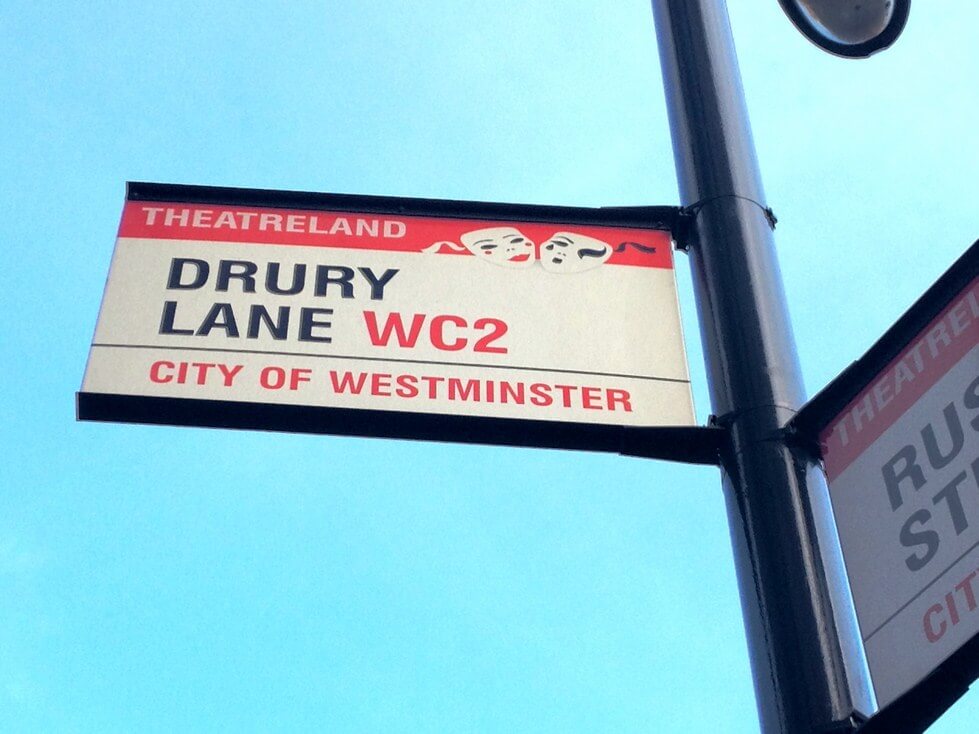 …there are a bunch of ballet shops within a few blocks of each other! Of course, we stopped into a few.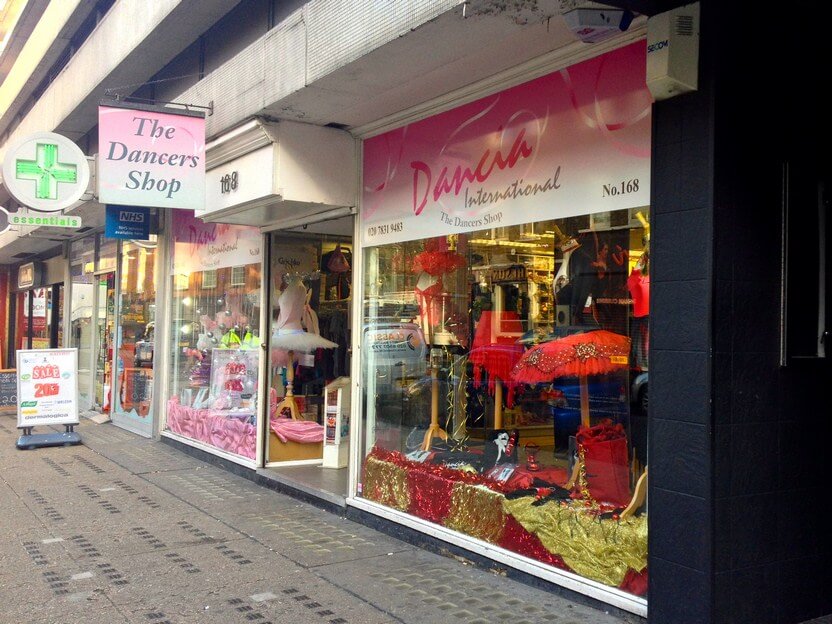 The Bloch store was my favorite. It was new and pretty with all their shoes displayed on the bottom floor. At Bloch, and the other stores, women and girls were getting fitted for their pointe shoes. It's funny—and comforting—how ballet rituals are similar, no matter where in the world you are.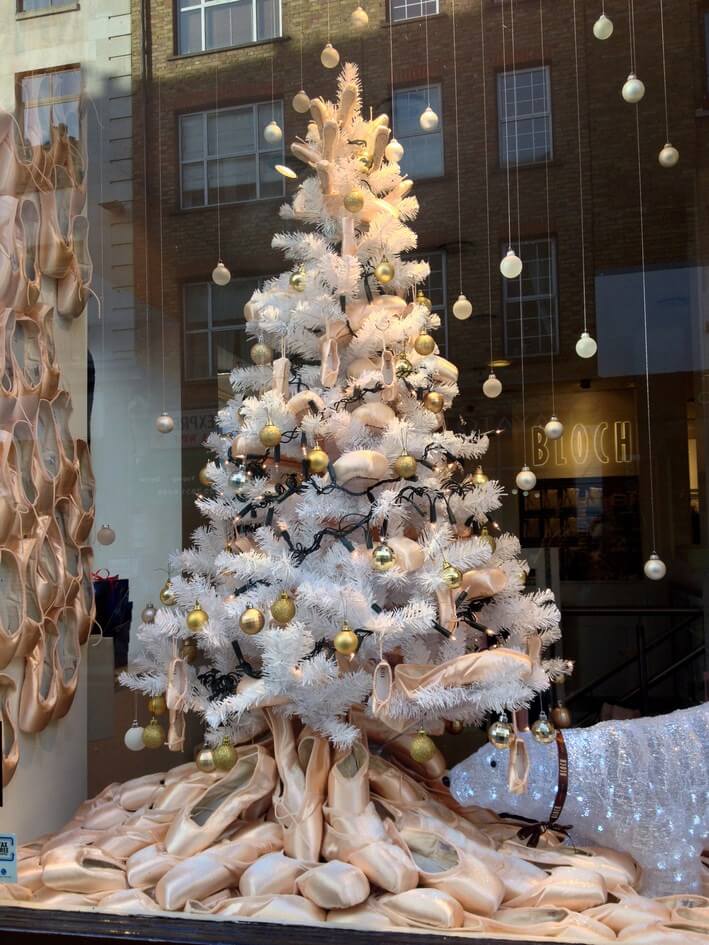 After crossing the Thames and walking along the south bank for a while, we came to what appeared to be a row of garages under a bridge. We'd arrived at Maltby Market.
On weekends, each of the garages houses a pop-up restaurant or food stall—but they're only open until they run out of eats, usually between 2 and 4.
Reen had chosen Bea's of BloomsburyВ for brunch. When we arrived at their garage, we were dismayed when we saw their door down—we'd thought we'd missed our window of opportunity!
Then we realized you could walk in through a small door within the door…
…and into a cute, makeshift restaurant!
Bea's has a simple brunch menu with staples like pancakes, french toast and poached eggs. I opted for both the pancakes and a poached egg and a side of smoked salmon.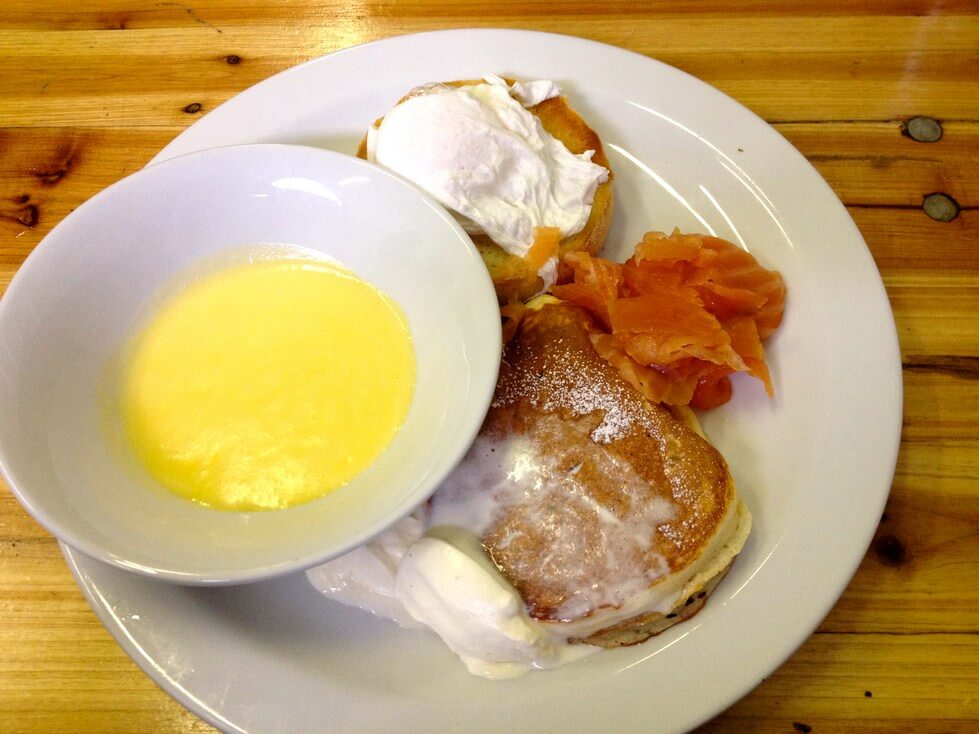 Bea's also has maple bacon, which is the most amazing bacon I've ever eaten—sweet, salty and crispy, all at once. Sadly, I was too busy chowing down on it to take a pic!
Afterwards, we stopped into the other pop-up shops. My Cup of TeaВ had gorgeous-looking blends and elegant accessories.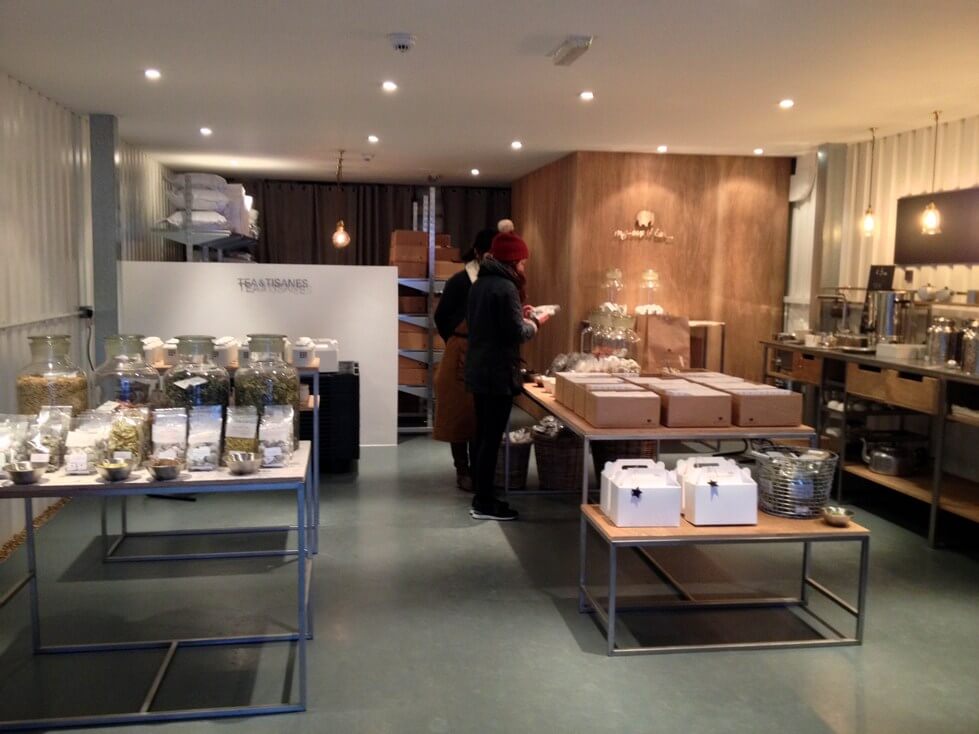 A few steps down, Comptoir Gourmand was selling some of the prettiest pastries I've ever come across.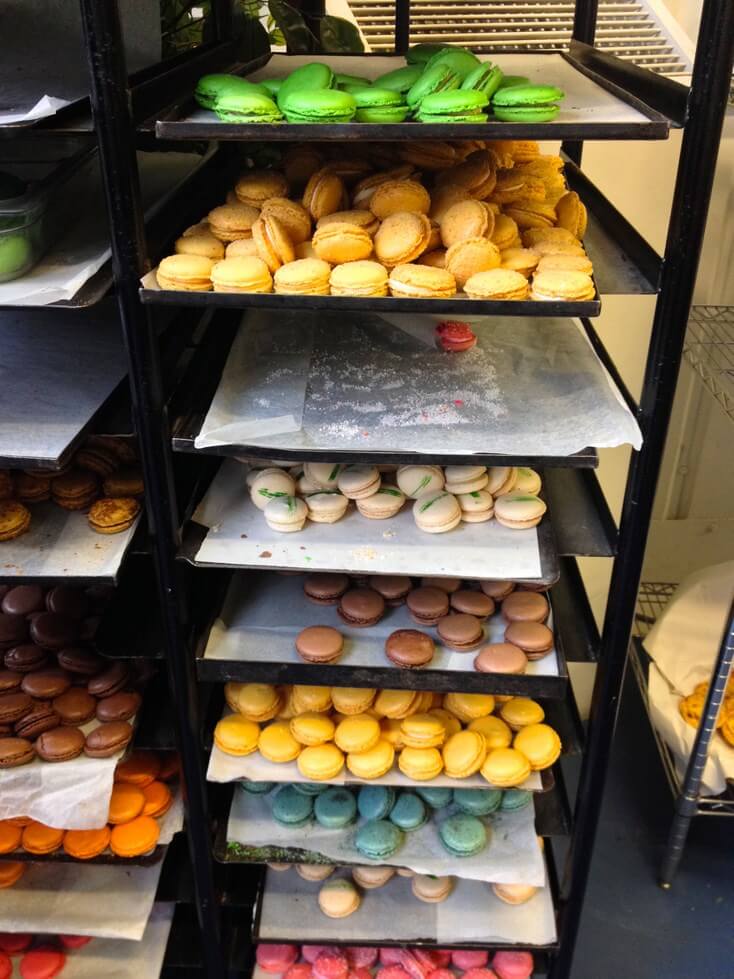 I wished I could have sampled everything, but I was so stuffed, that I just opted for one of their Portuguese egg tarts, which I devoured a few minutes later. So delicious! The filling was thicker and richer, and the crust more flaky than the Chinese ones I'm used to eating.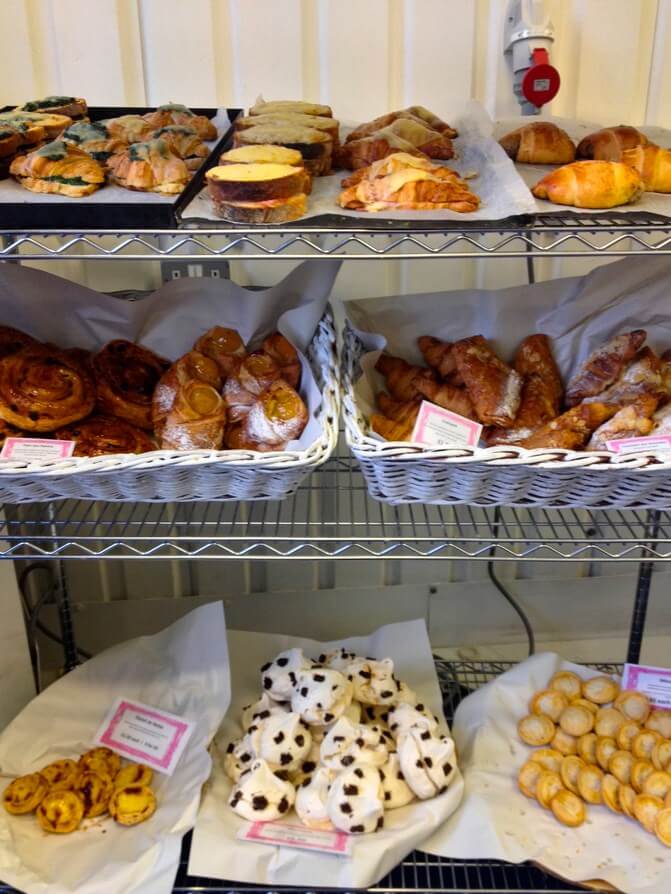 On the other side of the bridge is Maltby Market's Ropewalk—which meant even more amazing-looking food and cocktails!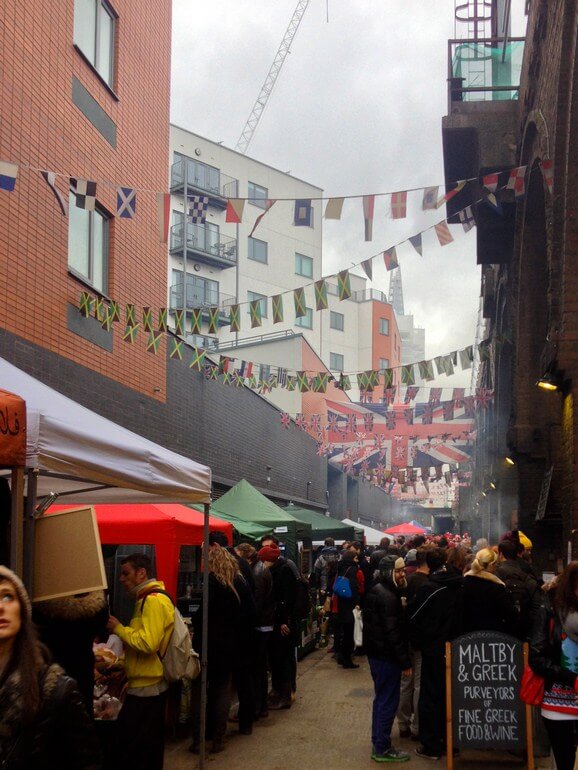 Again, I wanted to try everything. Reen highly recommended the Bad Brownie Company, so we got one to go.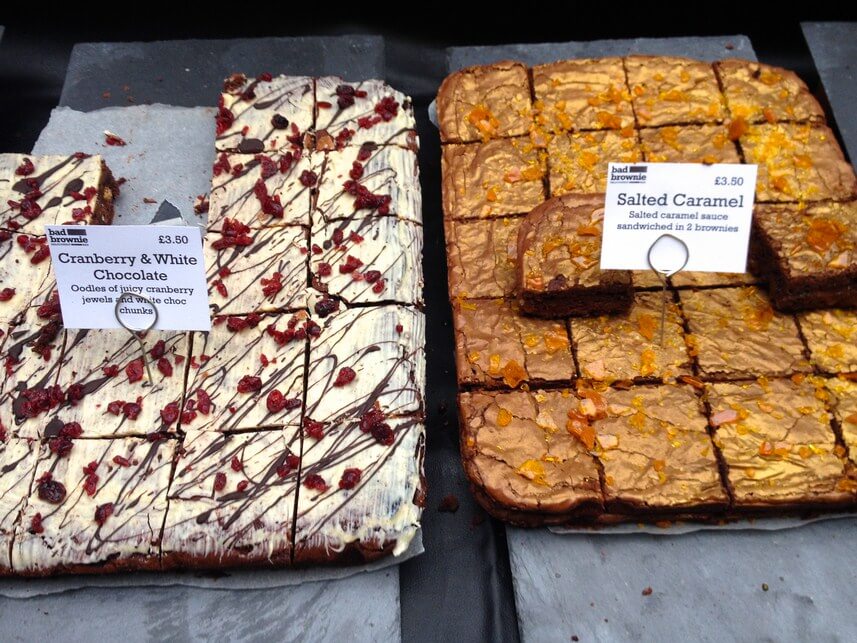 To return to Reen's place, we walked back along the south bank of the Thames, passing sights like Tower Bridge.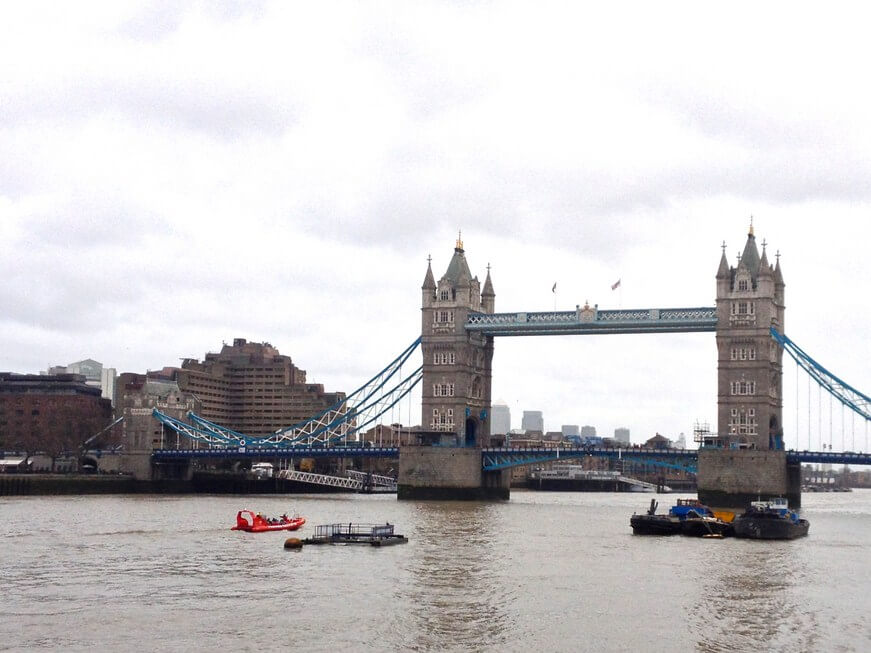 We eventually hit the Southbank Christmas market. Unlike Maltby, this place was packed—a complete sea of wall-to-wall people! It had a German theme, so all the booths looked like little wooden chalets. We purchased cups of mulled wine to sip as we walked. Though, thanks to the crowds, I could barely drink it!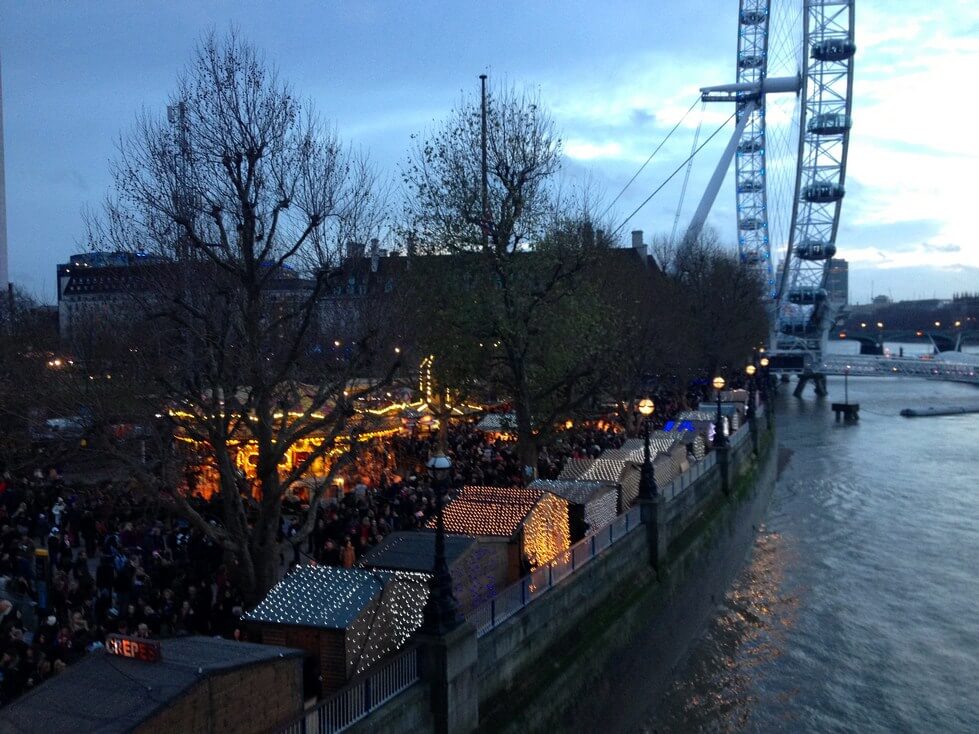 We crossed the river right near Big Ben, which looked gorgeous in the sunset. So much so, that we asked someone to take this touristy photo of us!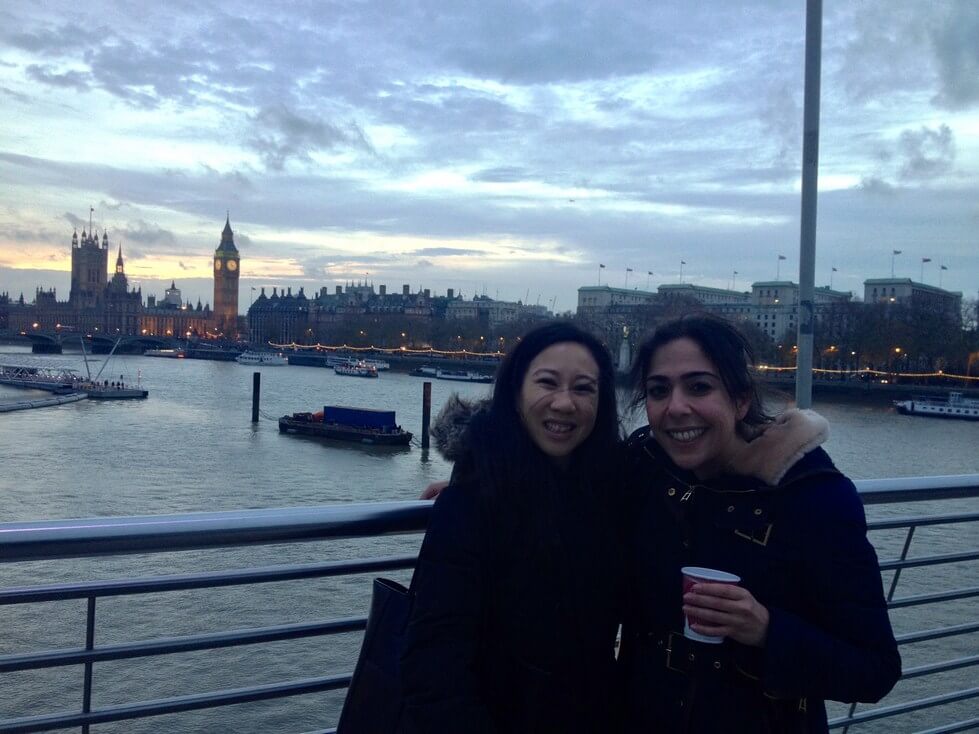 The following morning, we walked to Notting Hill for brunch at Granger & Co. Reen had warned me that we'd have to get there early, because there's always a line. She wasn't kidding!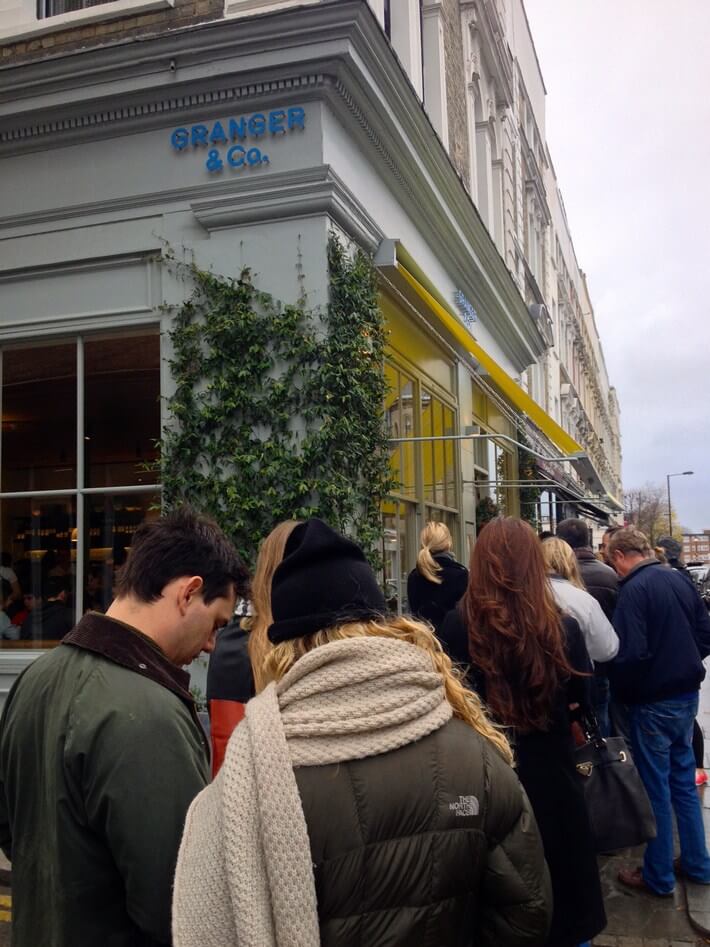 Luckily, it moved pretty quickly.
I loved the aesthetic of the restaurant—the big windows and wooden ceiling.
Everything on the menu looked fantastic, as well. Since I was already doing a great job of eating my way through every place we hit up, I opted for the full Aussie breakfast. It was great, especially the eggs—though I wasn't able to finish it!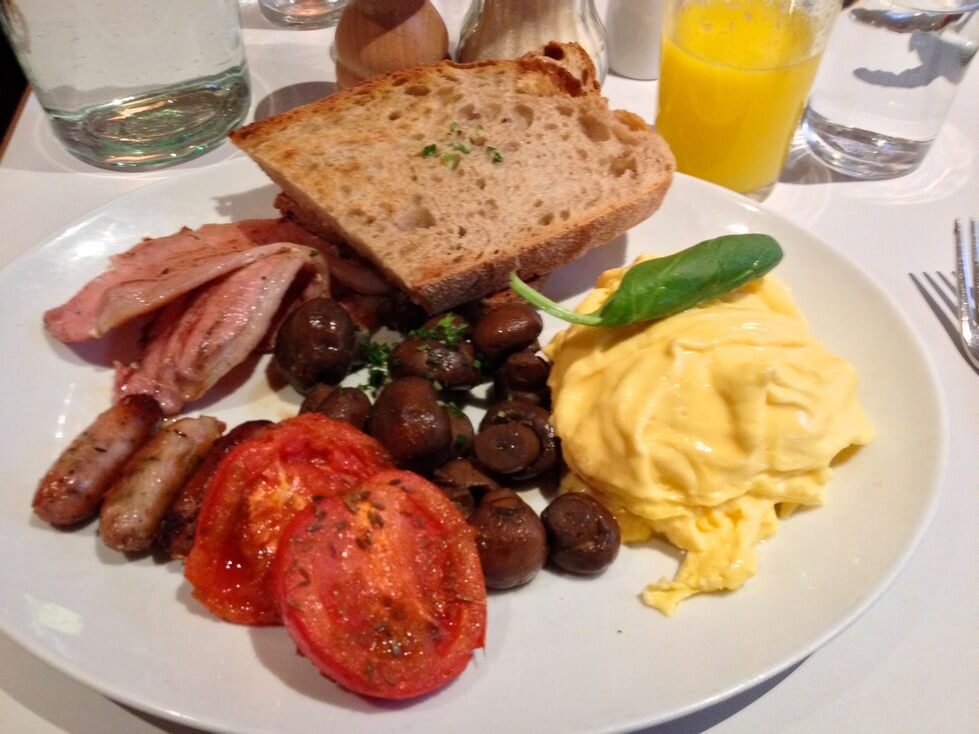 Even though it was drizzling, we walked around Notting Hill. The neighborhood is adorable, with pretty little houses and boutiques.
We stopped into Ottolenghi, the deli/patisserie from the chef/cookbook author of the same name. (He wrote that Jerusalem cookbook, that's been everywhere!)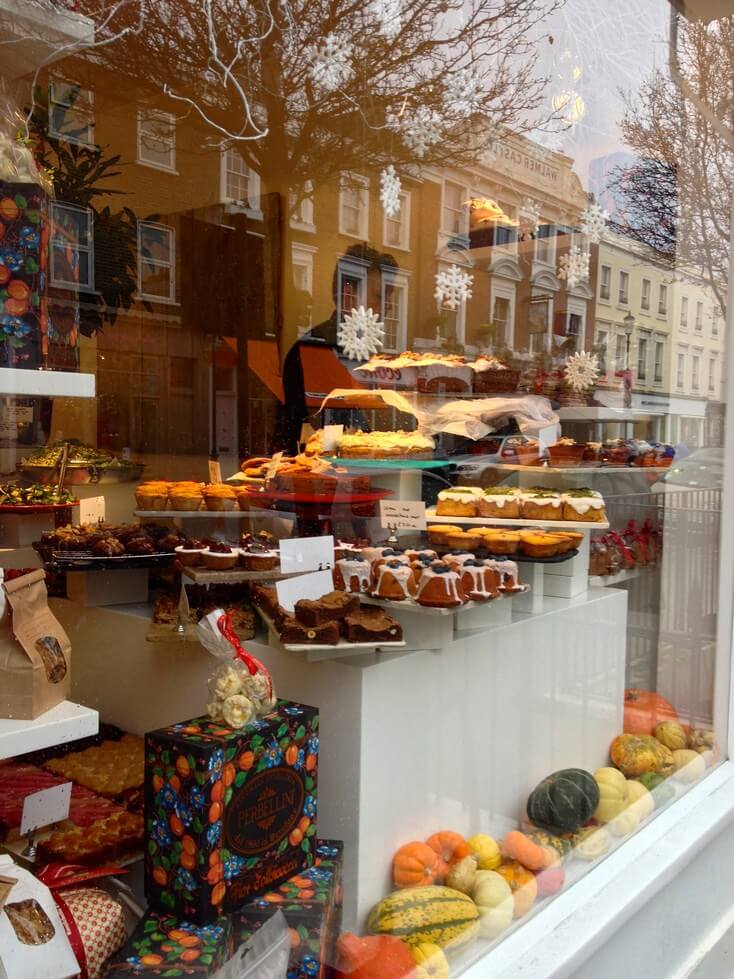 The salads looked so good, but at that point, I was stuffed nearly to the point of self-loathing.
So Reen and I got a few treats (a cupcake, chocolate-dipped macaroon and lemon tart) to go.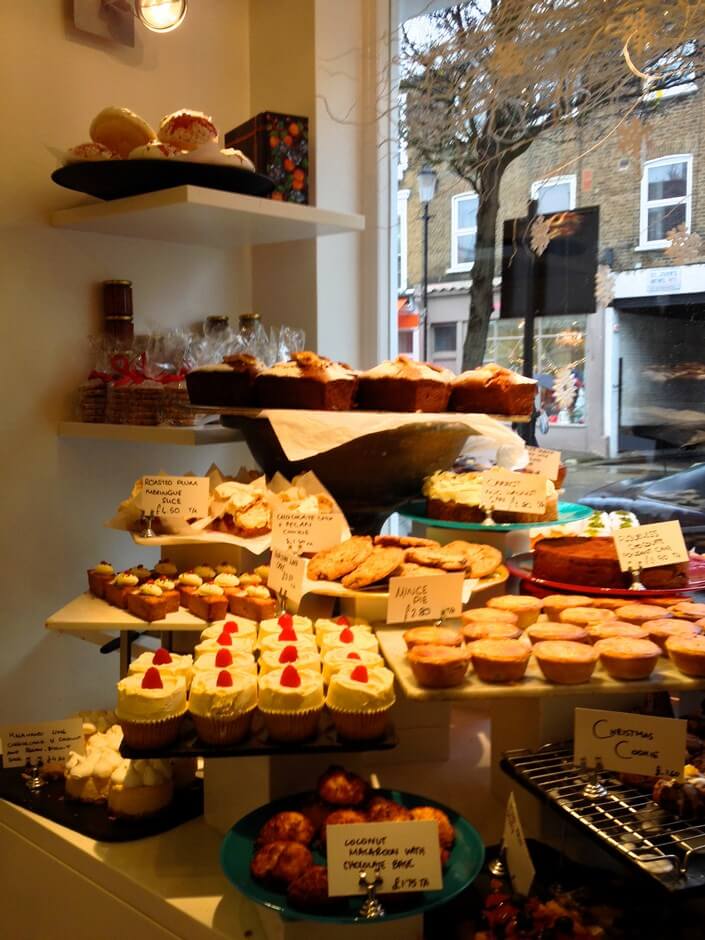 I was still full on the walk back to Reen's place, but since I was so hooked on mulled wine, I couldn't resist the chance to stop for a glass. We ducked into the Swan, one of Reen's go-to spots. The owners of the pub were super-friendly, and they gave us two very tasty mince pies to go with our drinks. (I think we could use some more mince pies, here in the States, as well!)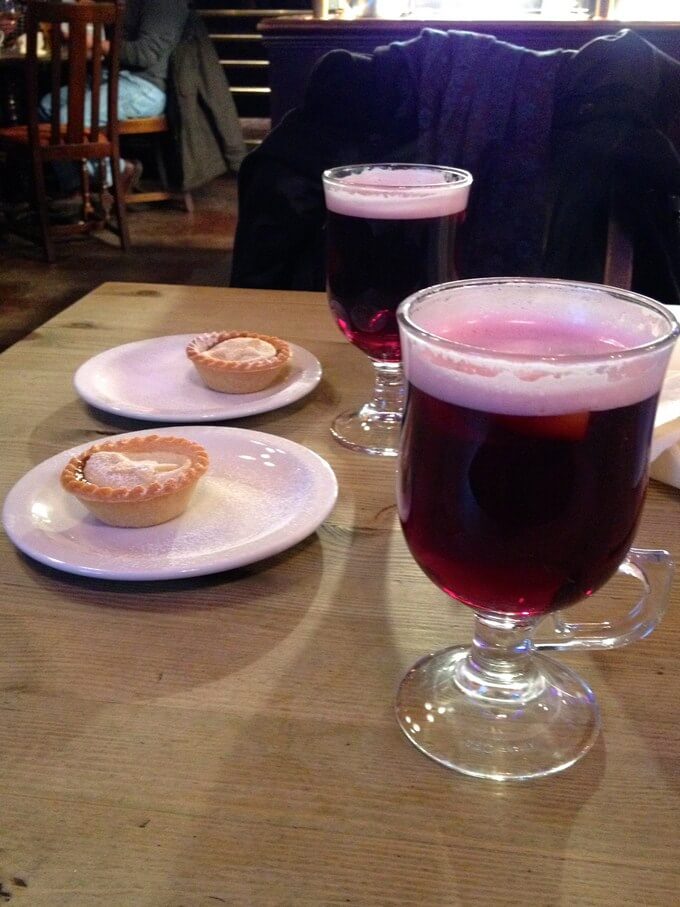 That evening, we went to St. John for dinner. The restaurant features local, seasonal ingredients, and its menu is comprised of small plates for sharing. Reen and I each selected two. I chose the kohlrabi, brown shrimp and cucumber salad. It ended up being my favorite dish of the trip—and that's saying a lot! The salad was light and refreshing and perfectly dressed. I also chose the whole crab with mayonnaise, which was among the most popular dishes at the restaurant, that night. Nearly all the other diners were eating it, too. I don't think you can go wrong with whole crab. We ate ours sans the mayo, and were glad we did, a few minutes later.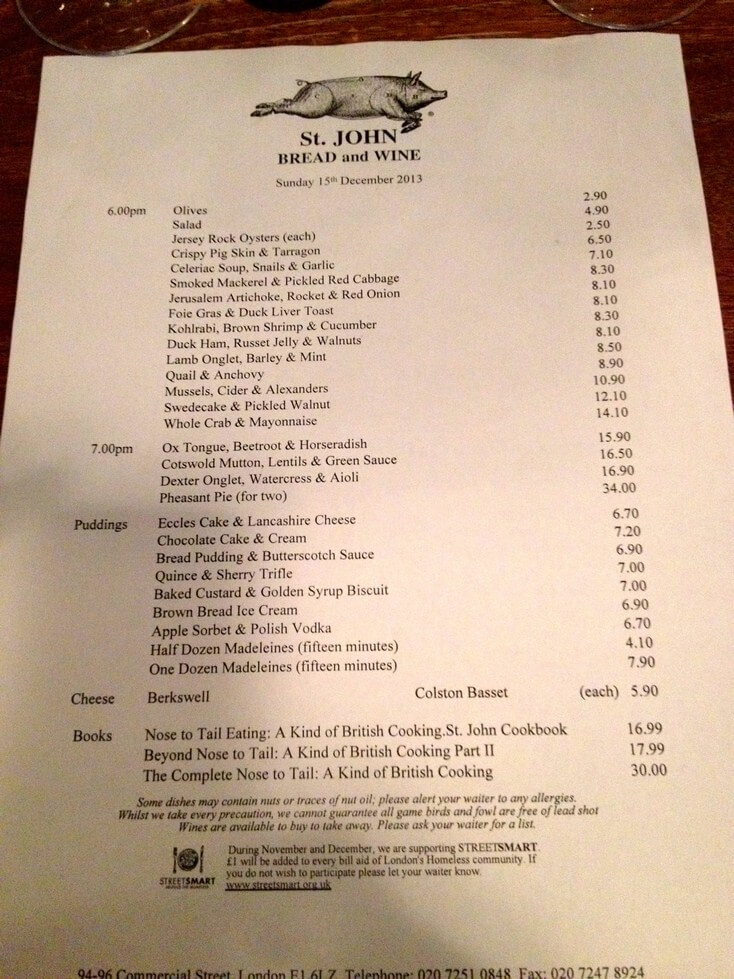 Reen's two picks came out next, and they were probably the two richest plates on the menu. The fois gras and duck liver toast was amazing, but also the heaviest thing I've ever eaten in my life. After just a few bites, I was stuffed to the point of self-loathing. Reen was, as well. We were nearly in pain when the Jerusalem artichokes came out—covered in a creamy sauce. Yet, we still managed a few bites.
At that point, we were ready to explode. Still, we got two of the puddings, anyway—because we had to try dessert, as well!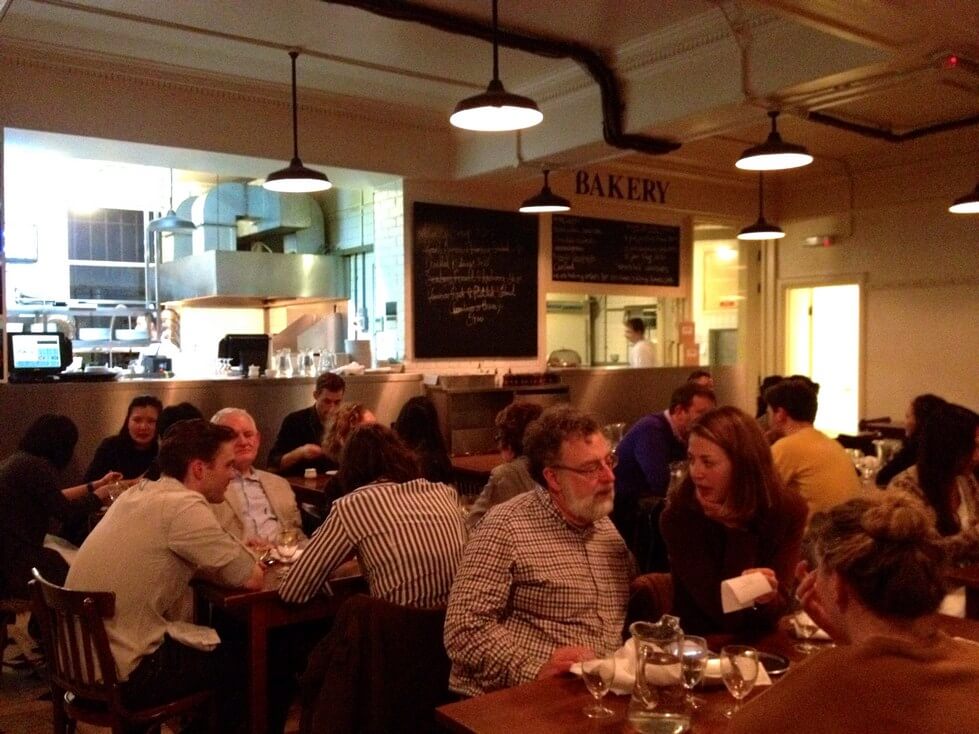 The next morning, Reen had work, so she recommended I get breakfast at the Providores and Tapa Room, a cute restaurant in her neighborhood.
Even though I was meeting her for lunch just a few hours later, I had to try the Turkish eggs:В poached eggs on yogurt with hot chili butter. I would happily eat that for breakfast every day, if I could!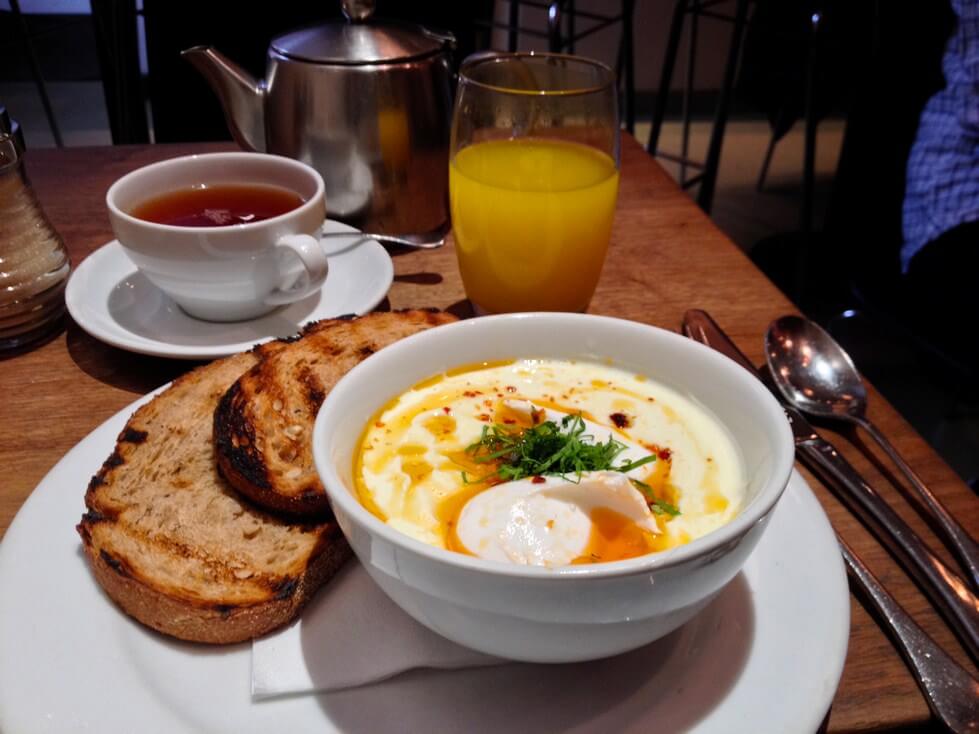 My last meal in London was at Spuntino, another awesome place Reen knew of. It's nondescript from the outside; I'm don't even remember seeing a sign. Inside, it has an underground feel, thanks to the distressed subway tiles, exposed brick and bare lightbulbs.
We shared a pulled pork slider, the slaw and the mac and cheese—one of the creamiest and most delicious I've ever had. It was more than enough to fortify me for my tube ride to the airport and flight back to NYC.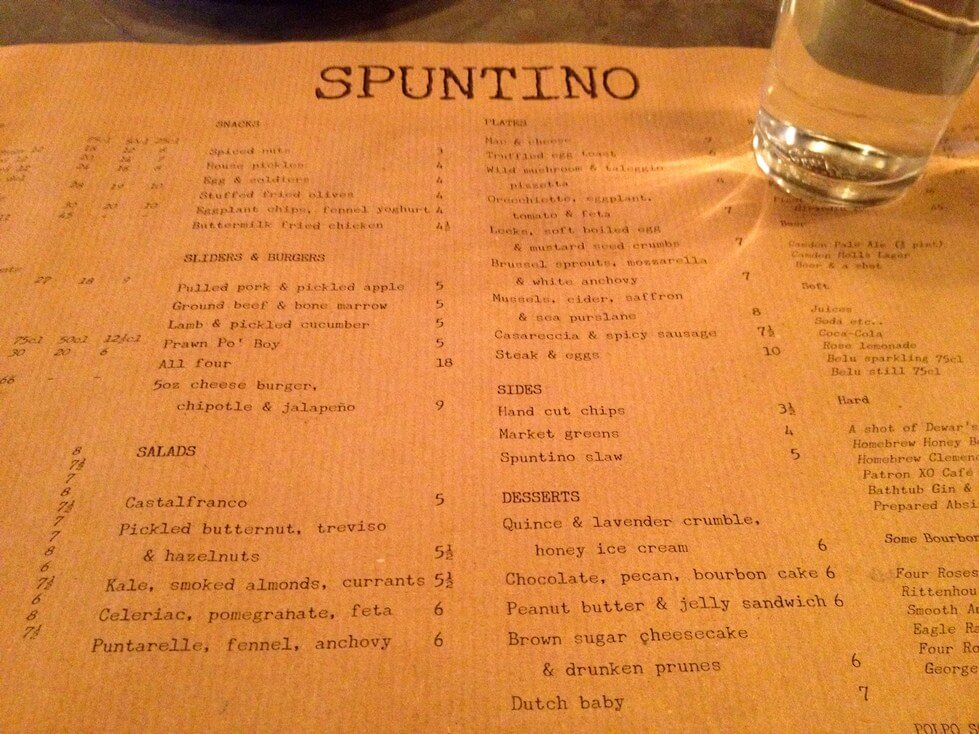 …I also cannot thank Reen enough for being the best host (and friend!) that I could ask for! Thank you, thank you, Reen for making my trip so wonderful!