As you may have noticed, from my lack of posts, this holiday season has been nutty! But as hectic as it's been, I've enjoyed every minute: spending a whirlwind long weekend in London with my best friend. (Highlights coming soon!) Seeing Ailey during their annual City Center run (Wayne McGregor's "Chroma" was the highlight of the program I saw) and ABT's Nutcracker. And celebrating Christmas with all my loved ones, yesterday. (Mal and Peter are the best hosts, ever! They plan the menus, do all the cooking and somehow manage to mix and mingle with everyone.)
In a month filled with great times, one experience especially stood out as a highlight: Seeing the Royal Ballet,В in London.
Like I'd mentioned, my best friend, Reen, and I both tried to get Royal BalletВ Nutcracker tickets weeks ago, but they were sold out. My parents (who I already knew were the world's most awesome parents), however, surprised me with tickets before my trip.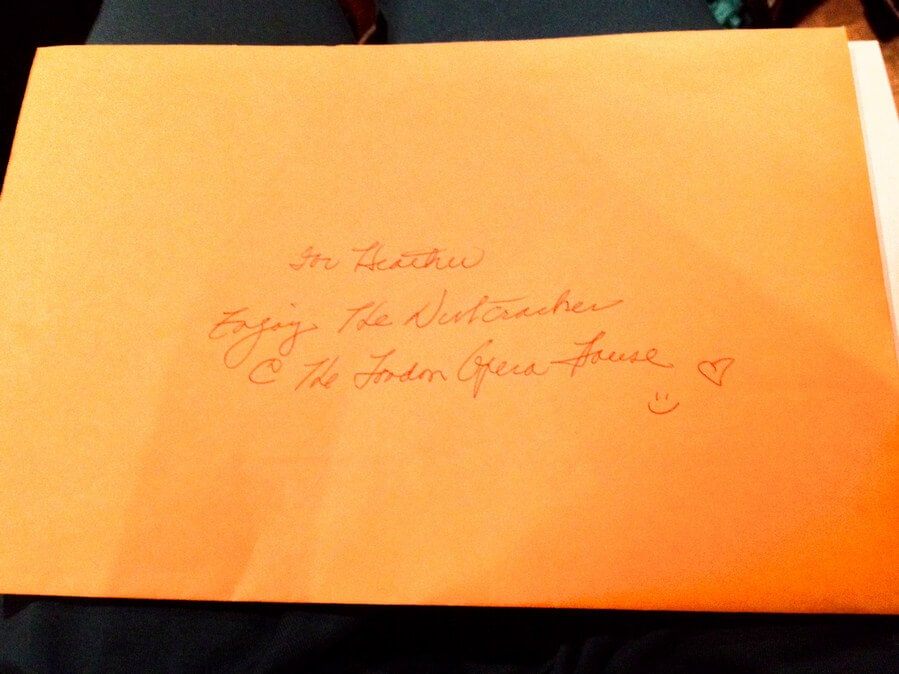 They'd purchased them via Stubhub. And in an additional surprise, the seller included this beautiful note when she mailed the tickets. (I've also transcribed it, below, since it's a little hard to read.)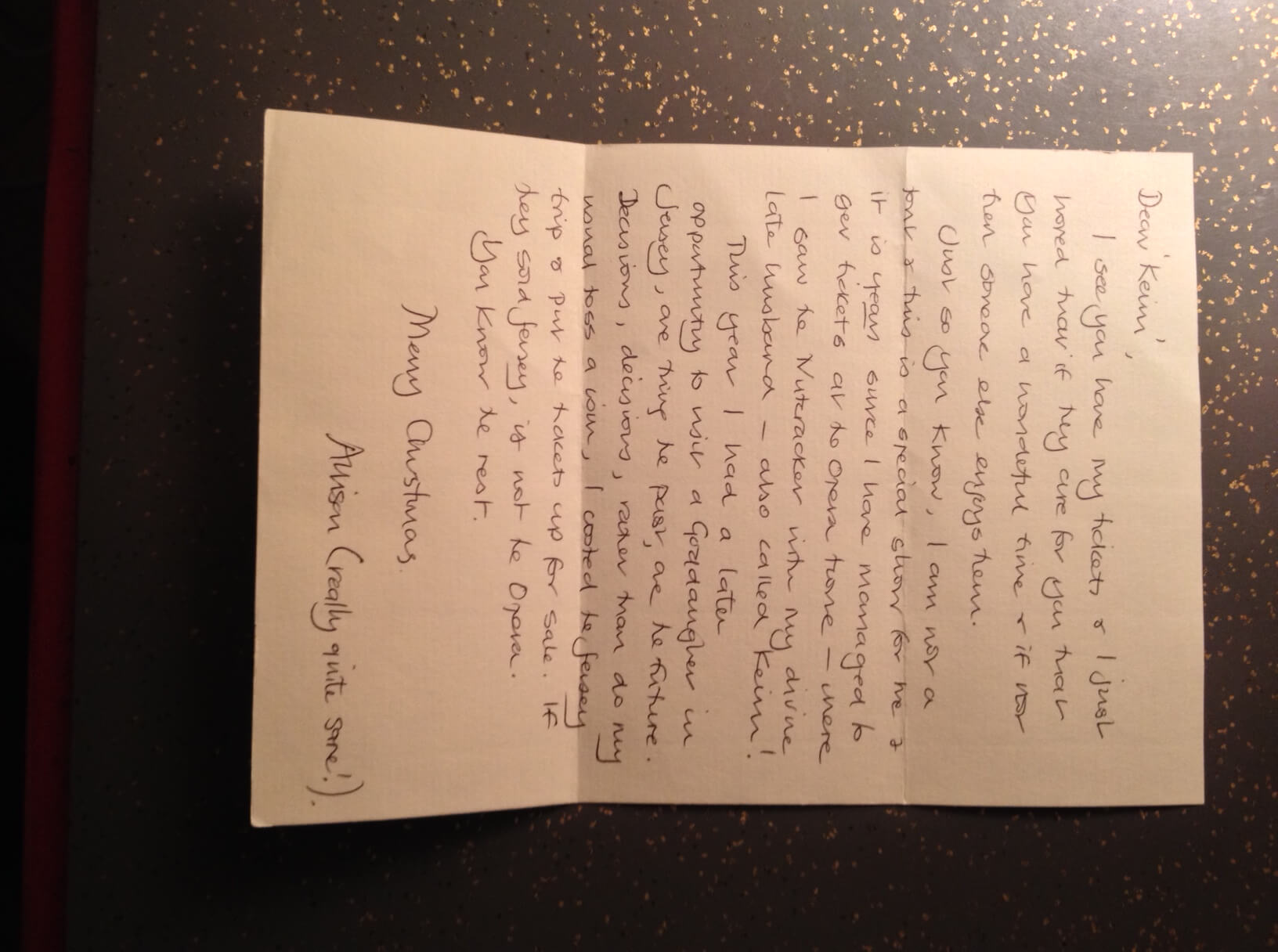 Dear 'Kevin,' [my stepdad]

I see that you have my tickets and I just hoped that if they are for you that you have a wonderful time and if not then someone else enjoys them.

Just so you know, I am not a [illegible] and this is a special show for me and it is years since I have managed to get tickets to the Opera House—where I saw the Nutcracker with my divine late husband—also called Kevin!

This year, I had a later opportunity to visit a goddaughter in Jersey, one thing the past, one the future. Decisions, decisions, rather than do my usual toss a coin, I costed the Jersey trip and put the tickets up for sale. If they sold, Jersey, if not the Opera.

You know the rest.

Merry Christmas.

Anison (really quite sane!)
…I nearly cried after reading that! (And, to be honest, got a little teary while typing it up, just now!)
Dressing up and going to the Royal Opera House was so exciting. For such a renowned theater, it's surprisingly nondescript from the outside.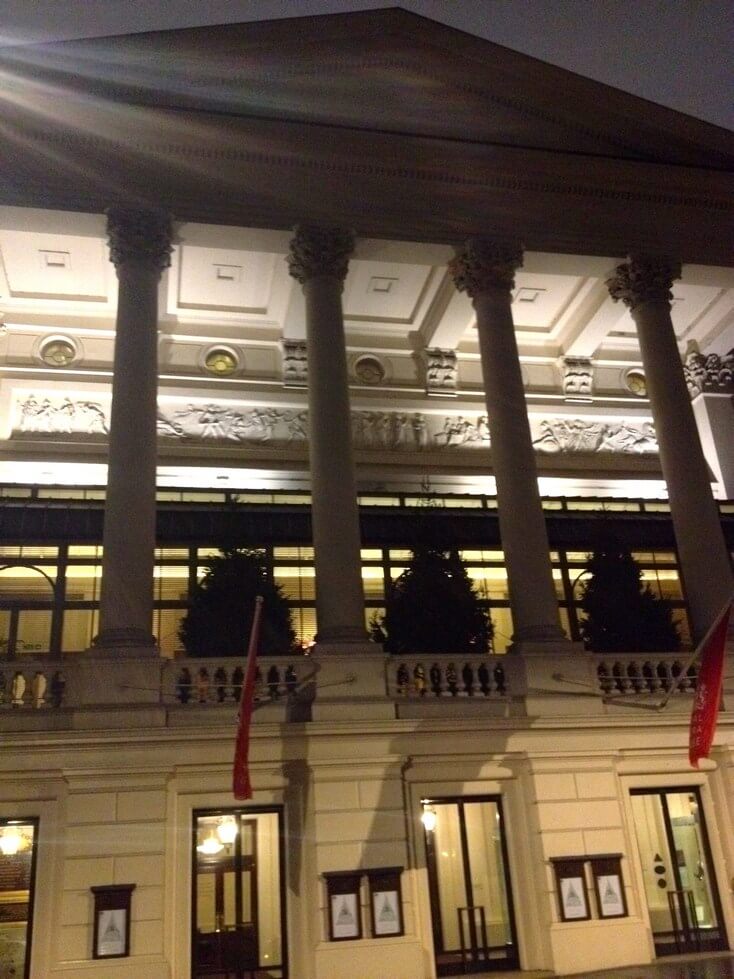 I was also shocked at how small it was, in the inside! I suppose I've become accustomed to the massive proportions of the Koch Theatre and the Met Opera at Lincoln Center.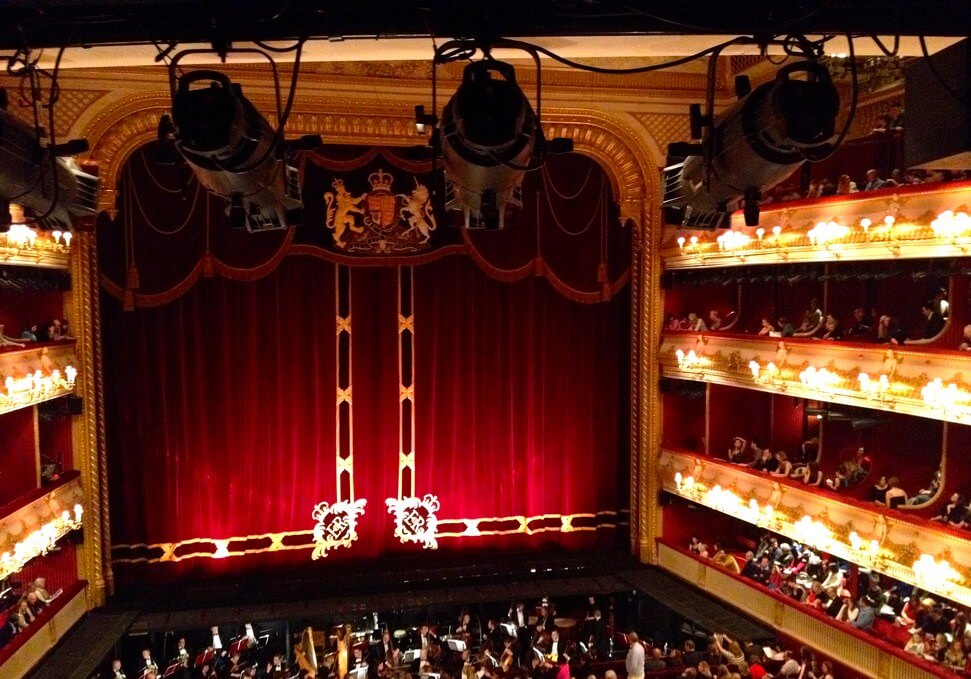 Our seats were in the center of the balcony, but it felt super-close to the stage. Since the theater is so intimate, there isn't a bad seat in the house.
The performance, itself, was great—I really enjoyed watching a production that was new to me.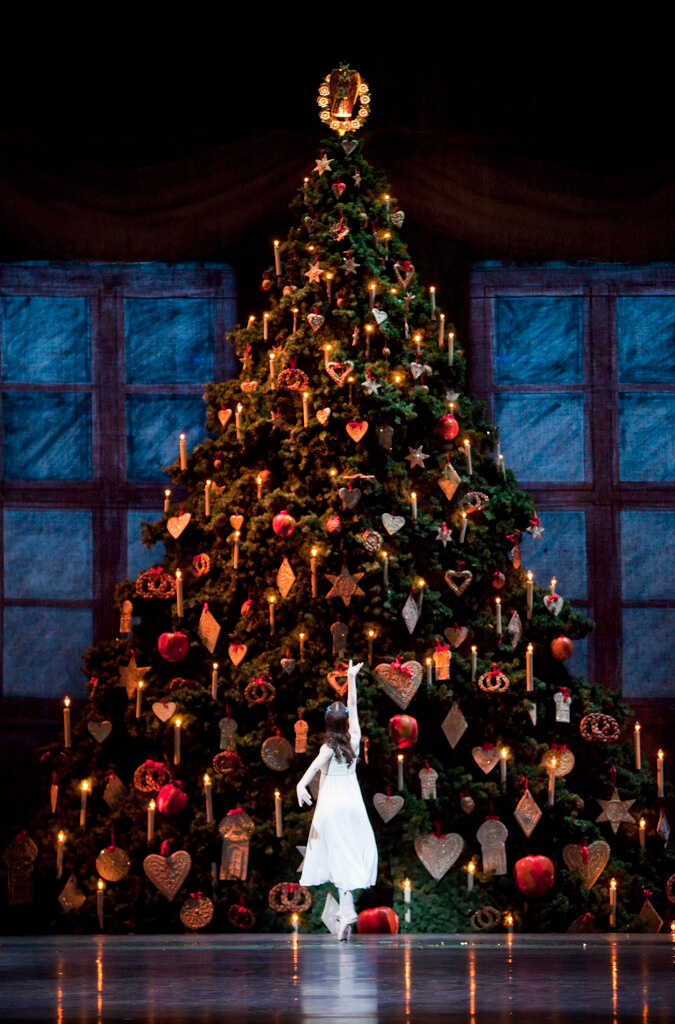 Unlike in Balanchine'sВ Nutcracker, the version I've seen the most, Clara is a company member, rather than a child. She dances en pointe through most of the performance, and is featured in most numbers.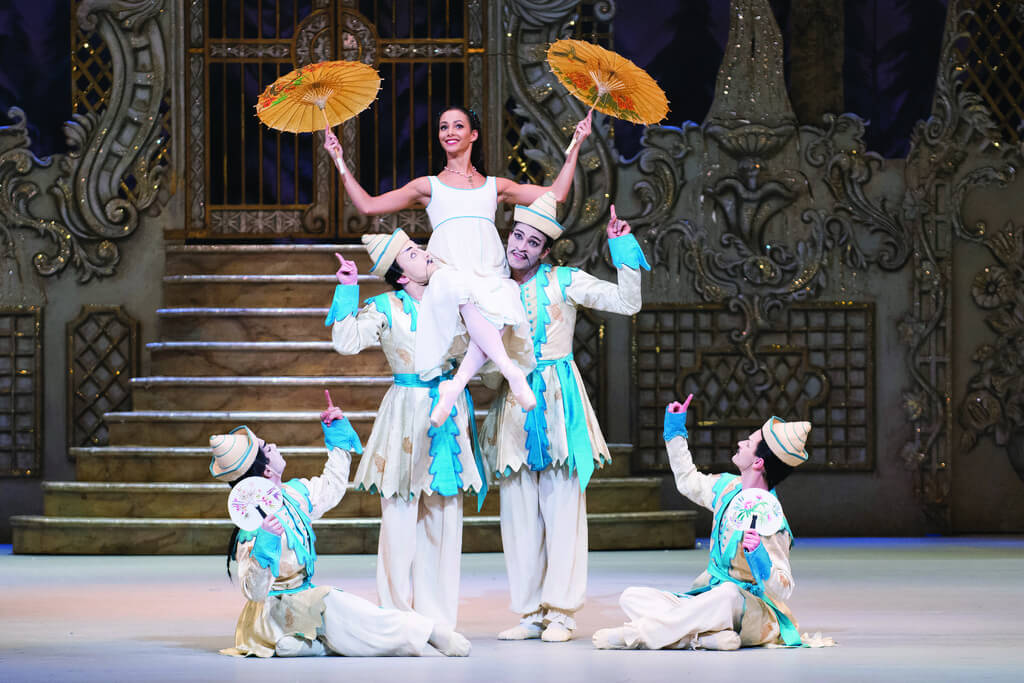 Plus, it was interesting to see how the company still keeps the tradition of putting most dancers in wigs. I can't recall a U.S. company that does the same!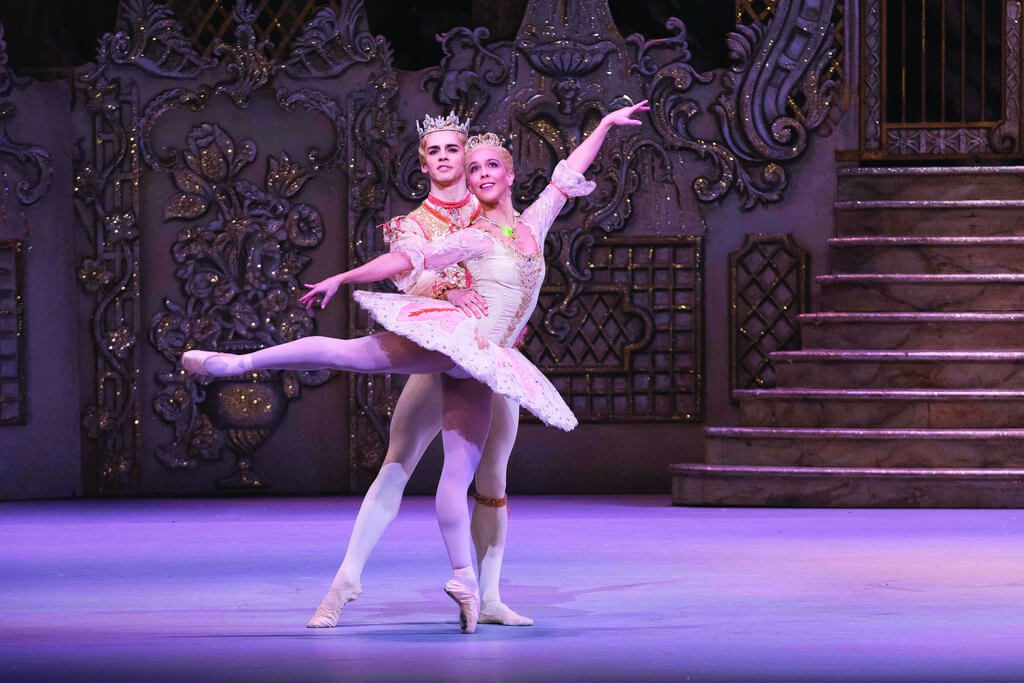 One particularly special moment, for me, came at the end of Act I, during the "Waltz of the Snowflakes"—my favorite part of the ballet. I'd forgotten that the version of "Snow" that I'd performed last year was partially based on the Royal Ballet's choreography. So when the snowflakes came out and started dancing, I remembered that I had done many of those steps, myself. I felt truly lucky to see the Royal Ballet perform it live. I'd watched this low-quality YouTube versionВ many times in the past. It majorly pales in comparison to seeing it in person!
During intermission and after the performance, Reen and I went to the Opera House'sВ Paul Hamlyn Hall Champagne Bar, which is in a gorgeous glass atrium.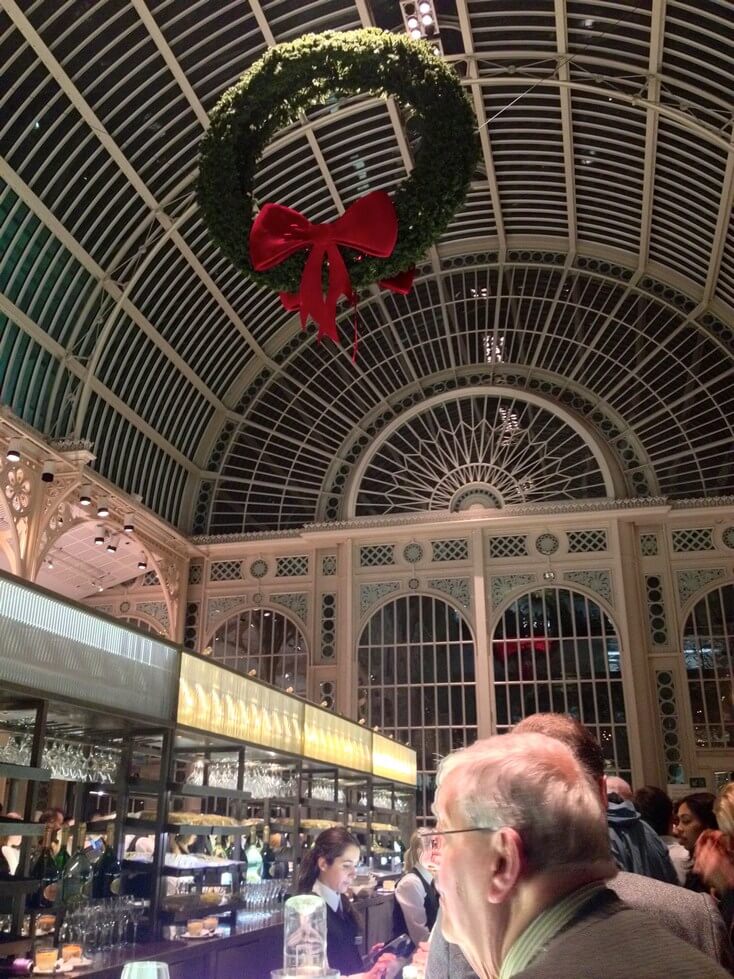 At the bar, you can pre-order food that would be set out for you during intermission. So Reen treated us to champagne and plates of smoked salmon andВ charcuterie, which we ate between acts. (Thanks Reen!)
I can't thank my parents (and Reen!) enough for such an awesome night. You can just tell, from this photo here, how thrilled/thankful/happy I was. And still am.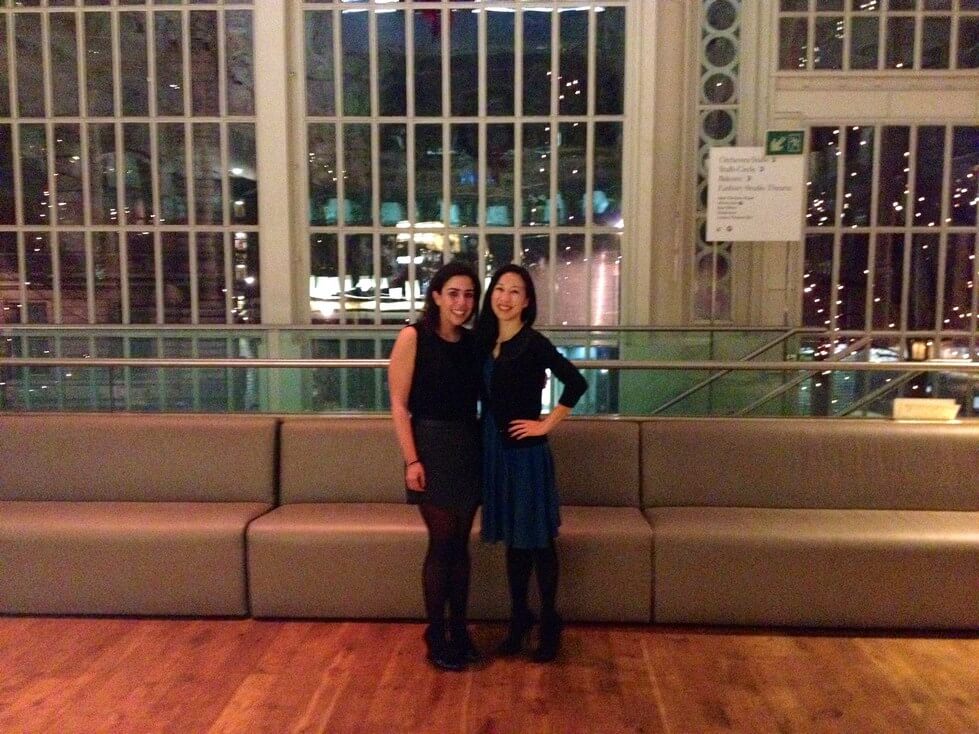 (Royal Ballet photos via the Royal Opera House)