As you might have guessed from my previous entry about tango, I didn't seek it out in Buenos Aires. But I did take ballet.
Before my trip, I researched open ballet classes in BA and found Ballet Estudio. They offer many levels of classes a day, and had trained a number of renowned dancers, including ABT's Paloma Herrera. Plus, I learned that in September, Alvin Ailey held a master class there. Via Facebook photos, it was cool to see a bit of my NYC in BA—the faces of company dancers whose photos are all over my NYC studio, and whom I occasionally see. Plus, it confirmed that I'd chosen a legit place!
I went to the studio on the Monday afternoon of my trip, for an advanced class. (I figured if I usually take intermediate classes in NYC, then I'd survive an advanced class in BA.)
The studio was on the second story of a Recoleta building.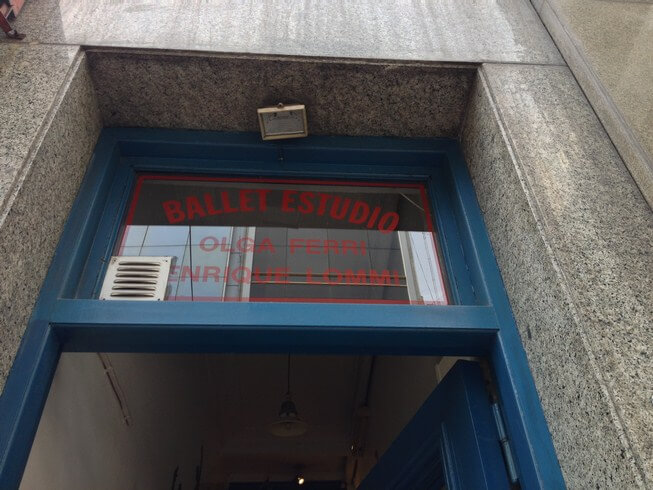 The doormats read "Welcome Home," which made me smile, as did the weathered ballet photos in the reception area. Especially this one of Paloma Herrera.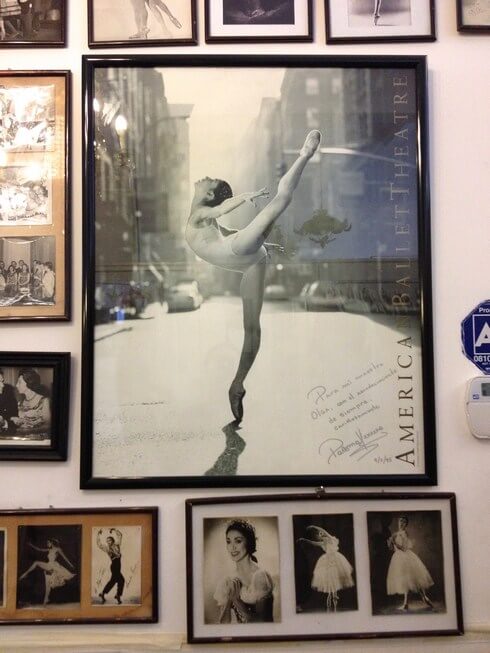 I paid for my class (100 pesos), went into the changing room…and noticed something odd. All the other dancers looked about 12 years old—niГ±as!
Ballet Estudio's site advertises classes for all styles, levels and ages. I hadn't realized that all the ages would be together. Here in NYC—and most places in the US—adults and kids are in separate classes. Still, I went with it.
The class ended up being me, five niГ±as and, thankfully, one other adult—I nearly fell over with relief when she came in. But being with mostly kids threw me. I felt off and out of place—which isn't ideal, considering how much of ballet is mental!
Besides internally wrestling with that, I thought the class was an interesting experience. I'm glad I didn't cop out because of the kids. The teacher, Mimi, couldn't have been lovelier. She was warm, welcoming and kind, and had beautiful technique and extension.
She was also very patient with my lack of Spanish. As soon as class started, I realized that though I had no problem understanding the steps and combinations, I could barely understand anything else—my past studies didn't cover the nuances of alignment, turnout or focus. There had not been a Coffee Break Spanish lesson that included terms like "Don't tense up your shoulders" or "Pull up over your legs."
Despite that, I was still able to understand many of Mimi's corrections through her gestures and the words I did know. Her critiques and tips were all spot on. (Like telling me to straighten my legs and travel more in assembles, and not let my turnout drop when going into left pirouettes.)
As for the niГ±as—they were good! One had especially beautiful control and technique. I rarely see kids dance, and I realized it was gratifying to see Argentina's next generation of ballet dancers in action.
And at the end of class, I felt a tad less awkward being in the same lesson as them. But just a tad.