I've always found it slightly frustrating that here in the five boroughs, we're surrounded by lots of water, but our beaches are relatively small. And not exactly easy to get to, for many of us. (Like me, who lives way up in northern Manhattan.)
So we New Yorkers are forced to squeeze in sun time, in whatever space is available. Hit up any park in the summertime, and you'll be surrounded by sunbathers of all ages, sporting varying degrees of coverage. If you walk around midtown at lunchtime, you'll see hoards of suits perched on every ledge—men with sleeves rolled up, women with their heels kicked off.
I always appreciate those sights. As much as I love my writing and digital pursuits, I'm also a firm believer that humans belong outdoors, exploring and being active—not cooped up in buildings with circulated air, in front of screens.
Which is why I love this NY Times slideshow, "Concrete Beach."В Photographer Ashley Gilbertson shot New Yorkers sunbathing wherever they could throughout the city—and his images are stunning. I'm not sure if these would be unusual sights anywhere else, but they're perfectly normal here!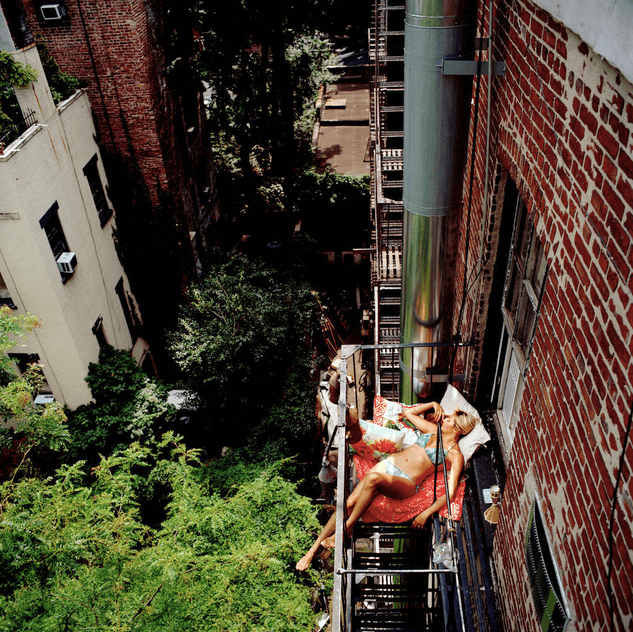 I'm excited that I'm going to an actual beach, this weekend, instead of just spending time on the "Concrete Beach." I'll be lounging in the Rockaways tomorrow, then headed to a BBQ birthday celebration on Sunday. (Happy b-day, Burg!!!) And going to my usual ballet classses…as well as my first tango lesson! I figured I could get a head start here before going to Buenos Aires.
How will you be spending the weekend?
("Concrete Beach" photos by Ashley Gilbertson via NYTimes.com )