I try to take an end-of-year trip each time I find myself with a few unused vacation days in November or December.
In 2013,В I put my last two days towards a trip to London. At the end of 2014, Evan and I spent a long weekend in New Orleans, right before the holidays.
I had high hopes for a Christmassy trip, with warm, humid weather in the low 70s. Unfortunately, it was chilly, rainy and cloudy for our entire trip.
Still, we had a great time—it's hard not to, in NOLA! The city is unlike anywhere else: gorgeous architecture, a European vibe, great music and lots and lots of amazing food!
Evan and I flew in on Thursday night. We checked into our B and B, the Green House Inn, on Magazine Street…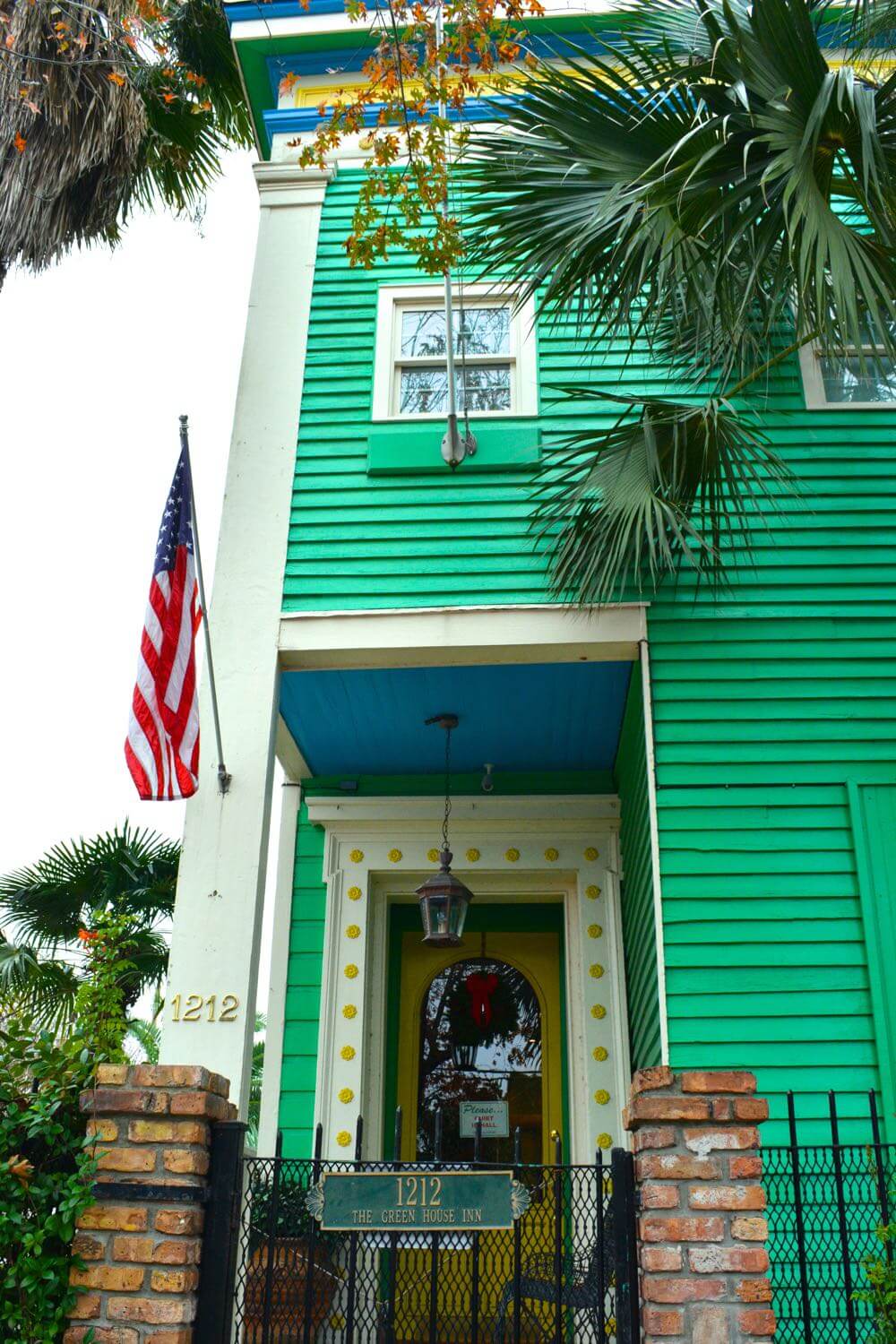 …and settled into our room.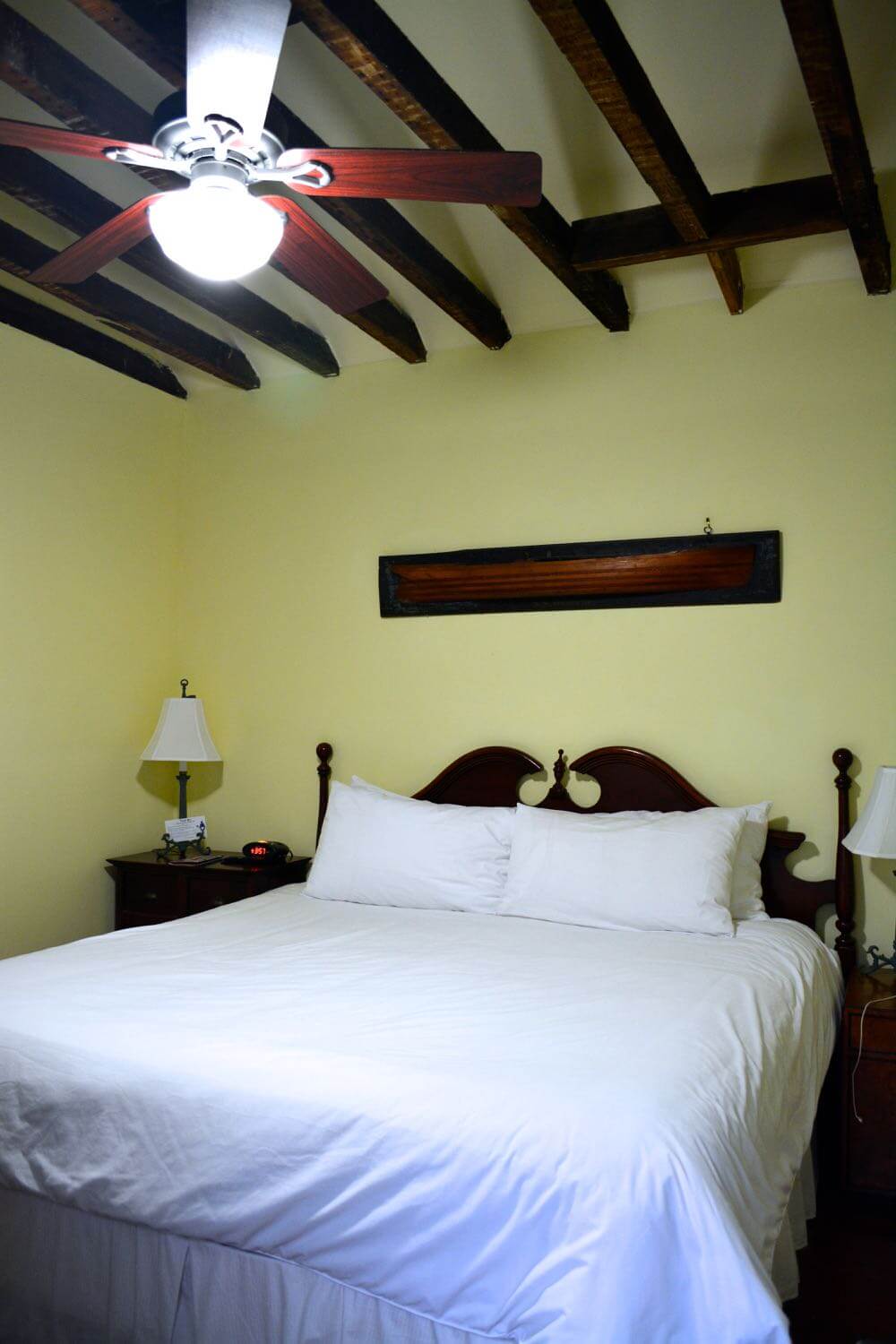 We were starving, but since it was after 10 p.m., most restaurants were closed. So we headed right to Bourbon Street. Our first stop was Killer Poboys, a little shop run out of the divey Erin Rose Bar. We both inhaled shrimp poboys (which were prepared banh mi style, with shredded carrots, cilantro and Sriracha aioli) and Abitas.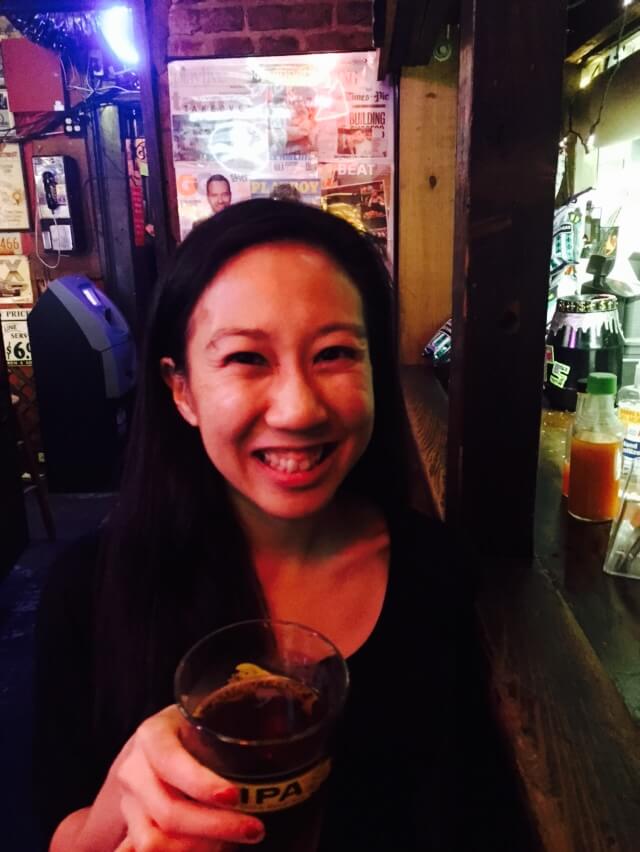 Afterwards, we poured the rest of my beer into a to-go cup, and walked down Bourbon Street. (Another reason I love NOLA—it's kind of nice to walk down the street with your drink!) We ducked into a few bars, and Evan got one of those infamous hand grenade drinks.
Of course, we couldn't leave the French Quarter without getting beignets. We topped off our night with a few, plus cafe au laits, at Cafe Du Monde.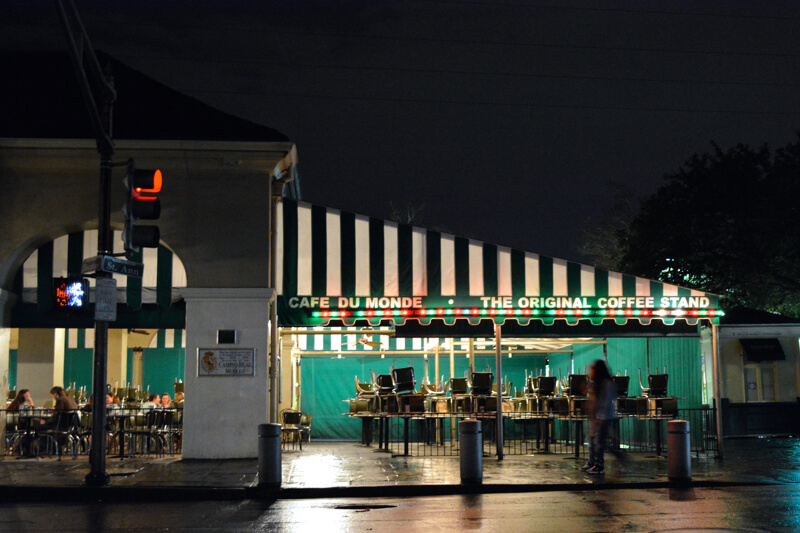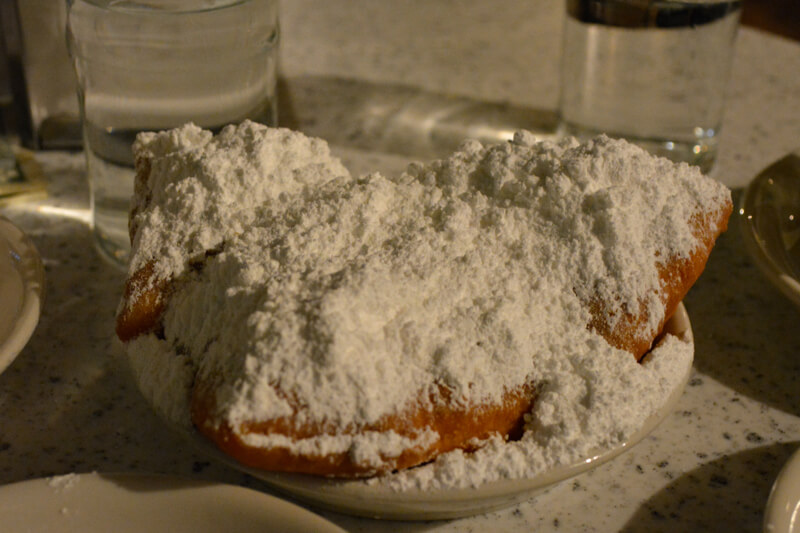 The next morning was chilly and gloomy. We walked down Magazine Street to Mother's, a NOLA institution that opened in 1938. The restaurant is super-casual, and known for its ham.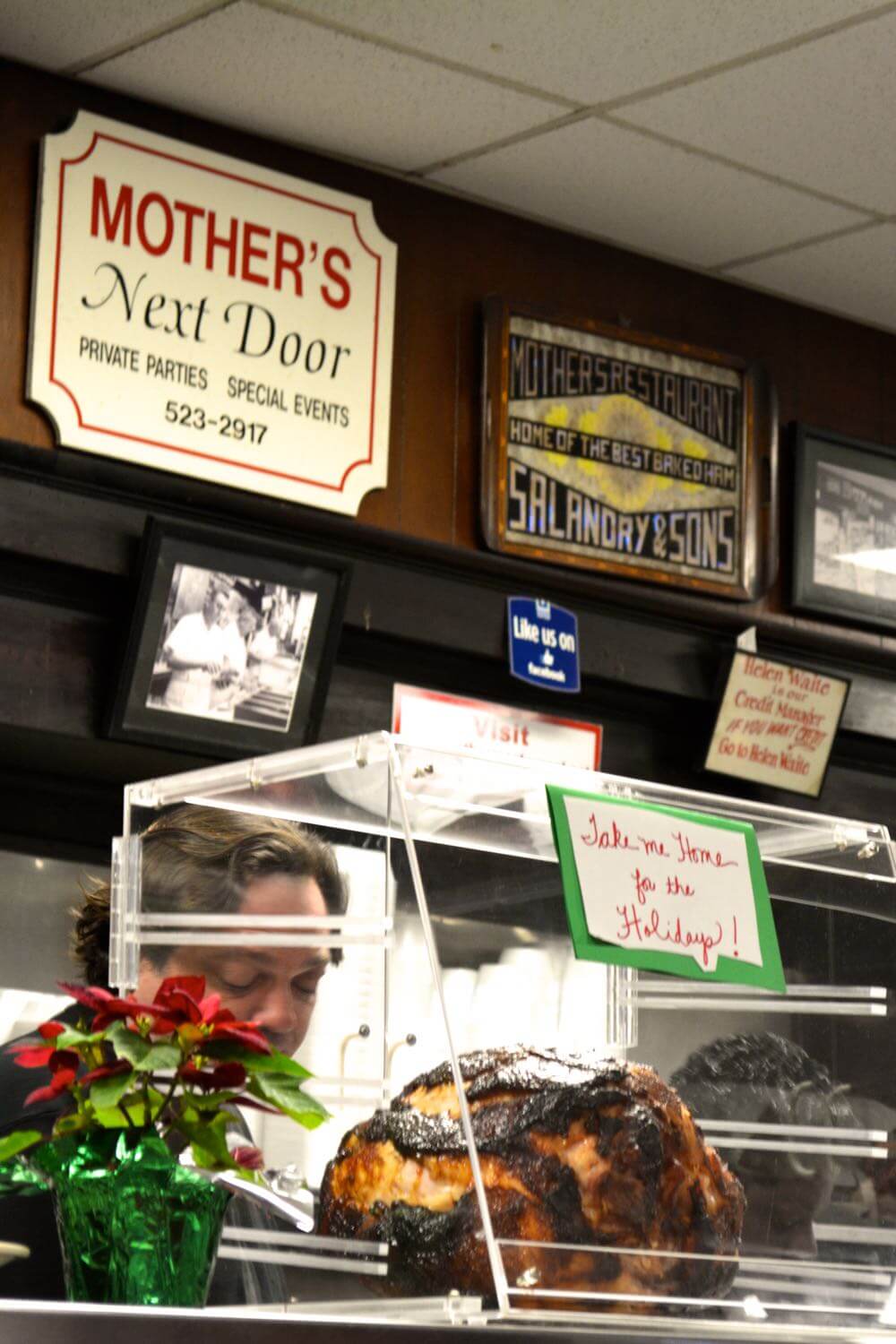 You walk in, grab a menu, and wait on line to give your order at the counter. Afterwards, you take your number, find a table and wait for someone to bring you your food.
We were lucky—since it was a rainy weekday, there was only a short line. But on weekends, itВ can span all the way out the door and down the block.
Evan and I shared a crawfish etouffee omelet, a biscuit and a side of Mother's famous ham. That omelet was one of the best things we ate on the trip. The etouffee was rich and went perfectly with the eggs.
By the time we finished eating, a steady, chilly rain was falling.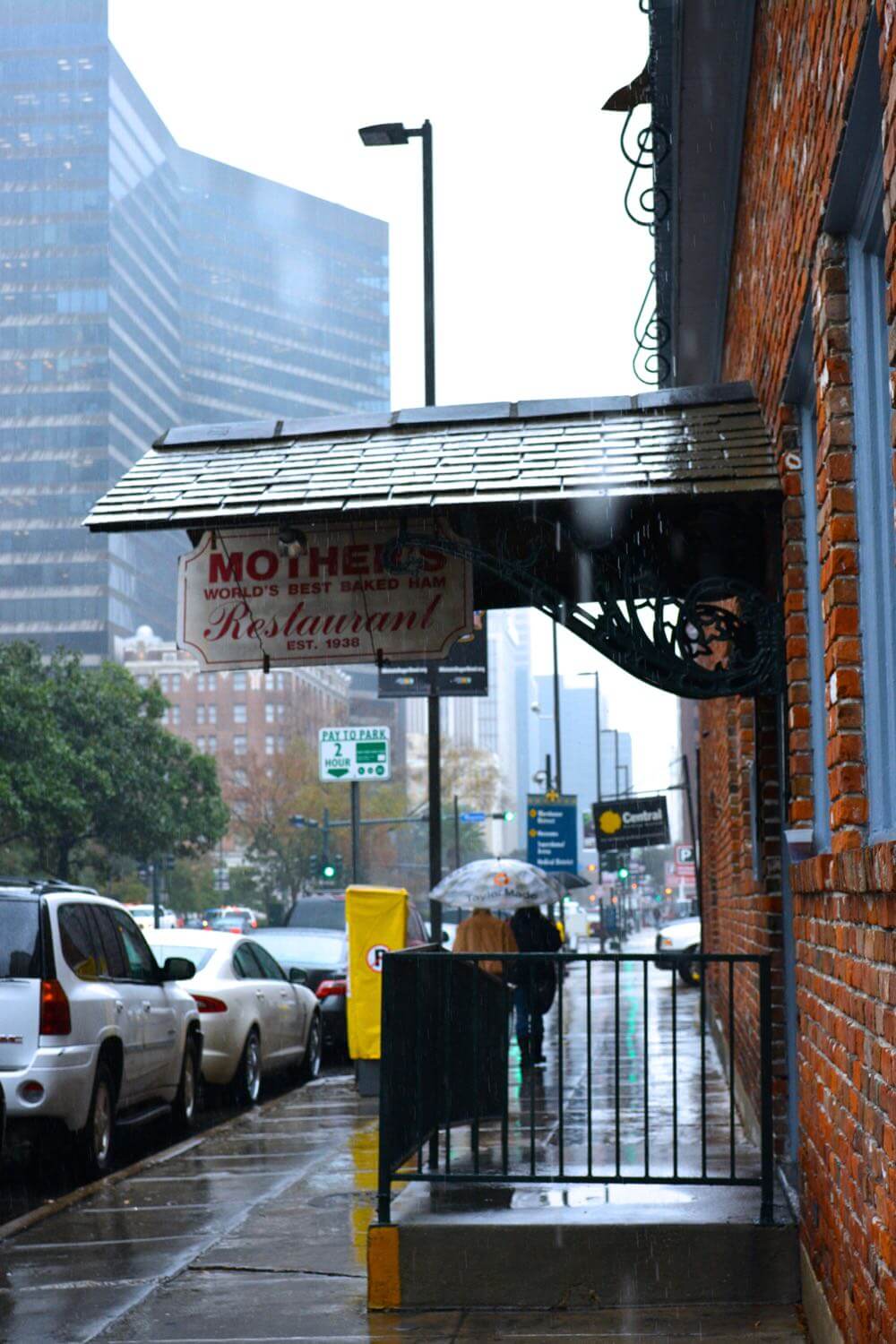 Wandering through the neighborhoods to check out the architecture wasn't an option. So we decided to ride the streetcar through the Garden District and scope out the grand homes adorned for Christmas.
Unfortunately, I walked us past the streetcar stop a few times. I hadn't realized that not all stops are obvious—like at Saint Charles and Poydras, if there's no streetcar coming, regular cars drive right in that lane! After we found the stop, we waited nearly a half hour for a streetcar to arrive. By the time it did, we were soaked.
Still, we tried to take in as much as we could, through the wet, foggy windows.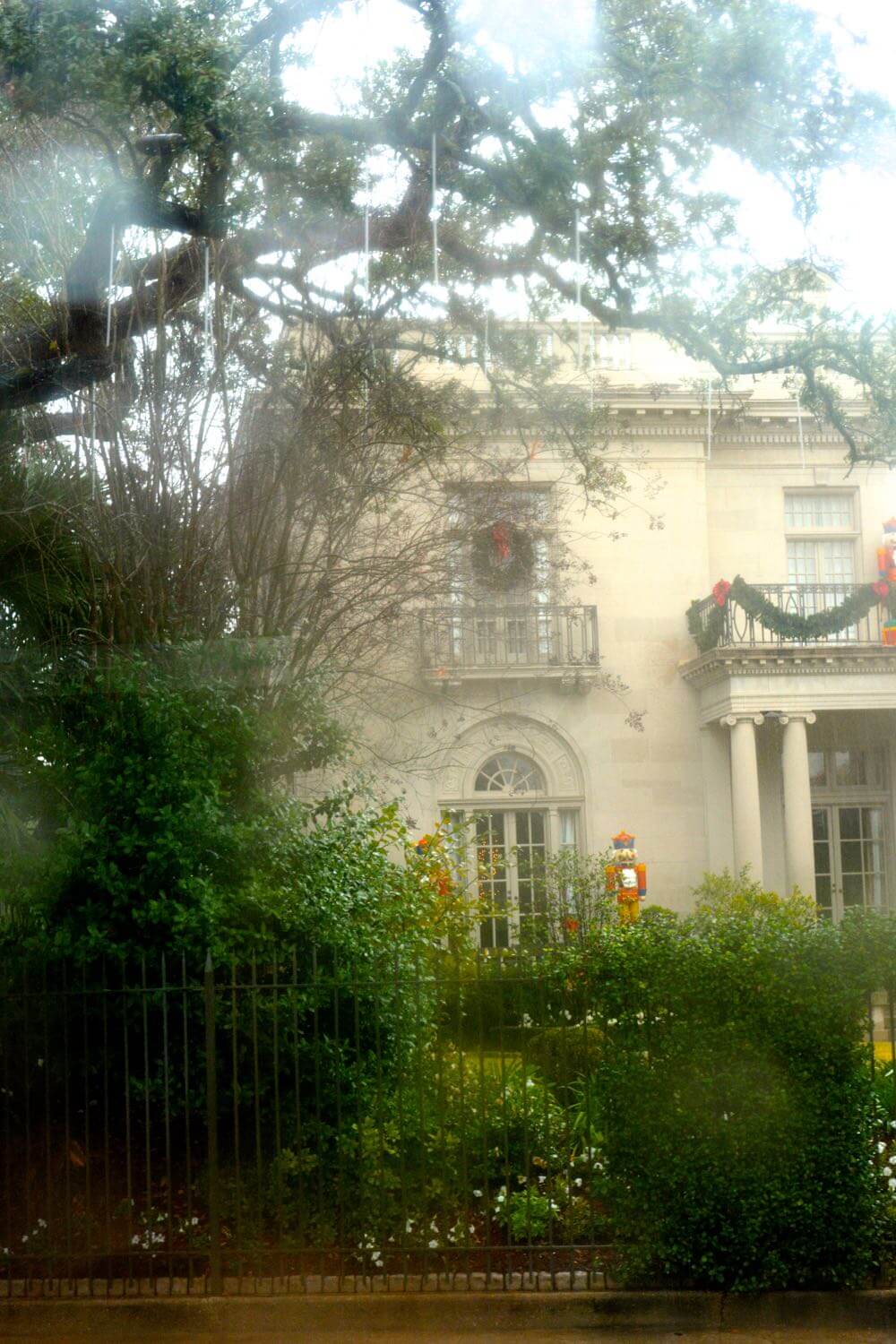 We rode the car to the end of the Saint Charles line, and back. At that point, we were hungry for lunch. We opted for Peche, the latest restaurant from renowned NOLA chef Donald Link. True to its name, it specialized in seafood.
It was the perfect meal for a soaked, chilled couple. Everything we ate was fabulous and fresh—Gulf oysters, gumbo, catfish and greens in chili broth, shrimp over pasta in an Asian-style bolognese.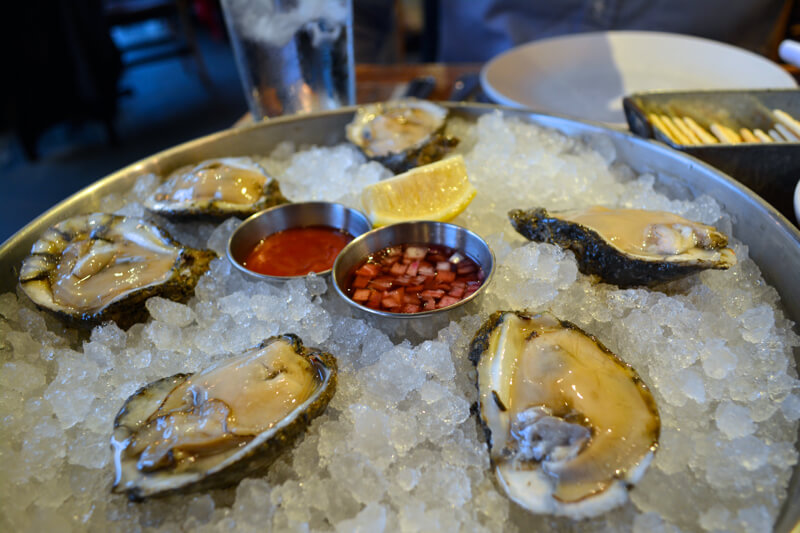 And chocolate banana cream pie! I would go back to NOLA just for a slice of that.
Afterwards, we walked back to the Green House Inn. We were tired and cold from being in the rain all day. Luckily, the inn had a (clothing-optional!) pool and hot tub in the backyard, surrounded by plants.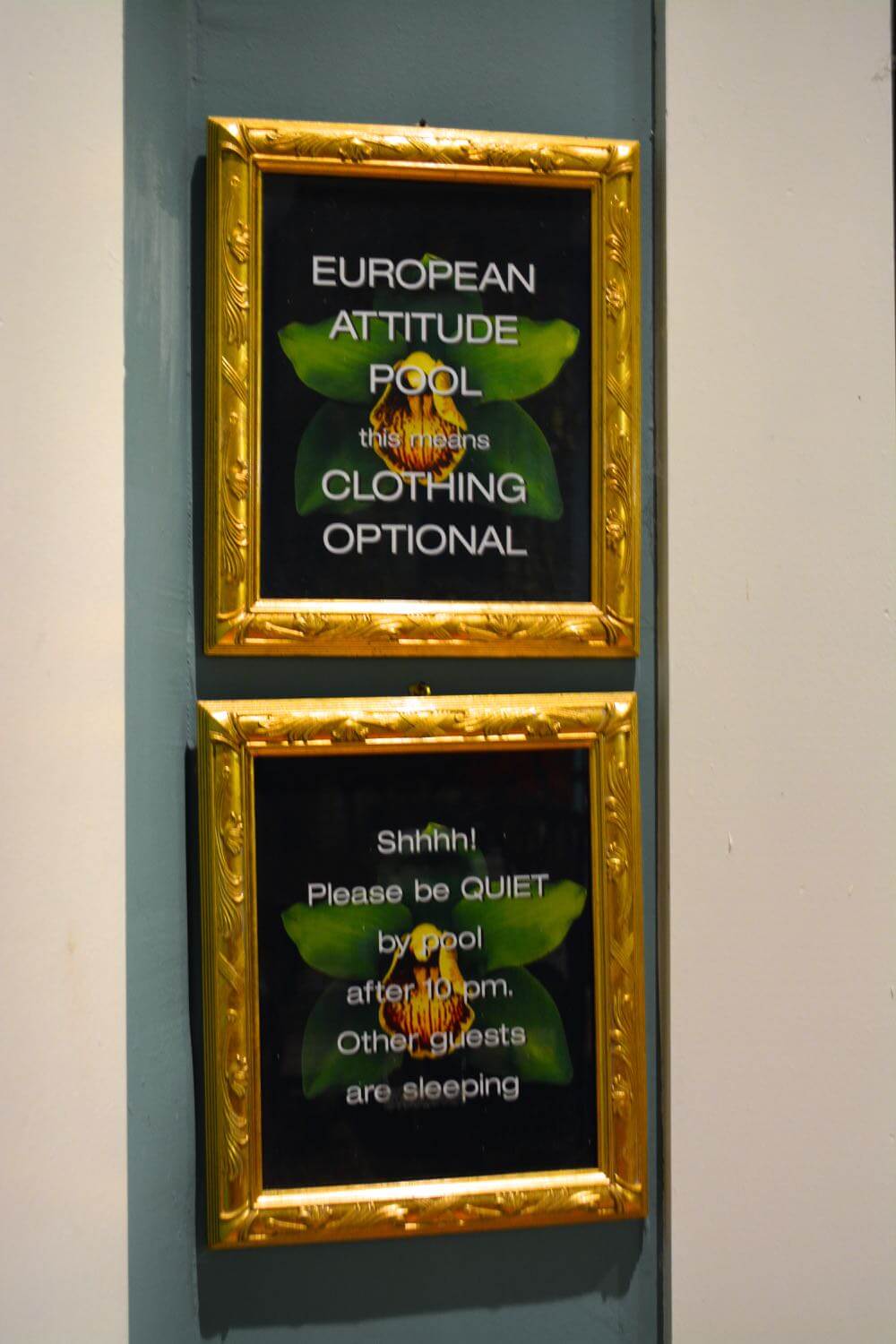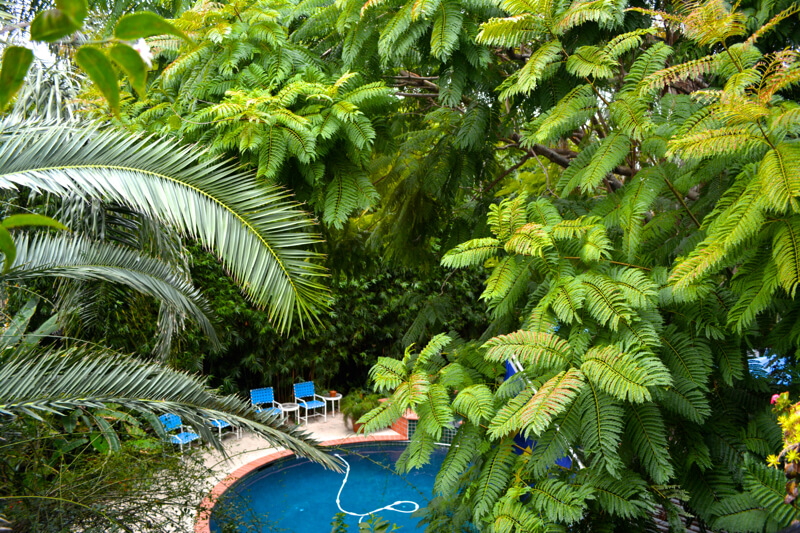 That night, we weren't too hungry because we'd been eating all day. But we felt we couldn't miss out on a NOLA dinner. We cabbed it to Jacques Imo's. I loved the place, from the moment we walked in. The main dining room felt like you were at a friend's house. Strings of Christmas lights hung from the walls and the table cloths had funky patterns. The overall vibe was warm and cozy.
I wish I could go back and re-eat everything we had that night—when I wasn't drained and slightly stuffed. Because it was all outstanding. We started with a piece of cornbread, followed by their house salad—a bed of baby spinach with one fried oyster on top. I have to say, it was the best fried oyster I've ever eaten.
For our entrees, I had shrimp etouffee—which was completely different from the etouffee we had that morning. It was lighter in a tomato-based sauce. Evan had stuffed catfish. Somehow, we finished everything.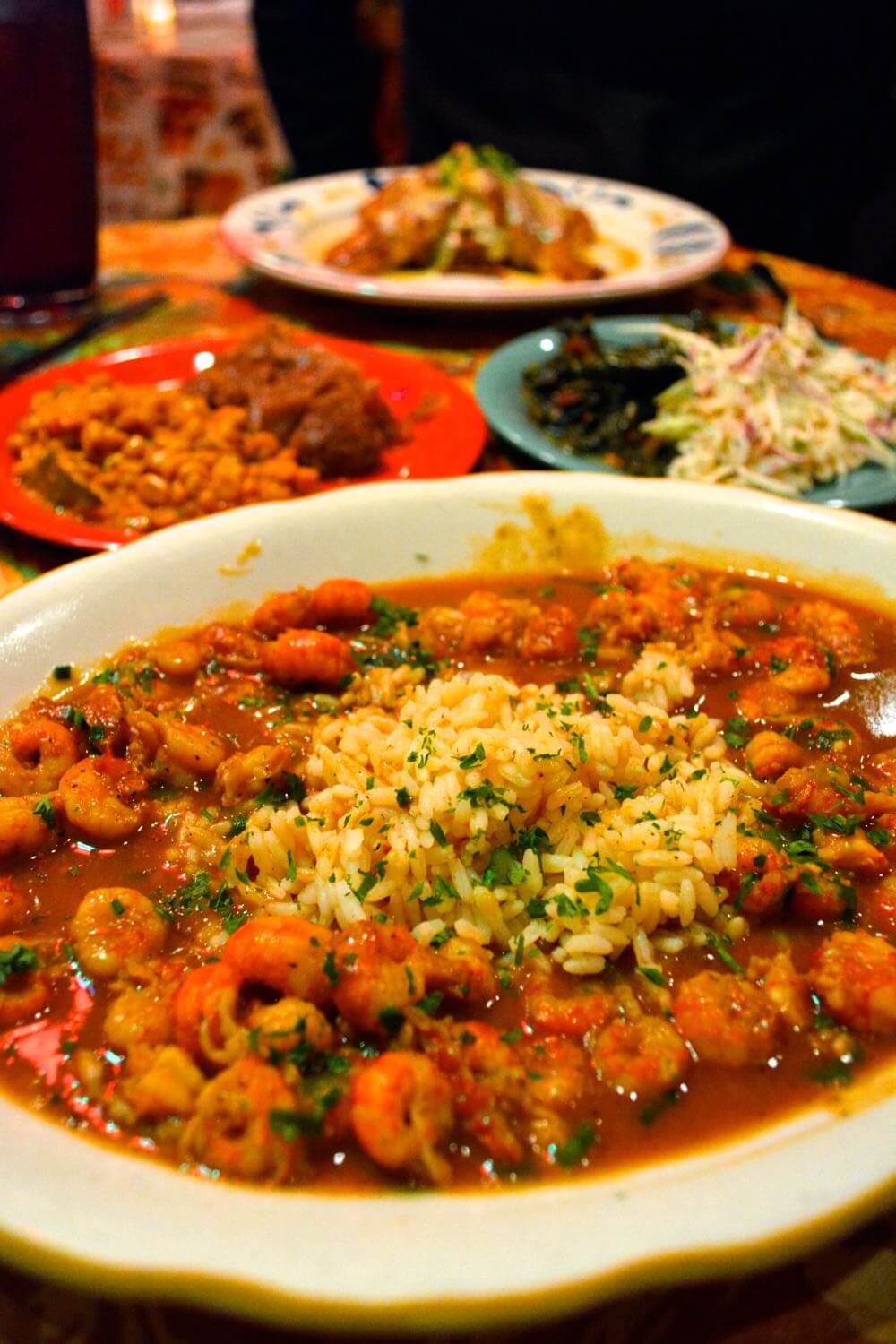 The next day, we left the city to go swamp kayaking. The rain had stopped, though it was still cloudy and chilly. We booked a trip through New Orleans Kayak Swamp Tours, and drove 40 minutes to Pearl River.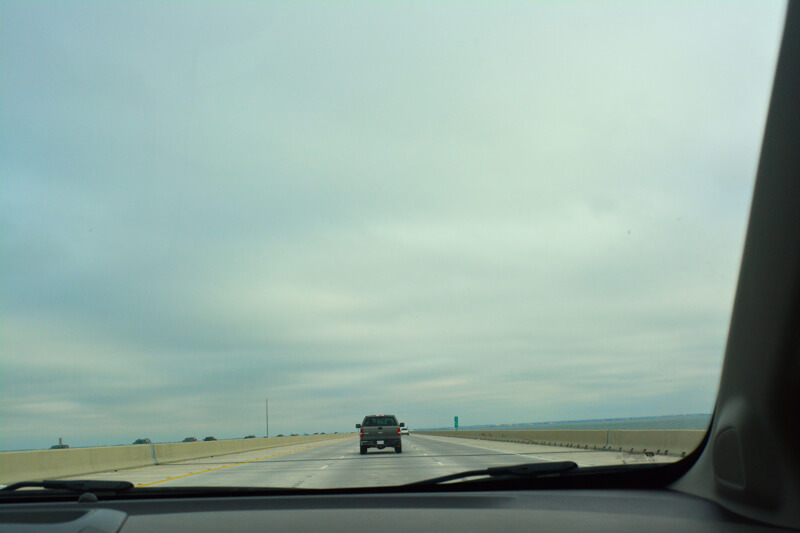 We met our kayaking group at a rest stop off the highway. Talk about swamp country! The rest stop looked exactly how you'd imagine one in the Louisiana boonies. Our group leader, who had grown up right on that swamp, helped load us into kayaks. Evan and I shared one, he in the back, me in the front.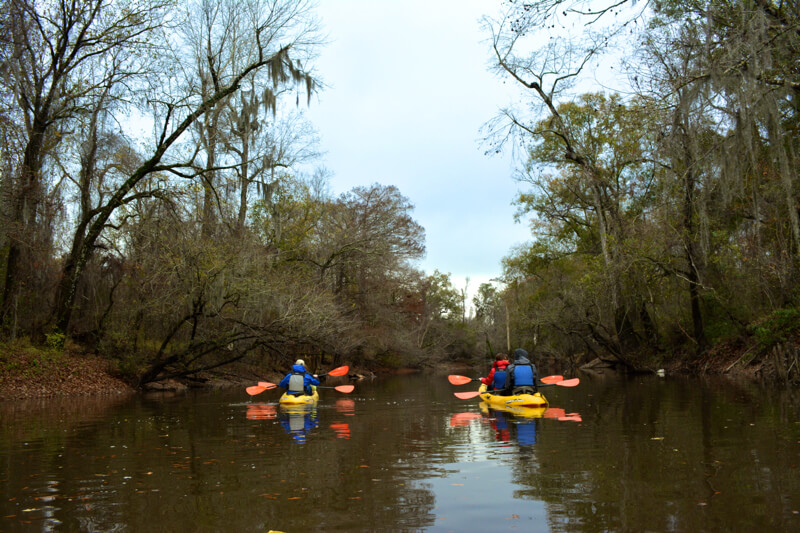 Since it was December, the swamp was mostly bare and grey. It had a quiet beauty, though.
We paddled among cypresses and tupelos.
Occasionally, we came across abandoned boats and river shacks.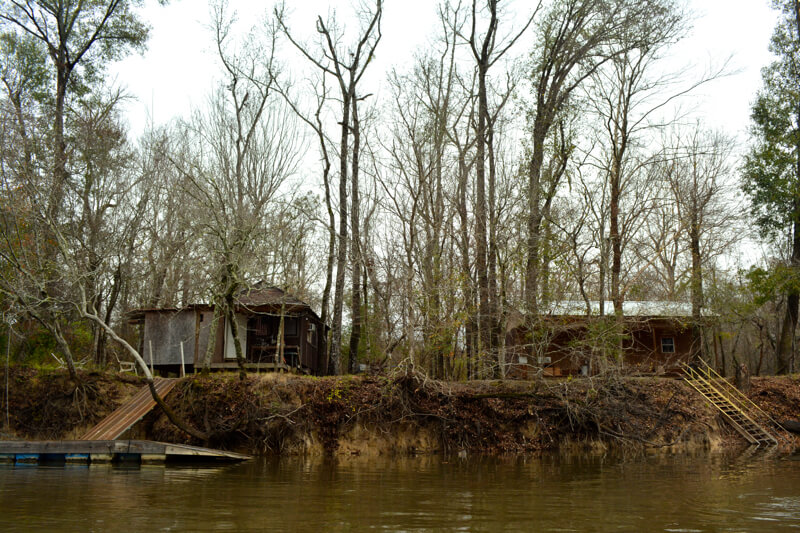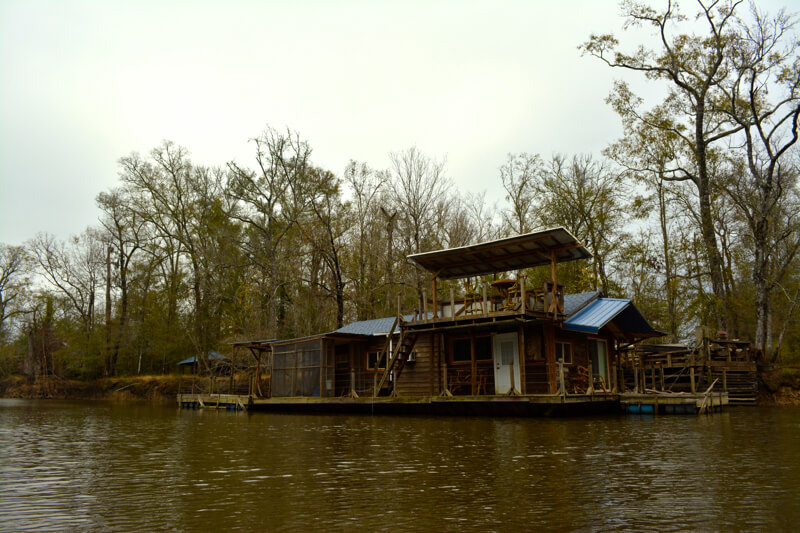 Unfortunately, we didn't see any alligators.
Except in sausage form.
After kayaking back to the rest stop, our guide told us that the gas station there actually serves great alligator sausages. We had to try one—and she was right! It was delicious.
Later that evening,В we went to Bacchanal, a place two of my co-workers had visited on separate trips and raved about. It's located on a corner in the Bywater, an area I find romantic and mysterious. I was hoping to walk around and check out the architecture, but that didn't happen this trip. Still, I was glad we spent the evening there. Because Bacchanal is truly a special place. It's a wine and cheese shop in the front, where you can sample wines and buy a glass. You can also pick out cheeses that they'll plate for you. You then enjoy both, plus other food from their kitchen, and live music, in the backyard.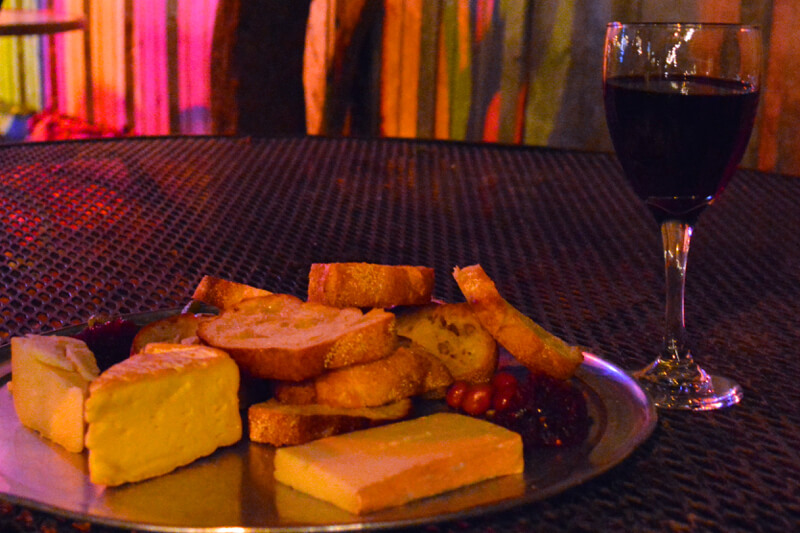 On the night we were there, a band was playing NOLA-style Christmas music. (And you know how much I love Christmas.) A drummer, tuba player and violinist played jazzy, melancholy takes on the classics.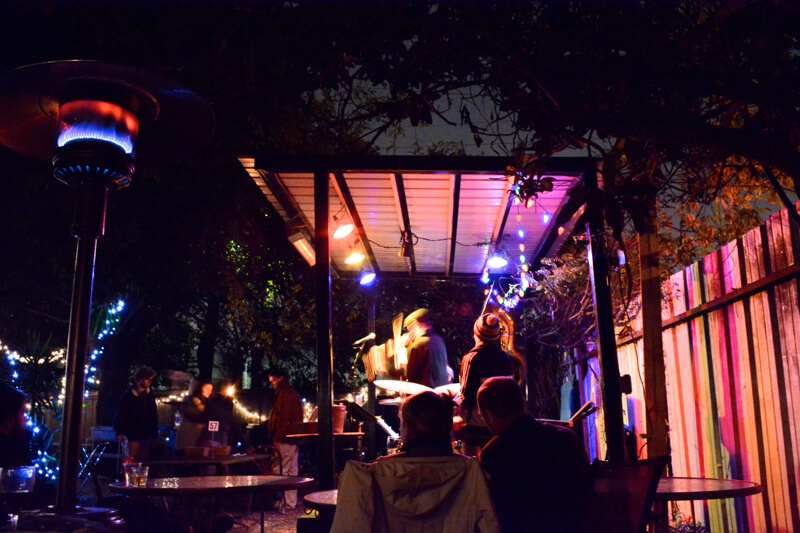 Evan and I lingered for a while, just enjoying the sounds, food and overall atmosphere. I'd been wanting to experience a bit of Christmas in New Orleans, and I found it at Bacchanal.
We left when the band was winding down, but headed right to Cafe Du Monde. We couldn't leave NOLA without another round of beignets.В