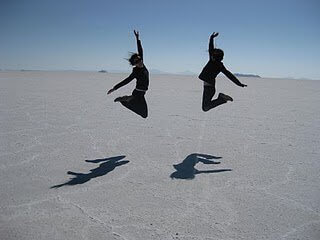 I am beyond happy. I just found out that my two favorite people are officially moving back to New York in a few weeks!
I definitely enjoyed/reaped the benefits of Mal and Peter's time in Maryland: having beach weekends at my "summer share," grilling, eating lots of blue crabs. And as much as I'll miss that, I'm elated that they'll only be a short Metro-North ride away, as opposed to a torturous six-hour Greyhound trip.
Now that summer officially starts this weekend (summer Fridays = the beginning of the season, in my book), I'm planning to make as many weekend trips to their place as I can, before it's time to help them pack and haul everything up north. And as for next year? I suppose we'll have to find an actual summer share closer to NYC.
Yesterday I also found out that one of my best friends is moving to London in September. And while I'm sad about that, I'm also looking forward to meeting up with her in different European cities for weekend jaunts and vacations. New opportunities to travel are always the biggest silver linings to loved ones leaving town!
(Photo: Mal and me at the Salar de Uyuni, Bolivia)