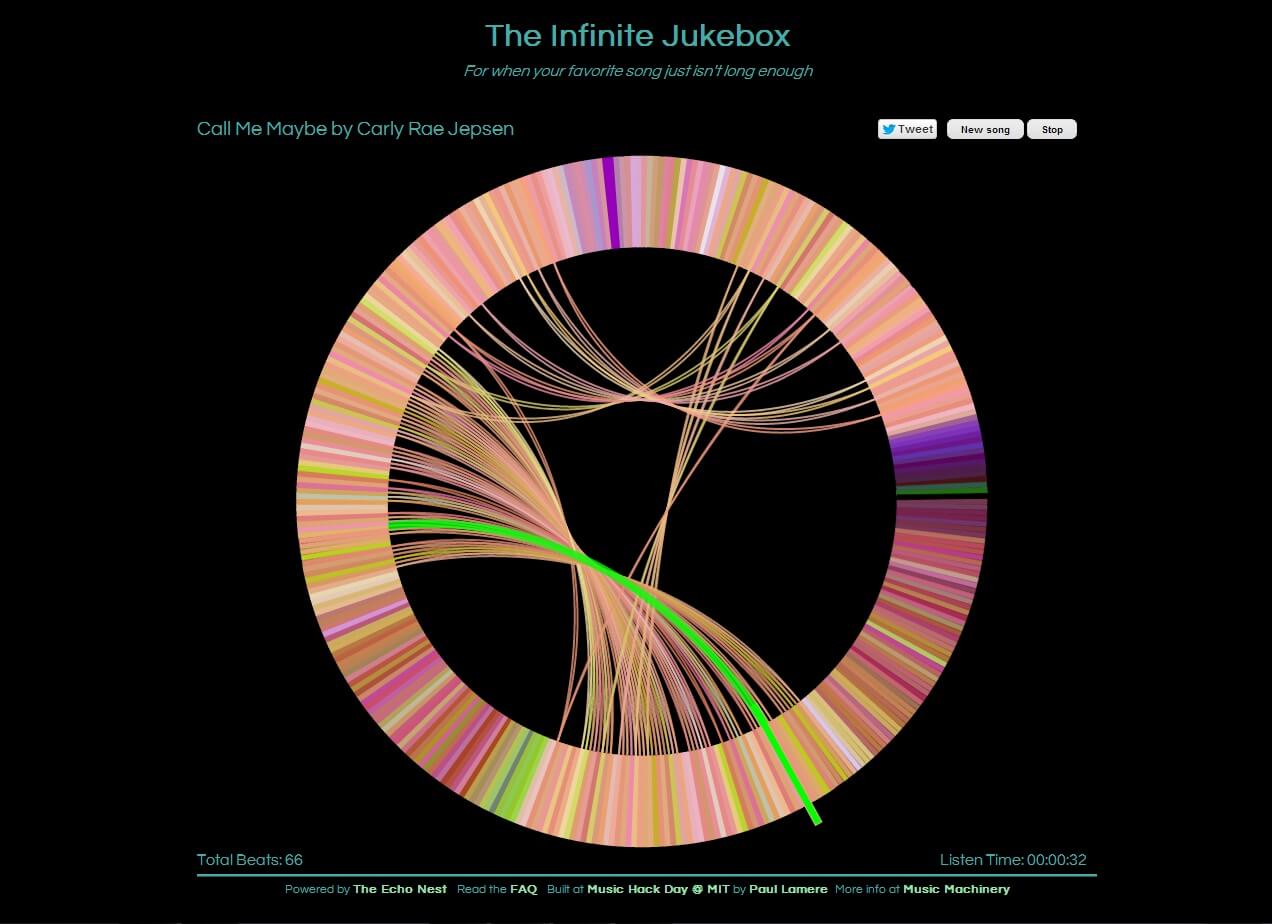 Do you ever get fixated on a song and listen to it over and over again…especially when you're at work…and all your friends probably know about your embarrassing song obsession from seeing it in their Spotify feeds? I'm definitely guilty of that—especially with super-poppy or ridiculous songs. Like Beyonce'sВ "Countdown." Or Taylor Swift's "We Are Never Ever Getting Back Together." (Like, ever.) Or Ellie Goulding's "Anything Could Happen."
So I was really amused—and wowed—when I stumbled upon The Infinite Jukebox, a project developed by Paul Lamere, a director at a music intelligence company in Somerville, MA. Its tagline pretty much says it all: "For when your favorite song just isn't long enough."
The program basically analyzes a song beat by beat. Then it figures out other places within it that sound very similar, where it can jump to. The result: The song can play forever in a seamless loop.
Even cooler: the Jukebox creates a pretty, color-coded diagram for each song. Every color block represents a beat and its timbre. The arcs show the different places where that beat can jump. So, as you listen, you can follow the path your endless tune takes.
Listeners can submit the music they want to hear. I loved how most of them fell into the pop/ridiculous realm: R. Kelly's "Ignition (remix)," Europe's "The Final Countdown," Journey's "Don't Stop Believin'." And, of course, one of my favorites: "Call Me Maybe."
What are you going to put on an infinite loop?
(Bottom three images viaВ Paul Lamere's blog, Music Machinery)