Over the past week, I went to so many bridal appointments with my sister that it's amazing I had time to do anything else. Some shops were great, others were…not. And at our last appointment, we might have found THE dress. A quick rundown of our search: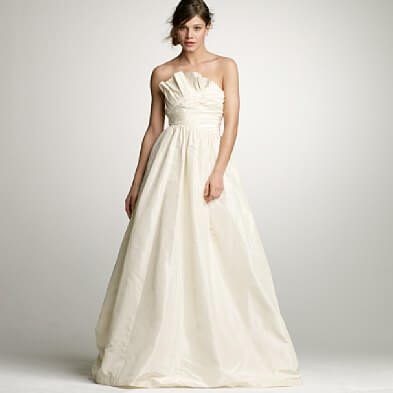 The Good: J. Crew: Their bridal salon on the UES was one of the nicest we visited. Viewing the gowns and bridesmaid dresses is by appointment only, and since they space them well, we only saw a few other people while we were there. (Unlike some other places mentioned later…) Our large suite contained two dressing rooms so Mal and I could both try on dresses (bridesmaid ones, of course, in my case), and not one, but two very helpful consultants worked with us. J. Crew's gorgeous collection includes sleek sheath dresses and funkier ball gowns with patterned fabric and lots of interesting ruching. We all loved one dress, but agreed it wasn't quite right for the season and venue.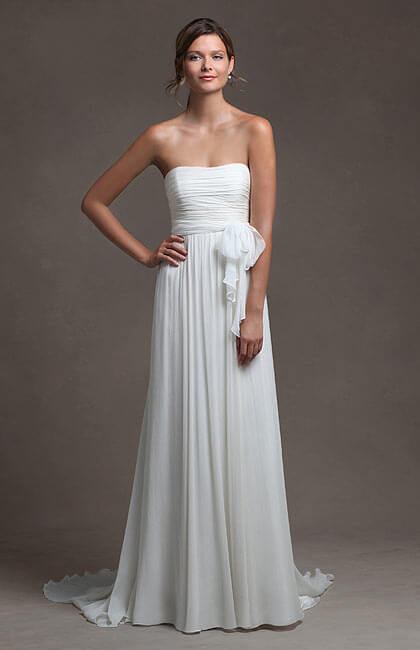 The Good: Jenny Yoo: I loved the dresses here; they were simple and elegant with sophisticated, clean lines. Mal found one that we deemed a strong contender. The salon (in the Garment District) was nice, as well, but not my favorite. Even though we had our own consultant and only two or three parties had appointments at the same time, all mirrors were out in the open, so it wasn't as private as I would have liked. Jenny Yoo also has beautiful bridesmaid dresses in a variety of rich hues–including one we're considering for the wedding.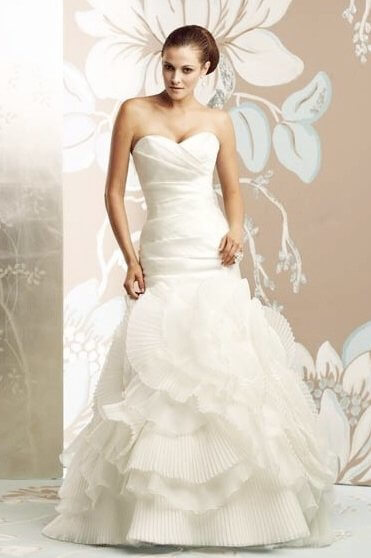 The Bad: RK Bridal: "I have a feeling you're going to shut down as soon as we get in there," my sister said as we entered RK (also located in the Garment District) and that's exactly what happened. I was overwhelmed in seconds. Rack after rack of plastic-sheathed gowns packed the space and swarms of women sifted through them. RK doesn't take appointments–which, I think, causes the chaos. Walk-ins are on a first-come, first-serve basis–the noisy hordes were all parties waiting to be called. When our group finally met with our consultants, they were nice but frazzled and didn't spend enough time withВ my sister to get a sense of her taste and pick gowns matching her aesthetic. Mal found a few to try on, but she had to share a mirror with other girls also trying on dresses. IВ can't deal with environments like that, and I fully admit that I wasn't much help (ok, no help) in finding dresses or giving positive feedback on any. The whole setting turned me off. (To be fair, I was there on a weekend morning. My sister and mom went on a weekday and said it was quieter and calmer.)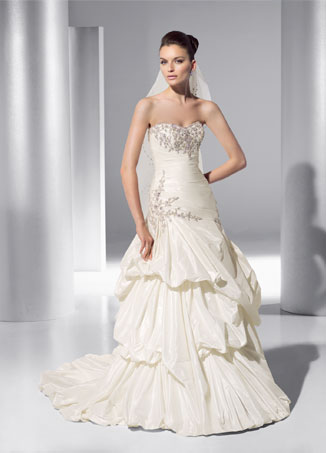 The Bad: Macy's: I was unimpressed by our experience here, too. The salon, which is run by the labelВ Demetrios, was quiet and private, but felt a little dingy and dated. While we had a consultant assigned to us, we still had to go through the racks ourselves. (On the upside, Macy's has a wide variety of stylish dresses, but not so many that it feels overwhelming.) Our consultant was friendly and personable, if a little too much for my taste. She kept calling my sister "all bones" and asking if she ate dinner–comments that would have sent me storming out in a huff, but Mal didn't mind. She tried on a few dresses that looked nice, but nothing worthy of a second appointment.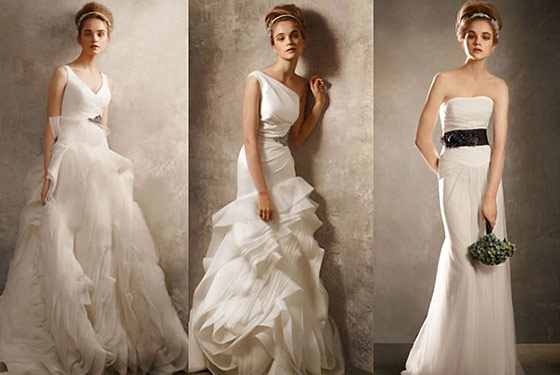 The Bad: David's Bridal: I could go on a long rant about how bad this appointment was, but I'll refrain. We went to see Vera Wang's new (and extremely affordable) collection.В Upon arrival, however, we decided it wasn't quite right for Mal–and neither was anything else in the store. Still, since we were there, she tried on a few dresses. Some were nice, though not even remote contenders. The worst part of our experience wasn't the gowns, though. It was our consultant. In her defense, she was probably new (she had to ask another associate where her assigned dressing room was located–though that's something she should know before giving appointments!). But some of the questions she asked us were just weird (like how many people were invited to the wedding, because less than 150 people is considered informal), and, not surprisingly, she pulled dresses that were not at all in the style of what my sister requested. Plus, David's requires all brides-to-be to put on a new pair of their undergarments before trying on anything; I assume it's a hygiene thing, since our consultant couldn't explain the reason for the policy. Sigh.
The One?: The White Gown: I've already rhapsodized about my/our love for this boutique, which was the very first place we tried. And it might be telling because that's where Mal may have found THE dress. We went back yesterday so Mal could take another look at the first gown she liked–but she also ended up trying on one other. It elicited the response she'd been waiting for. As she stepped into it, she felt like it could be The One. I cried. My mom got teary. And we all could see it fitting perfectly with the venue and season. Mal's giving it a little time to be absolutely sure. But maybe the end of the dress quest is in sight!
Note: None of the gowns I've posted are in the running or necessarily considered, and I purposely haven't gone into detail about dresses we liked or didn't. Did you think I'd give away any of the surprise?