My sister, Mallory, is getting married in November and I couldn't be more thrilled to be her MOH (maid-of-honor)! Since she's moving to Maryland in April (sniff) she started a whirlwind few weeks of dress shopping before she leaves the state.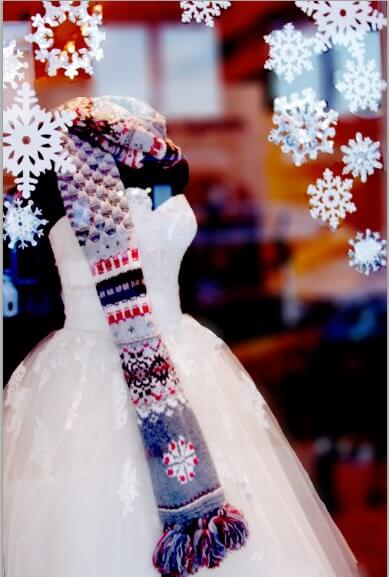 (Image: TheВ White Gown'sВ Facebook page)
Last Wednesday, she had her first appointment at the White Gown in DUMBO. What a fantastic experience! The salon was quiet, private (I didn't see any other brides-to-be) and had a hip, industrial vibe (thanks to its exposed brick walls, etc.) fitting of its location. Our sales consultant, Erica, was superb. She spoke to Mal about what she had in mind, looked at pictures she brought along, and picked out dresses complementary to her vision, personality and budget. She also knew the shop's inventory inside and out and was extremely helpful in offering design and embellishment changes to align a gown more Mal's style (like adding a sash in place of a pearl cluster, etc.). While Mal didn't say yes to a dress that day, she did find one that's in the running.
The next day we went to the Bridal Garden in the Flatiron District…and left after about 15 minutes. The boutique has a wonderful mission: Designers donate gowns that anyone can purchase at heavily discounted prices and all proceeds benefit education for NYC kids. The shopping experience isn't for everyone, though, and it wasn't for us. You have to purchase the sample gowns as they are–whether they're stained, too big, too tight; you can't order a new one in your size. While the Garden stocks all sizes, the vast majority of dresses are 8s and 10s (typical of samples), which is great if that's your number, not so much if you're larger or smaller. Plus, there are no consultants to help you out. You and your party have to go through the racks yourselves. This could be no problem if you know exactly what you want, but overwhelming if you'd like some professional input on how a dress could be altered or what other styles would look good (which is definitely my sister!).
Up next: J. Crew, Macy's, David's Bridal (for the new Vera Wang collection) and, of course, Kleinfeld! It's going to be a busy few weeks!