I spent my last night in Buenos Aires at Adentro Dinner Club, another puerta cerrada . This one was in Palmero, and run by Kelly, another American expat, and Gabriel, her Argentine boyfriend.
Adentro's defining characteristic is that the evening revolves around an asado—a BBQ. Similar to American BBQs, asados are an Argentine tradition where friends and family gather and hang out for hours, drinking wine and eating an array of grilled delights.
There are few things in life more appealing to me than a good BBQ. After reading about Adentro, I immediately made a reservation.
The evening started in the back of Kelly and Gabriel's house, near the grill. Sausages and a few dishes of cheese were already being fired up…
…and heaping platters of veggies and meat sat nearby, awaiting their turn on the flames.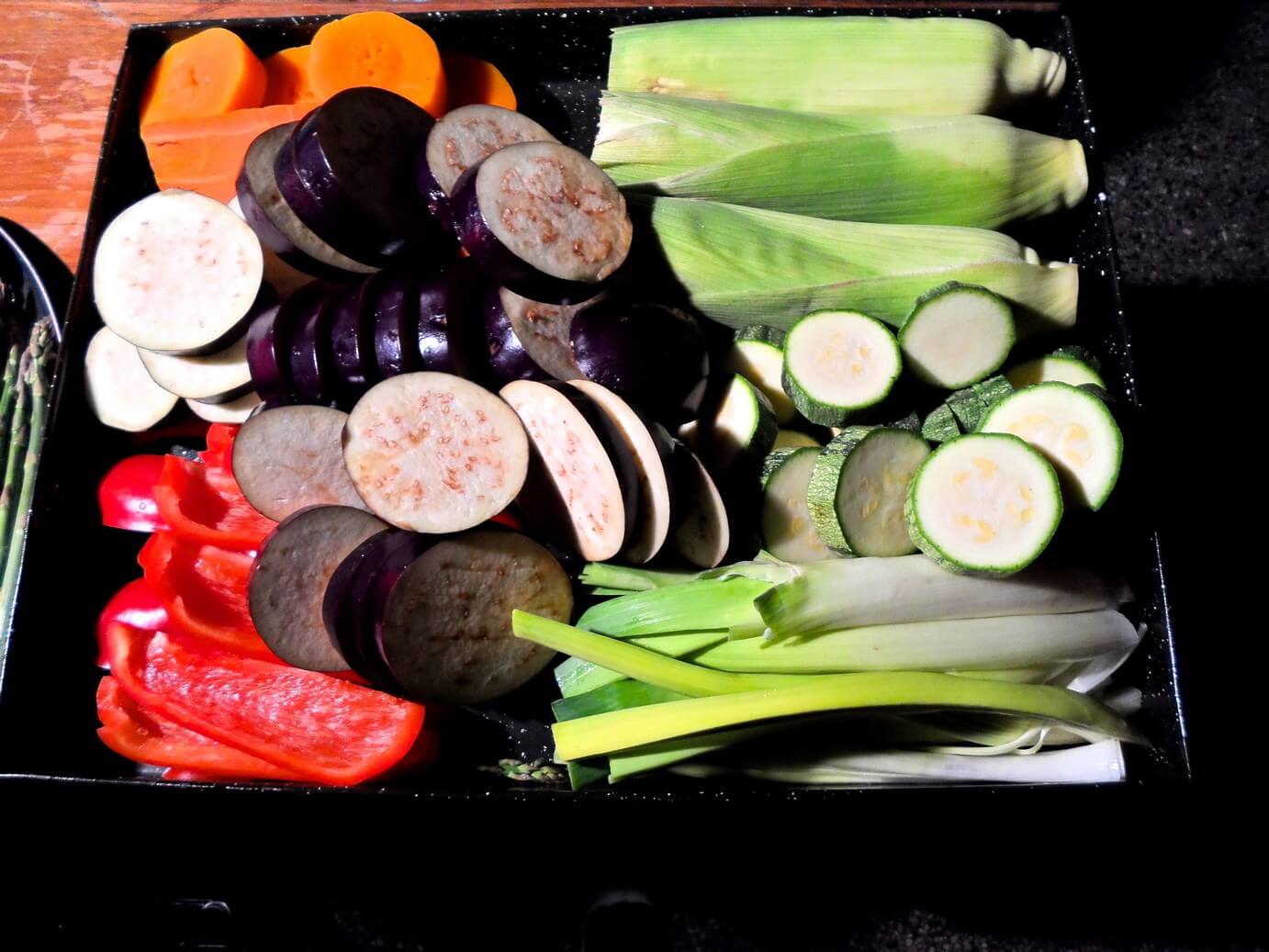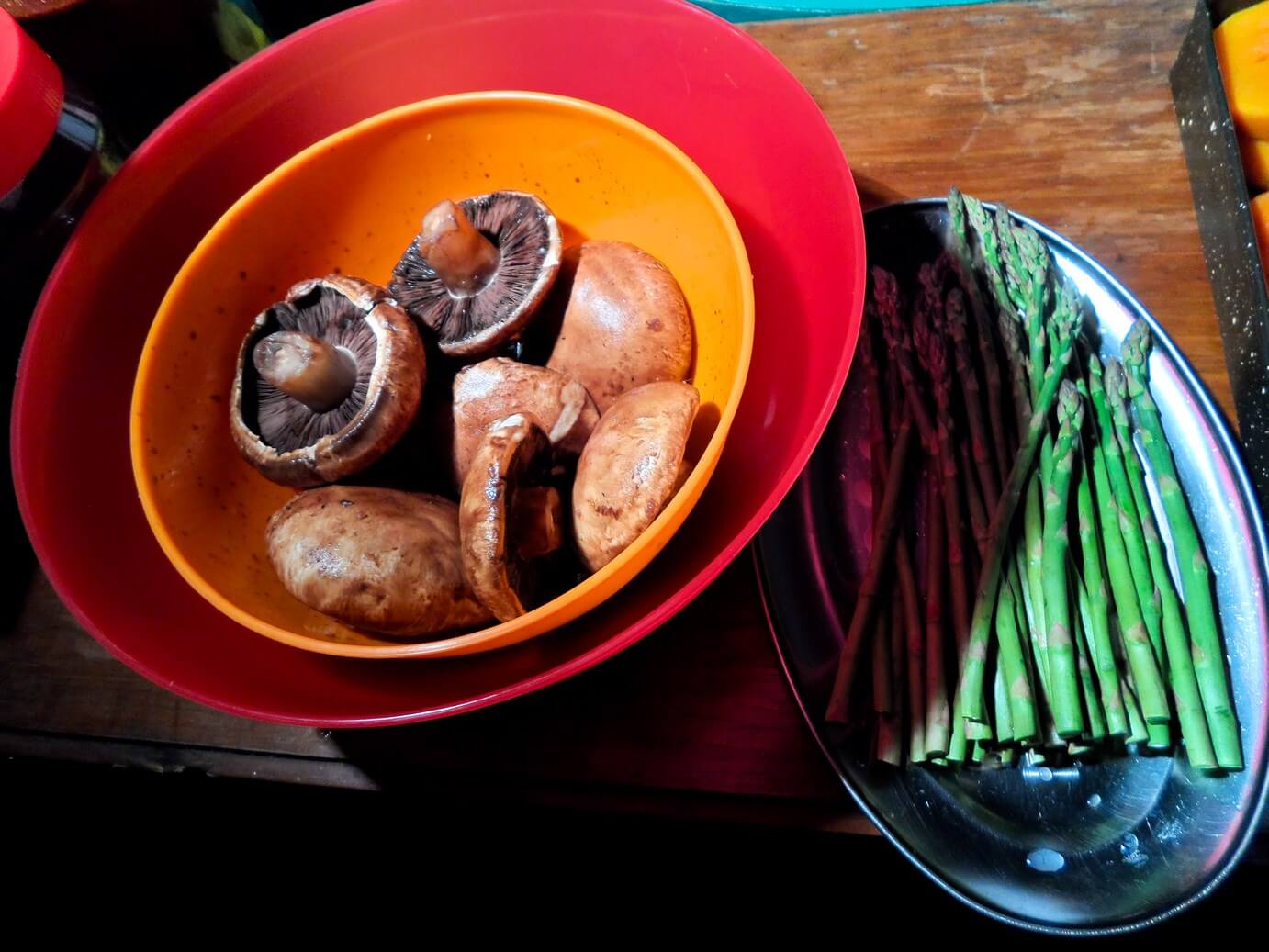 In addition to having an outside area for the grill, Kelly and Gabriel also have a rooftop space. We headed up there, and I sipped a cocktail of champagne and passion fruit liquor, snacked on empanadas and the grilled cheese, and chatted with the other guests who were arriving. I met a couple who were in BA celebrating their third anniversary—and, coincidentally, live just a few blocks away from me in Washington Heights! There was a travel writer who was working on Lonely Planet's BA content, and a group of three American women, two who lived in BA and one who was visiting from the States.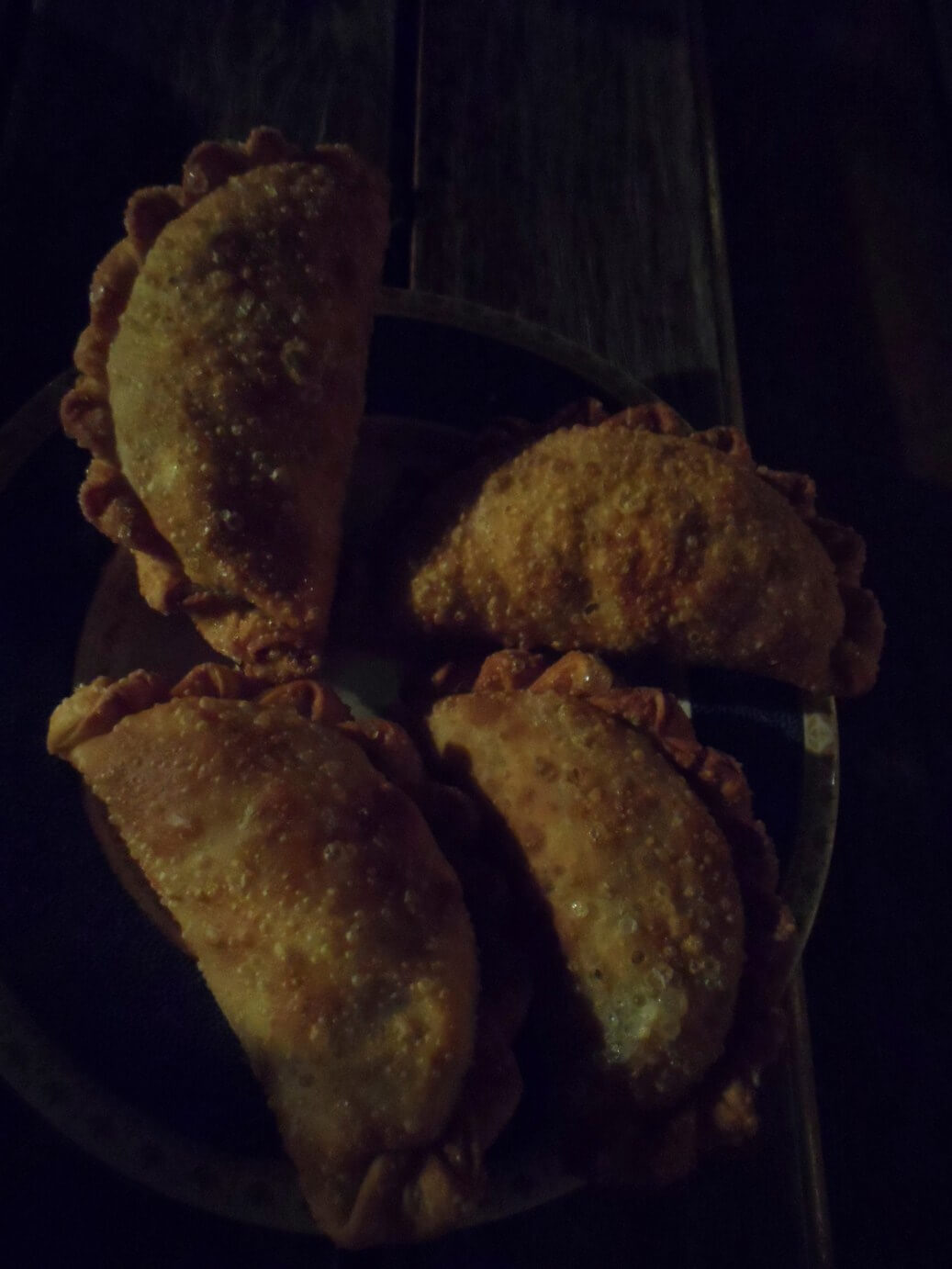 After we polished off the empanadas, we headed inside to the dining room. Once we sat down, the food kept coming—and it was all delicious and super-fresh. We started with grilled shrimp and salad…
…followed by sausage, blood sausage and intestine, accompanied by chimmichurri and potatoes. (This was my first time eating intestine and I really enjoyed it!)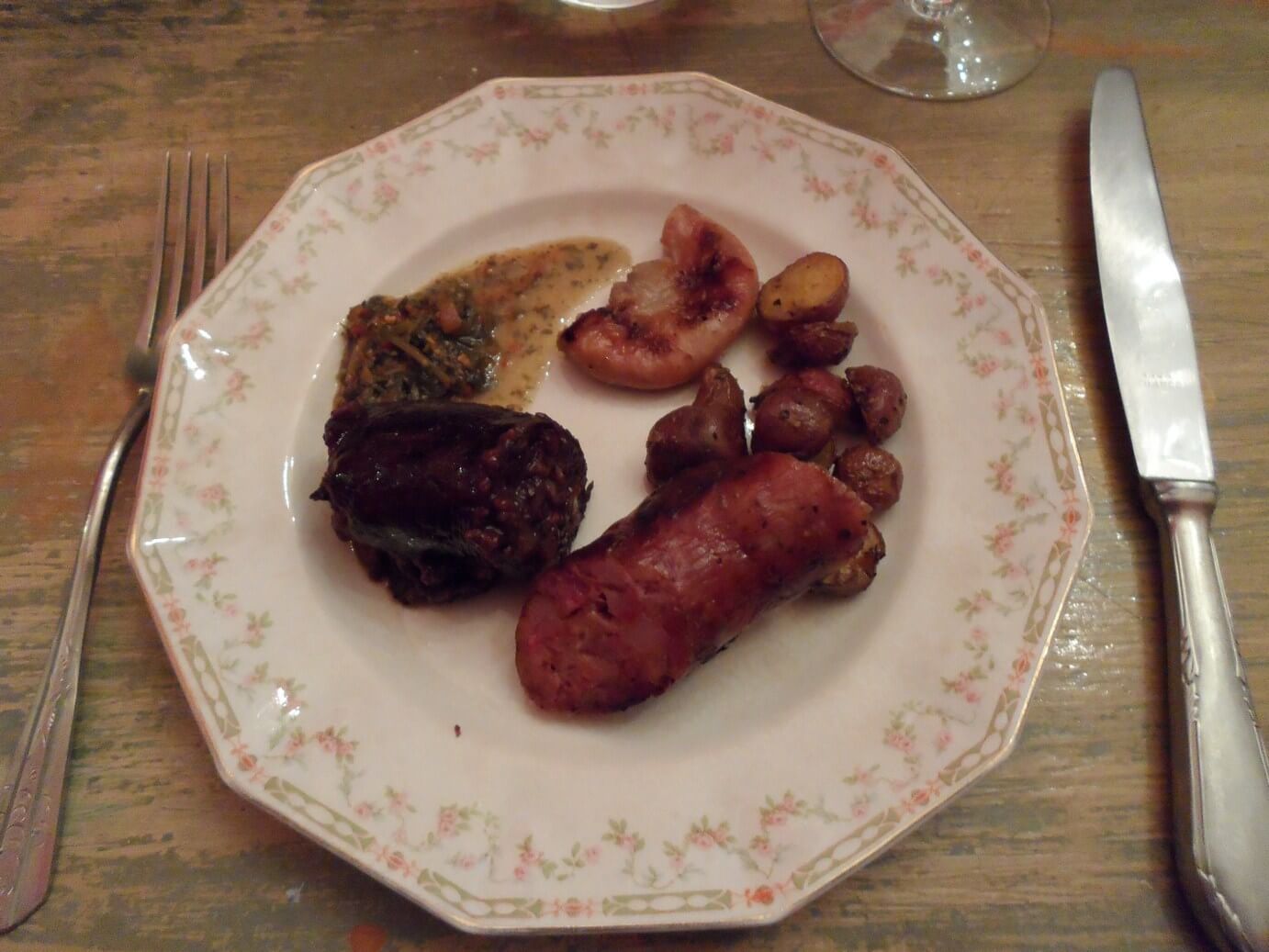 Unlike at the other puerta cerradas, Kelly and Gabriel sat down and ate with us. While all puerta cerradas have a dinner party vibe, this one especially did, thanks to that. As we chatted, I learned that they both have day jobs (he as a chef and she as a graphic designer), and that's why Adentro is only "open" once a week, on Wednesdays. Kelly is also a vegetarian, which explained the abundance of veggies on the menu—something I appreciated, after so many days of meat. Though I did eat plenty of meat, as well!
I thought the sausages were the main course, but it was actually the veggies I'd seen waiting to be grilled earlier—and lots of steak. (I must have been too excited to dig in, since I didn't get a shot of it!)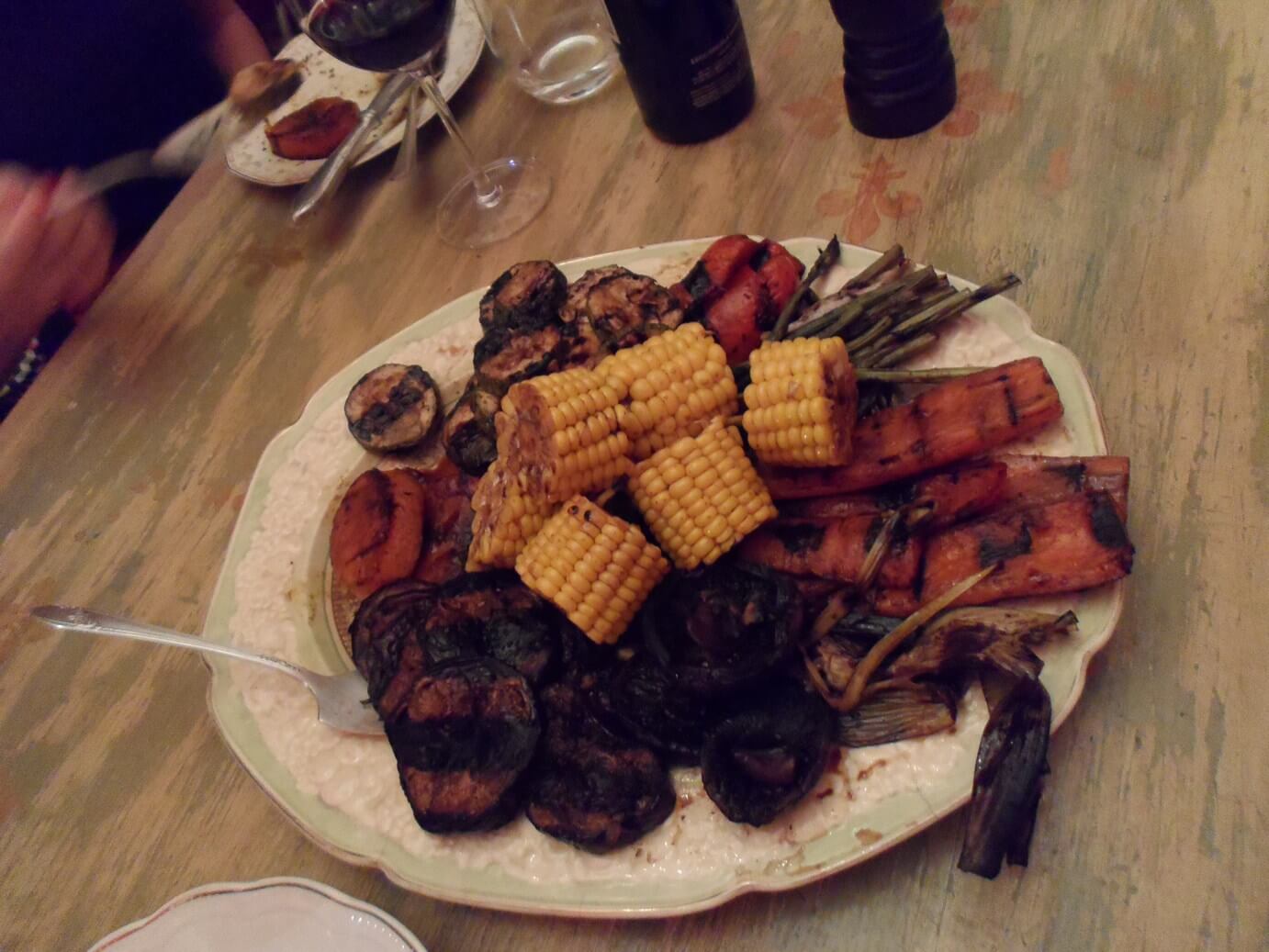 The meal concluded with not one, but two desserts: black cocoa creme brulee…
…and a grilled poached pear with marscapone whipped cream.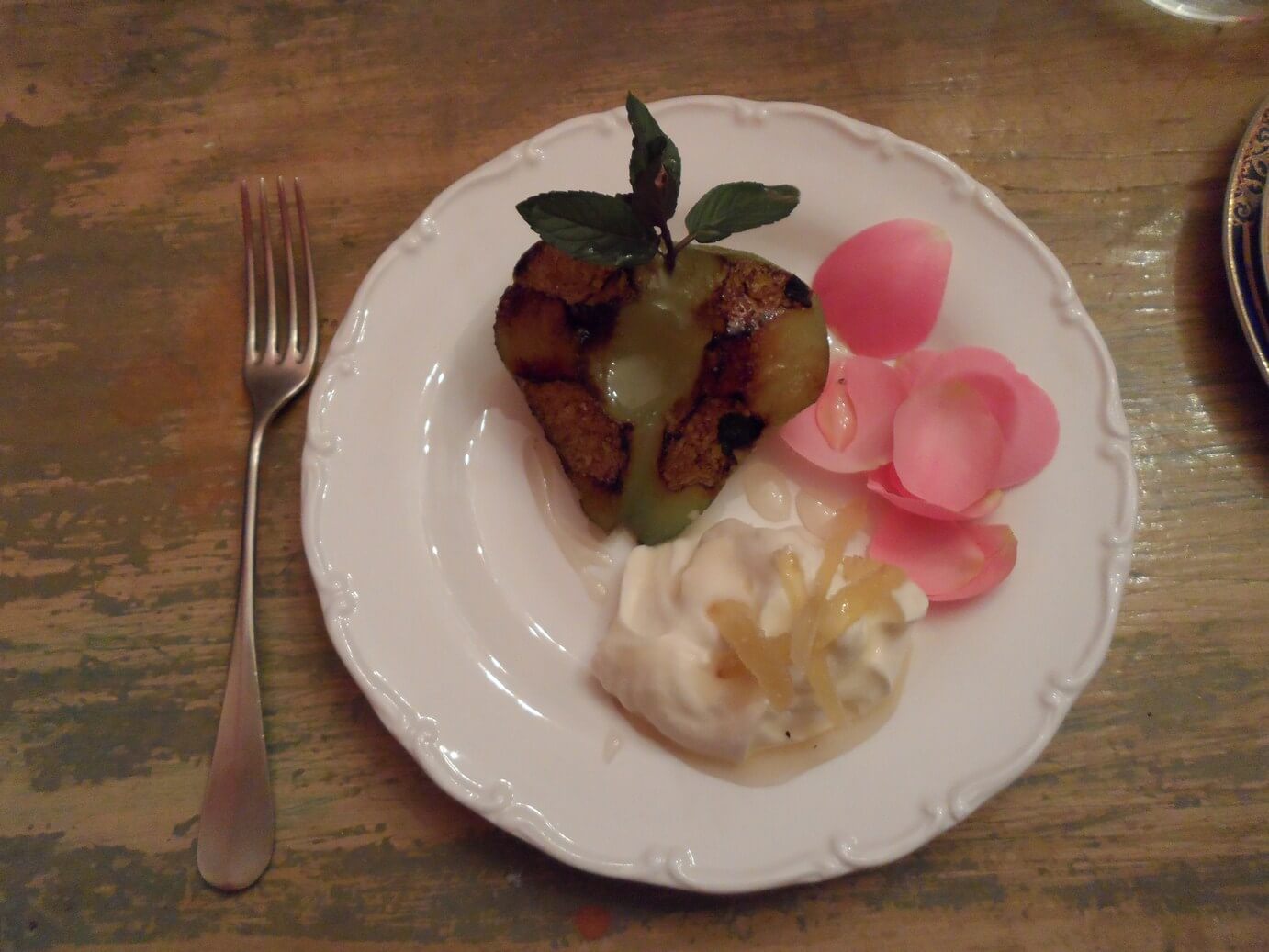 Even though I was beyond stuffed, I ate every bite of both desserts. Afterwards, everyone lingered for a while, just talking and sharing stories. It seemed like a fitting meal to end my time in BA.