For the past few weeks, I've been feeling "meh"—struggling to feel excited about anything, bored with my everyday routine. (Well, except for ballet—the sole bright spots.) Looking at my calendar, and counting down to some upcoming, fun summer events, helped a bit. But the looming shadow of fall and the endless weeks filled with the same old routine just seemed overwhelmingly depressing.
It took me a while to realize I've gotten stuck in a rut.
A non-traveling rut.
Last year, at my old job, I had five weeks of vacation—plus five summer Fridays—and I used every single one of those days. At this time, one year ago, I'd already spent a week inВ Panama, had a girls' weekend inВ Chicago, another one inВ Boston, tookВ a three-day running trip, and was taking lots of three-day weekends to visit Mal and Peter inВ Maryland. Plus, I had two weeks inВ GuatemalaВ on the horizon.
I've just realized that this year is half-over and I've only taken three days to go toВ Eleuthera. And I have no big trip planned for the fall. Part of this is due to having a new job and far fewer vacation days, and feeling hesitant to take any. But I've realized that because of this, I've been reading less travel articles, daydreaming less about where to go next—and dragging myself down, as a result.
My blog tagline pretty much sums me up: I love travel, ballet and my hometown of NYC. I need them all in a way that's hard to articulate and, I assume, difficult for other people to understand,В unless they feel the same way about something. I can't be without any of the three for an extended amount of time without feeling off. (When it comes to travel, I don't need to go far or spend tons of money—if that were the case, I wouldn't have gone anywhere during the last 10 years. I just need to goВ somewhere…every few weeks, if possible!)
So yesterday, I decided to pull myself out of my travel rut. I decided I would definitely plan a fall trip—even if it ends up being another solo journey. And IВ started to think about all the places I could explore. I took a Chile travel guide off my bookshelf and read it on the subway. (I've still yet to go there.) Just envisioning Torres del Paine and Parque NacionalВ Los Glaciares lifted my spirits. And since then, I've felt more energized and optimistic than I have in ages.
Pretty amazing what a little determination and positive thinking can do.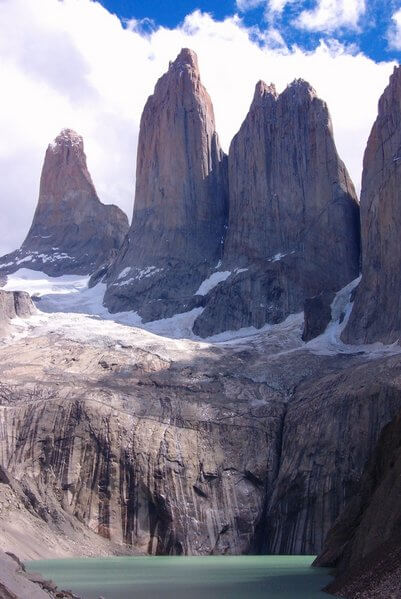 …if you have any ideas about where I should go, please let me know! I'm still figuring it out and would love some suggestions.
(Torres del Paine photo byВ Steffen Sauder via Wikitravel)