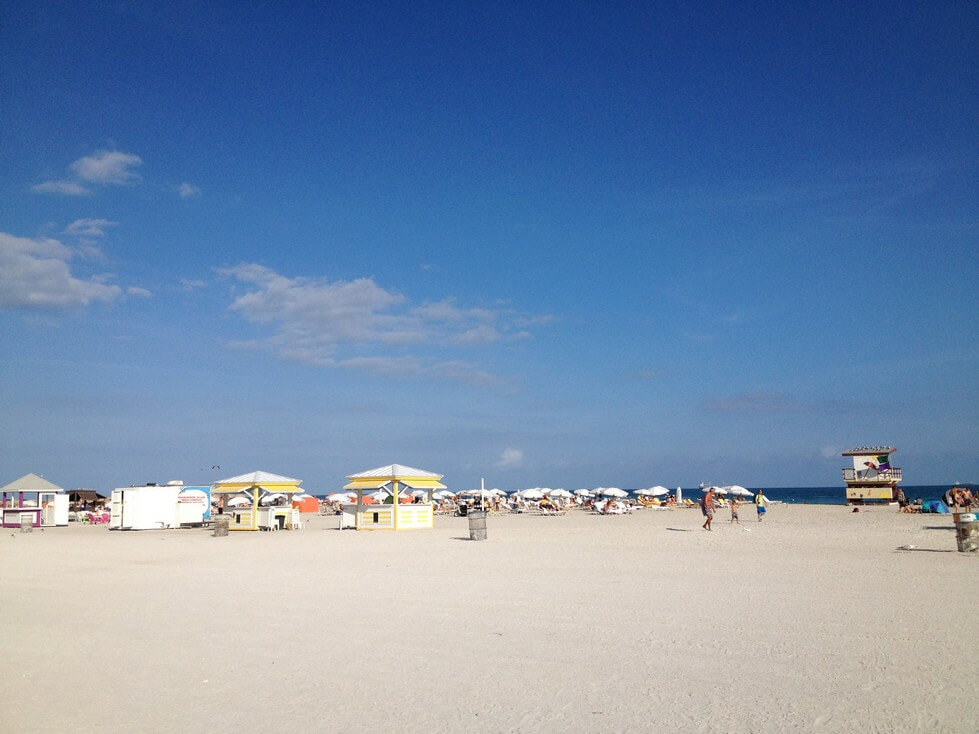 Three days in South Beach was exactly what I needed before starting my new job. (Don't get me wrong—I'm thrilled about it, but definitely needed some R&R, especially after the holidays!) I'd been to Miami once before, about a year and a half ago, for Mal's bachelorette party. While that wasn't exactly a wild and crazy time, this trip was even more chill—I'm sure I was in bed before the rest of South Beach was going out for the night!
Some highlights/favorites:
EATS
Yardbird
On our first day, we ate lunch atВ Yardbird , a hopping, Southern food restaurant with hip decor, run by formerВ Top ChefВ contestant Jeff McInnis. I wanted to eat everything on theВ menuВ (which included deviled eggs, pulled pork and shrimp n'grits) but opted for the butter lettuce and mango salad topped with local swordfish. I also had a few bites of the signature fried chicken and biscuit—and can vouch for both being amazing.
Ola
My mom's birthday was on Thursday (happy bday, Meme <3!), so to celebrate, we went toВ Ola , a Latin American restaurant that happened to be inВ my hotel. (More about that below.) It was the perfect place for a special dinner—the food and service were superb. The corn empanadas were probably the best I've ever had, and the hamachi ceviche was delicious. And the deconstructed key lime pie? Just the right balance of sweet and tart.
Joe's Stone Crab
I left a day earlier than my parents, so they wanted to send me off with a good meal—and I couldn't have been happier with their restaurant selection. We went to lunch atВ Joe's Stone Crab , a perpetually crowded, wonderfully old school institution where waiters still wear jackets and bow ties. Stone crabs are in season from October through mid-May and we were in luck: A batch of jumbo crabs had come in that morning. I'm used to eating littleВ Maryland blue crabs, so I was shocked at how large and meaty these guys were. (I'm still dreaming of those claws!)
Other South Beach Eats I'd recommend (from this and the last trip):
Puerto Sagua:В Classic (and cheap!) Cuban food in a casual, diner-likeВ atmosphere. (Perfect for the morning after a night out!)
Dilido Beach Club:В Delicious cocktails and eats—plus impeccable service—at the Ritz-Carlton's oceanfront bar; great for lunch when you don't want to stray far from the beach.
BLT Steak:В True to its name, meat is the main event, but the gigantic Gruyere popovers, alone, are worth the trip.
Spris:В Al fresco Lincoln Road spot that serves thin-crust pizzas.
Sushi Samba:В I've never been to the NYC restaurant, but I really enjoyed my late-night rolls and cocktails at this outpost, also on Lincoln Road—plus, the people-watching was fantastic, at that hour!
SIGHTSВ
The Beach
Obviously. When I've left behind freezing, cold NYC for a few precious days in the sun, there are not many things I'd rather do than lie onВ the beach.В And luckily, South Beach, itself, is really nice. The sand is soft and well-kept.В On sunny days, the water is calm and brilliant blue—I find it hard to believe it's the same Atlantic we have up north! I spent most of every day chillaxin' in a lounge chair, soaking in the warm weather and listening to the sound of the surf.
Lincoln Road
It's hard to go to South Beach and not end up onВ Lincoln Road , at some point. I love the idea of a pedestrian mall and wish more cities would adapt it; it's a luxury to walk past shops, outdoor dining, public art and palm trees without the noise and chaos of cars. Lincoln Road isВ quintessentiallyВ Miami and nice anytime of day: in the morning, when you want to take a quiet stroll; in the late afternoon, when you want to shop after a day at the beach; or at night, when the restaurants and lounges fill up!
ACCOMMODATIONS

South Beach has a ton of amazing hotels but, in my experience, it's not easy to find deals. I booked this trip at the very last minute (just two days before) and it took me about four hours to find a good hotel in my price range, which was around $200/night. (Since I wasn't splitting the cost with anyone.) I ended up at the Sanctuary , a small, quiet all-suite hotel one block removed from the fancy beachfront properties. The service was friendly—though not particularly polished—and the place had a bit of a motel-vibe, since all the rooms face into a courtyard. Still, I had beach and pool access via its sister hotel, the Shelborne , and my suite was very clean and spacious.
My parents, on the other hand, stayed at the Betsy , a swank boutique hotel with a retro vibe and gorgeous rooftop. Rooms are small, but have lots of sweet extras, like Frette linens and Malin + Goetz products. (I had a little hotel envy over that!)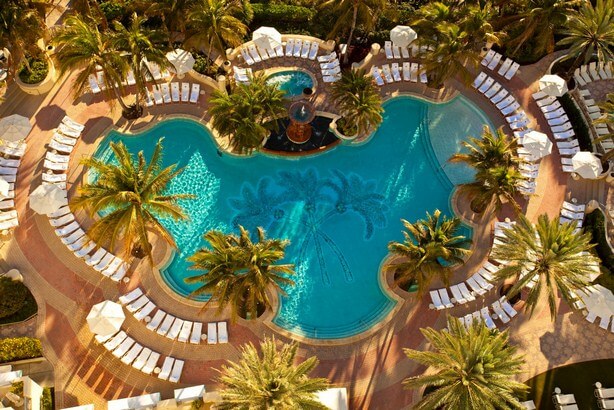 For Mal's bachelorette, we stayed at the Loews , which I'd highly recommend. It's pricey, yet more affordable than many of its beachfront neighbors—and the service was on par or with what you'd get at a W or Ritz.
Have you been to South Beach recently? What are your favorite restaurants and hotels? (I'd love to know for my next trip!)
(Sanctuary photo via SanctuarySoBe.com, Loews photo via their Facebook page; the Betsy photo via TheBetsyHotel.com)