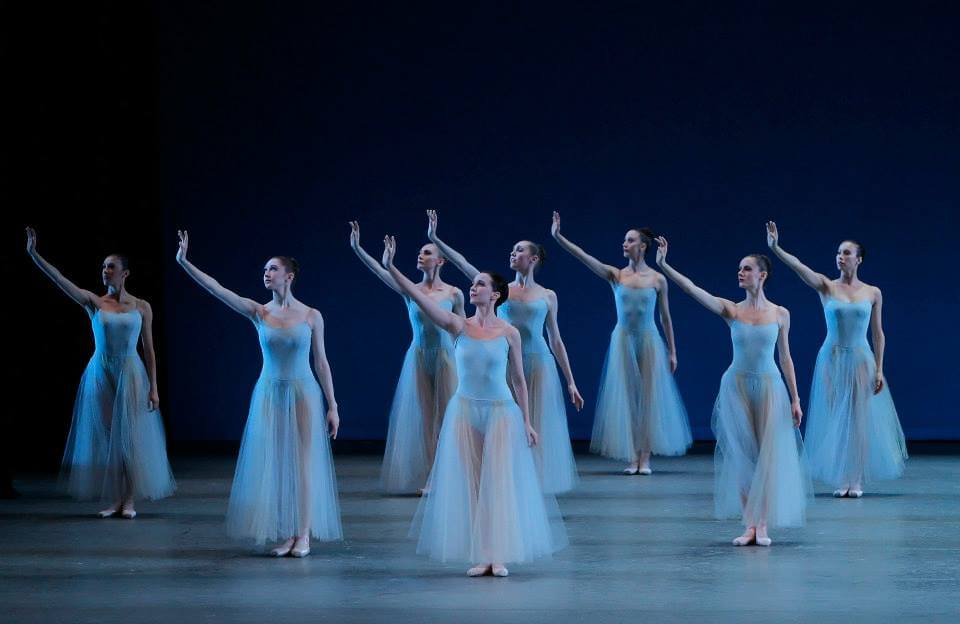 As part of our Mother's Day celebration, my mom, stepdad and I went to a City Ballet matinee. The all-Balanchine programВ of "Serenade," "Firebird" and "Symphony in C" was great. It was the first time I'd seen the latter two, and I really enjoyed both–"Firebird" is a slightly campy, theatrical fairy tale that looks like a Chagall painting brought to life (which shouldn't be surprising, since he designed the sets and costumes). And yesterday's "Symphony in C" was so joyful and exuberant. The corps was tight and the soloists spot-on–plus theВ flashy new costumesВ were pretty stunning, too. But I was especially glad to see "Serenade" a second time.
Though my ballet history knowledge is, admittedly, limited, "Serenade" is one of my favorite pieces. I was blown away when I first saw Boston Ballet perform it in 2006. And yesterday I found City Ballet's staging just as haunting and powerful. I love the ballet's simplicity and restraint–there are no show-stopping solos, stylized character motifs or gasp-inducing penches and turn sequences. Even the costumes and lighting are understated–just whispy periwinkle gowns and soft blue lighting.В "Serenade" was Balanchine's first ballet created in America; it was born from a lesson in stage technique and students, not professional dancers, initially performed it.В I can see that lineage in the choreography. It's gorgeous, and the interplay between dancers is subtly intricate. But the sequences aren't terribly complex–"Serenade" is ballet in a very pure form. As an audience member, I find it easy to get lost in the dancing and really appreciate the dancers' clean lines and grace when they're laid out so bare.
I also have an affinity for "Serenade" on a personal level: It's the ballet that made me want to dance again. When I first saw it, I hadn't danced in a couple years. But I remember watching and realizing that I could easily break down the sequences in my head, which really made me miss ballet. It took me a few more years to return to dance, but even now, "Serenade" remains the ballet I wish I could perform if I were a dancer.
So I was glad I could see the piece with my parents, especially my mom. She was the one who first instilled the love of ballet in me. She signed me up for classes and took me to performances when I was a kid. And she encouraged me to restart and continue dancing, no matter how old I got.
(P.S. I made my parents–both born and bred New Yorkers–pose for a touristy picture in front of the Met. They were kind of like, "Why are you making us do this?" but I think the photo is cute!)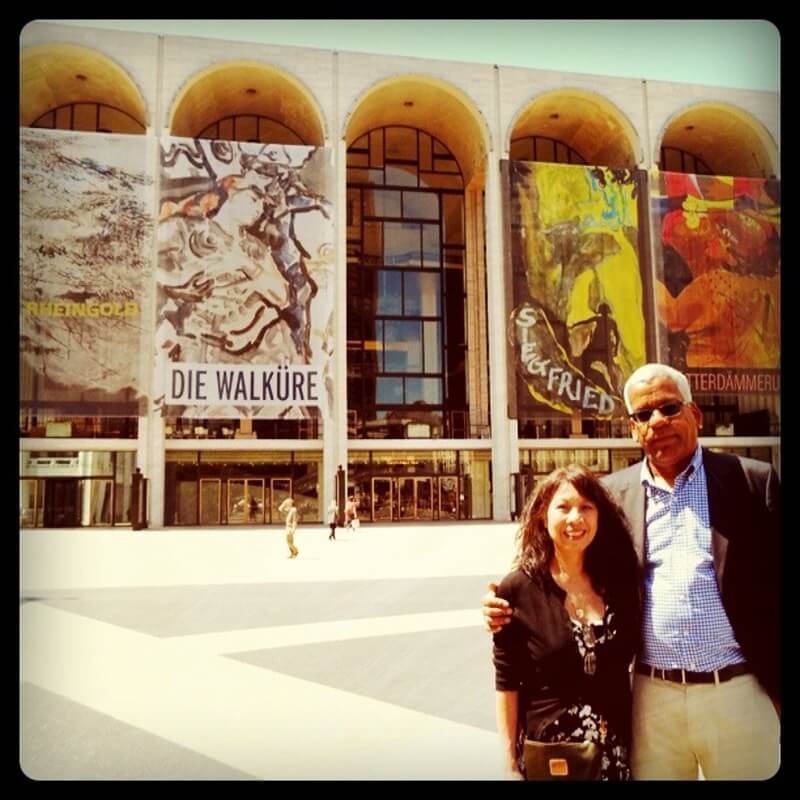 ("Serenade" photo via New York City Ballet)