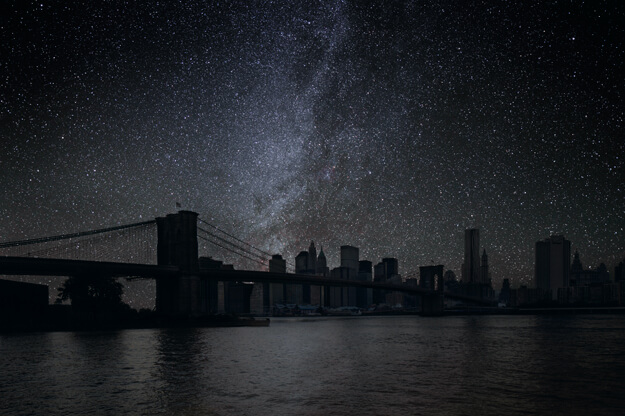 I never saw stars until I was 20 years old. As a kid in Queens, I sometimes glimpsed the occasional one or two, but never a sky filled with them. It wasn't until I was camping in the Australian Outback, during a college semester abroad, when I saw a night sky completely lit up with countless stars. The sight both wowed and shocked me—until that night, it had never dawned on me that I'd never anything like it before.
That's why I'm loving Thierry Cohen'sВ "Darkened Cities."В The French photographerВ juxtaposes photos of, well, darkened cities, with the night skies of less populated areas along the same latitude. So this is NYC with stars from the Nevada desert. If we didn't have so many bright lights, that's what we might see, every evening. ( NYTimes.com has a gorgeous gallery featuring several other cities from the project, including Paris, Rio and Hong Kong.)
And speaking of stars, check out this brilliantВ StoryCorps video—it's sad, sweet, funny and inspiring!
Have a wonderful weekend!
(Image by Thierry Cohen via Socks Studio)