For me, camping is fraught with major pluses and minuses. On one hand, I love being far from the city, surrounded by nature. It's amazing to look up and see a sky full of stars and hear nothing but the wind. And the change in air quality is unmistakable—is just feels crisper and cleaner.
But on the downside, there are usually bugs. And scary animal noises. (Sorry, I didn't grow up around coyote calls!) And questionable bathroom situations. And, being a city girl, I'll admit that rural areas, in general, make me uneasy. At least in a city, people can hear if you scream, and come to your rescue if you need help. (Even if it's something as minor as getting locked in your bathroom…not that I have firsthand experience…) For years, my go-to, irrational camping fear was that some crazy person who escaped a mental hospital would somehow stumble upon the very place where I happened to be—and wreck havoc with no one around.
Despite all this, the pros outweigh the cons, and I'm always game for an adventure. And I've become fixated on what I hope will be my next pseudo-camping trip: sleeping in a tipi.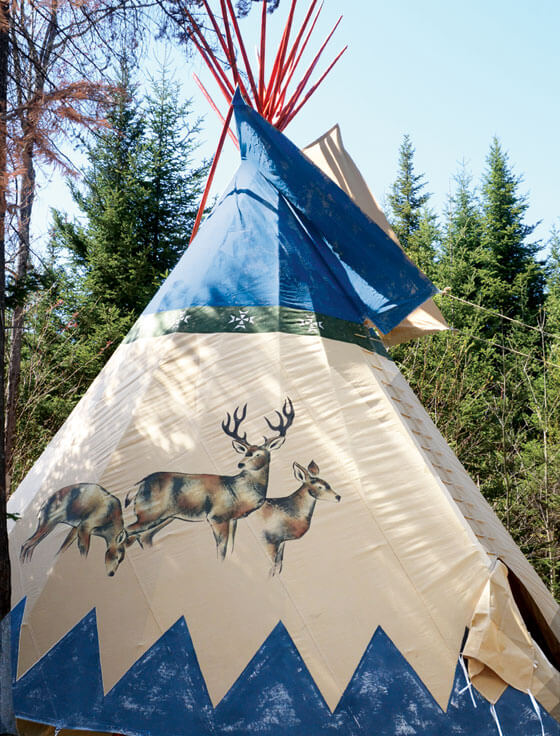 I stumbled upon this while reading NY Mag's round-up of uncommon vacation rentals. This tipi is set on 31 acres of land, near Littleton, NH. It's big—approximately 22 feet wide and 24 feet tall—and sleeps six. And there's a fire pit in the middle!
Best of all, as the owners puts it:
This isВ notВ a tipi campground where you have other parties all around you either intruding on your peace and quiet or forcing you to stay quiet yourselves. This is a single tipi in a private wooded setting of 31 acres allowing you to get connected to nature, enjoy the serene setting, and have fun.
Sounds pretty prefect to me.
(Photo via NY Mag)