Last month, Evan and I went north to run the Maine Coast Half Marathon Bosom Buddy Relay. The race was in Biddeford, a small town about halfway between Kennebunkport and Portland.
We had a great four days in the area with Mal, Peter and my mom, who came up to cheer us on. (Photos and recommendations in another post!) The beaches were quiet and pretty, and the small towns had some good food. But the highlight of the weekend was, of course, the race.
Like most half-marathon relays, the 13.1 mile course was split up into two legs: a first leg of 7.25 miles, and a second of 5.85 miles. Evan opted to do the longer half.
Going into it, I wasn't sure how my time would be. Evan and I didn't train as much as we could have. As usual, I based my training around my ballet schedule, adding one day at the gym and one outdoor run, each week. Evan did about two days at the gym and one outdoor run, a week. Not bad, but not a ton of mileage. Based on our training runs, I figured Evan would go around 12 minutes per mile, and I'd go around 9:15, putting our total finish time at about 2 hours, 15 minutes.
The race started on Saturday morning, at the University of New England. At 7 a.m., Mal, Peter and my mom dropped us off, and they headed to the relay exchange point, a couple miles away, near the coast.
The weather was perfect for running: overcast and cool, in the 50s—but it was freezing waiting around for an hour!
Finally, at a few minutes to 8, they called runners to the starting line.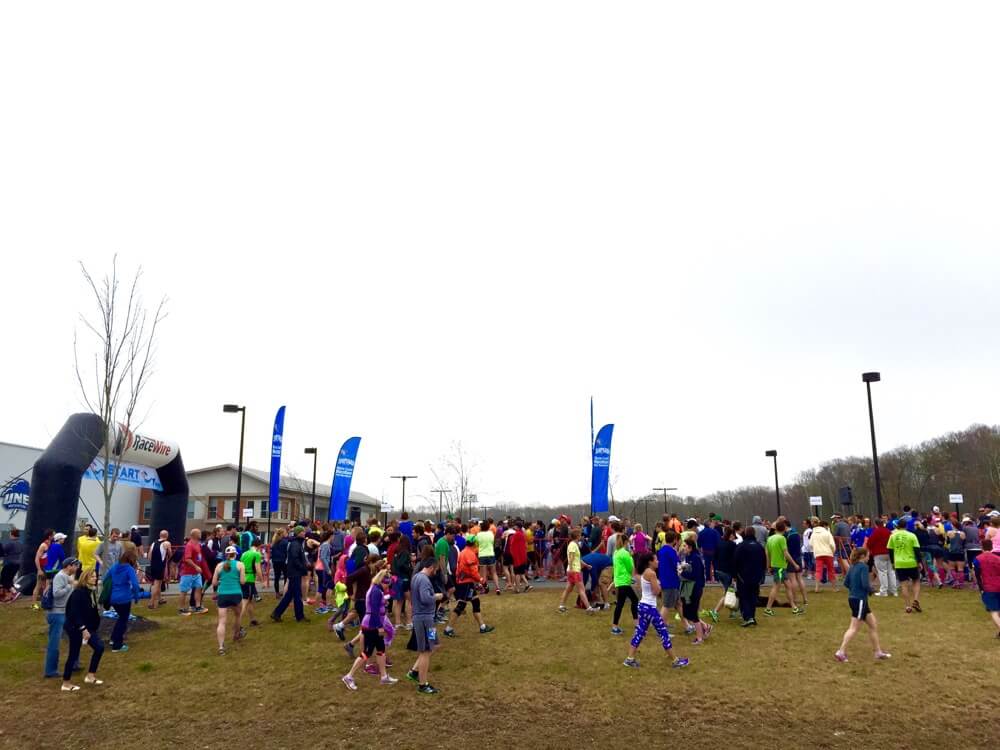 Evan was in the fourth and final wave; I waited alongside him, on the other side of the corral. We snapped pictured and got excited as the other waves took off, every three minutes.
When they released Evan's wave, I cheered him on and watched as he ran out of sight. Then I boarded a cheese bus that was transporting us second leg relay runners to the exchange place.
Once we arrived, I met up with my family. I was so glad they were there!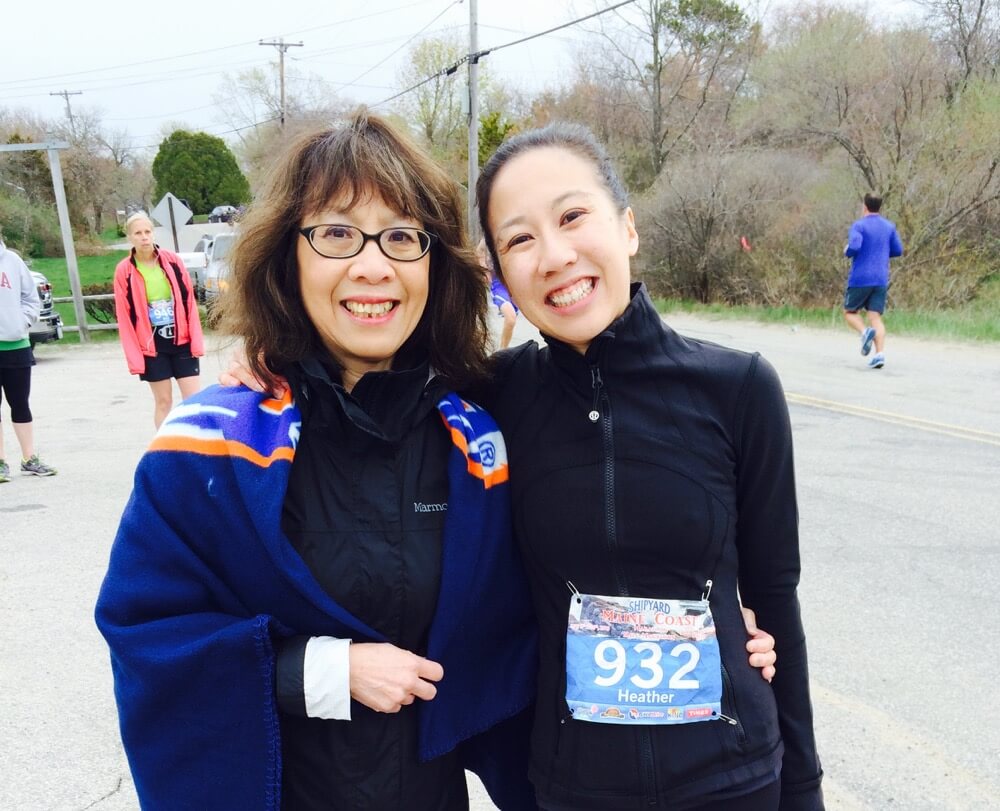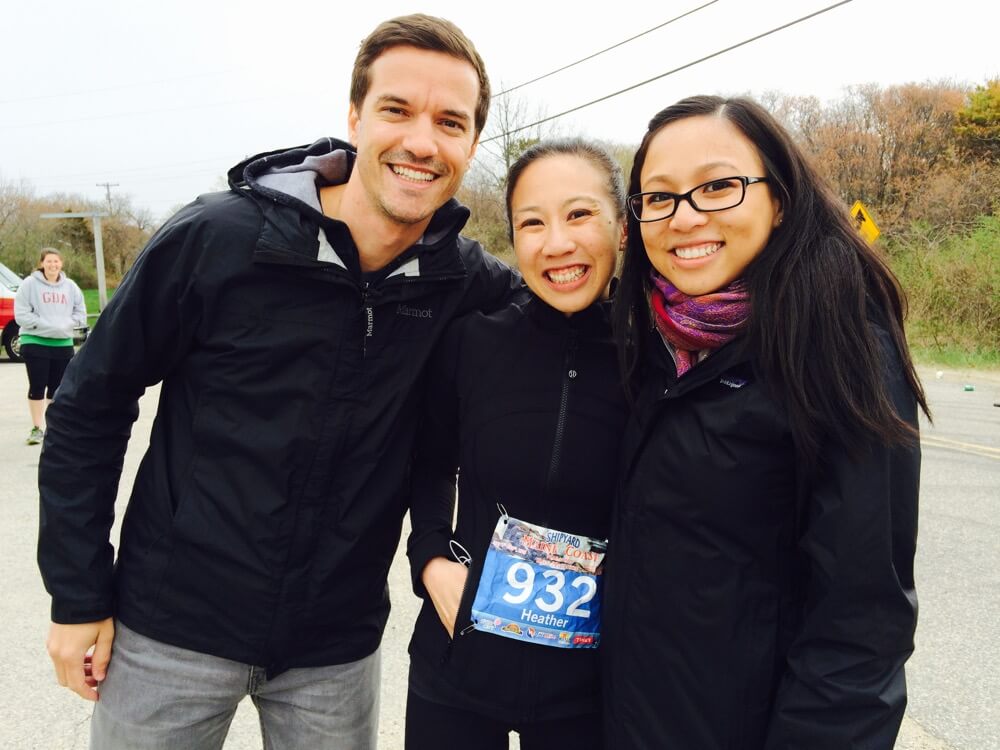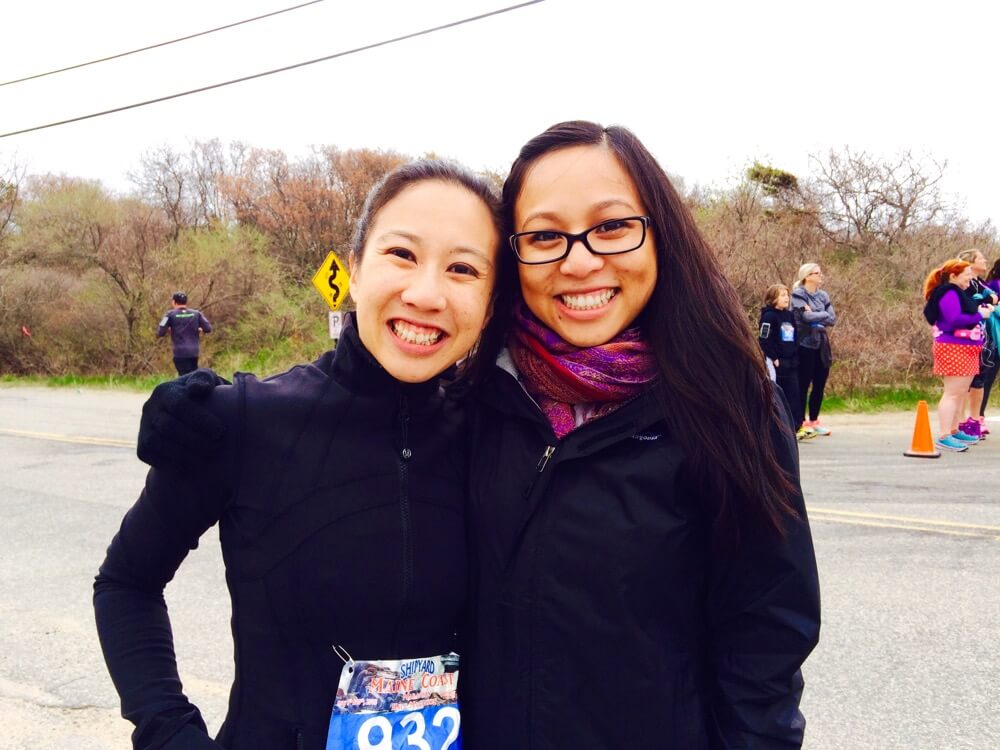 I sat in Mal's car toВ beat the chill—this is one problem I've noticed with relay races. The second runner ends up waiting around outside for hours, making it hard to stay warm.
The lead runners started coming in amazingly soon. The second one who arrived was actually a relay runner who tagged his teammate. A few other runners zoomed in, including relayers. Those runners were hardcore! They tagged each other the way they do in the Olympics and other big races, with the second runner starting to run as the first is coming in, so they're in motion together.
…that was something I had never thought of doing! 😉
Within a half hour, more runners were coming through. After it had been more than an hour since the start, I decided it was time to head into the relay corral to wait for Evan.
I watched other relay runners come in and tag their teammates. Seeing the exchanges was one of my favorite parts of the race. Teams were made up of all sorts of relationships: couples, friends, siblings, parents and their adult kids. Everyone was so excited as they came in and hugged or tagged their partner.
I started to get a little nervous when I realized I was one of the last relayers left. But then, my mom and Mal shouted that they saw Evan in the distance. I was so proud and excited that I couldn't help but jump up and down and wave. When he reached me, he was all smiles. I gave him a big hug, but he shook me off, saying, "Go! Go!"
The first few miles were my favorite. The road went through a residential area, so I ran by pretty shore houses. The ocean gleamed beyond.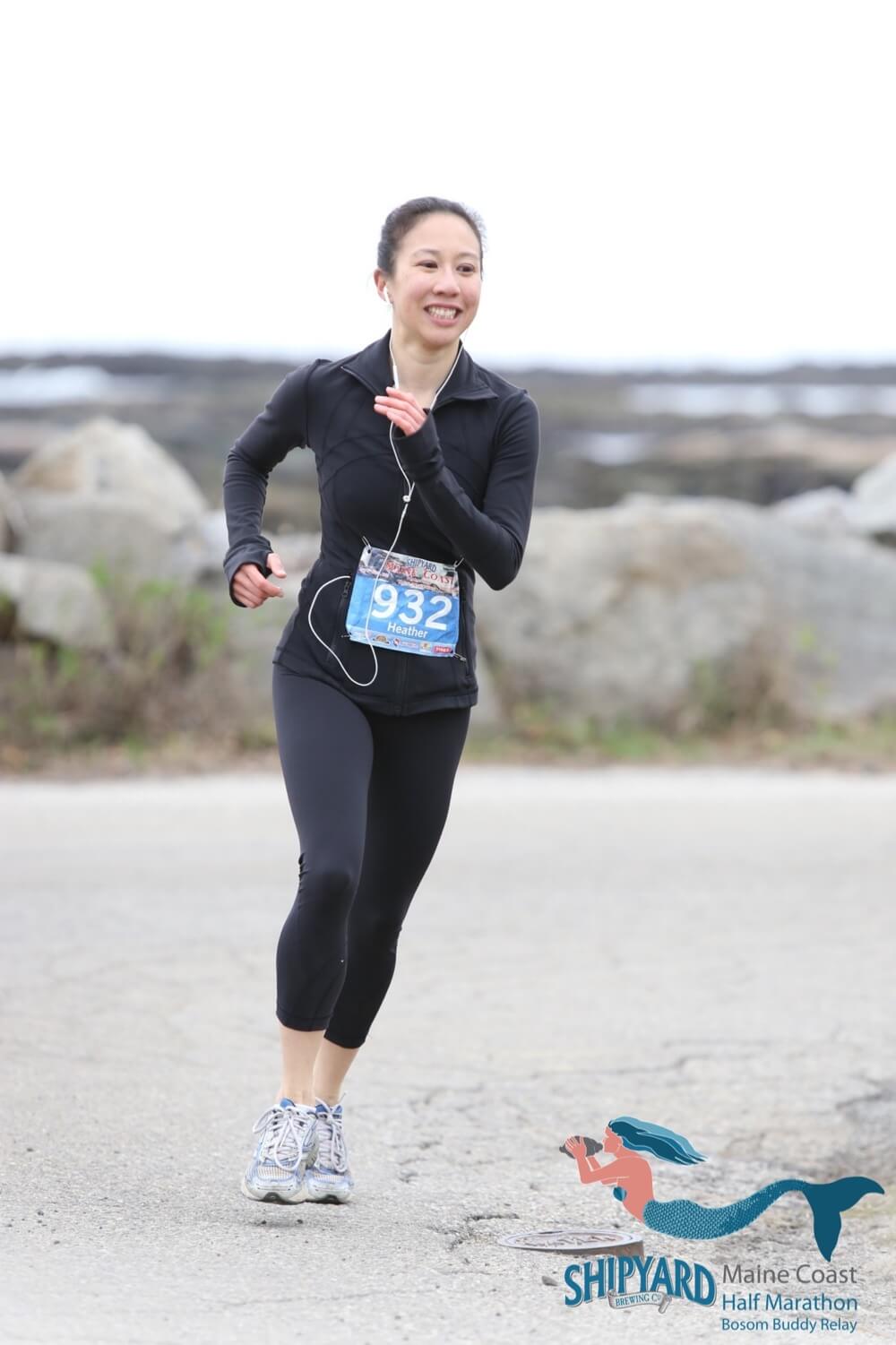 Some runners were taking photos along the way (!!) but I'm not coordinated enough to snap pictures while running. Plus, my competitive nature wanted me to clock in with my best possible time.
Because I was on fresh legs, I steadily passed other runners. (And felt kind of bad about it, since they were running the full 13.1 miles!) In a way, it became like a game that helped me get through the run—target someone to gradually pass, then target someone else once I had.
The Maine Coast Half Marathon is a race that's mostly run on roads that are still open to traffic. (As was the Saint Michaels race we ran in Maryland three years ago.) Initially, I was worried about this—running a race is trying enough, and I didn't want to think about getting hit by a car while doing so. But the race organizers and Biddeford law enforcement did a great job. They directed traffic around the runners, and held it up, when necessary. And for most of the race, there were very few cars on the road.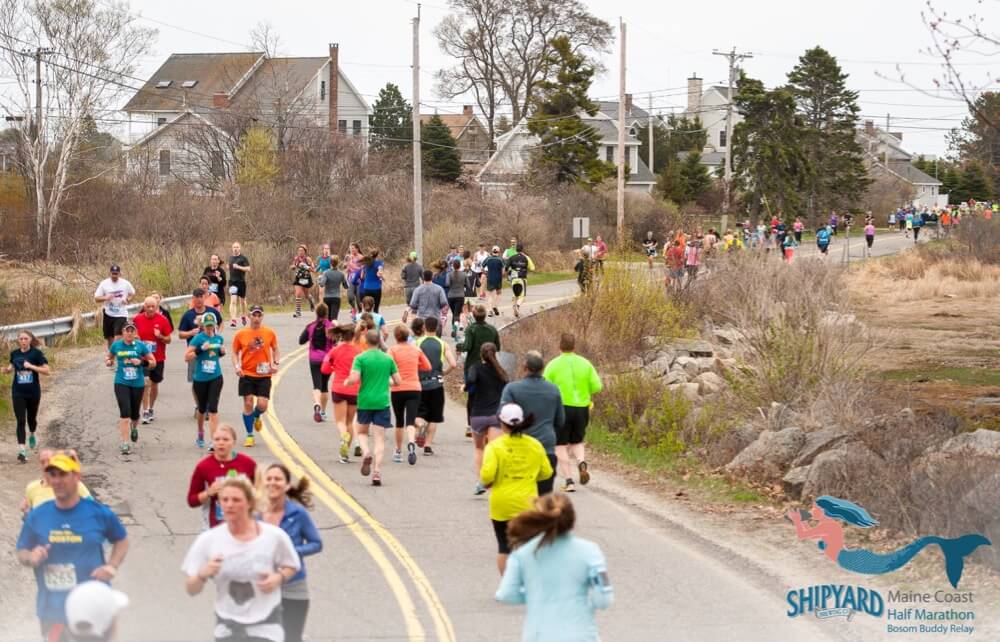 I felt great for most of my run—strong and upbeat as I ran along the coastal road, then made my way back inland, among houses and trees.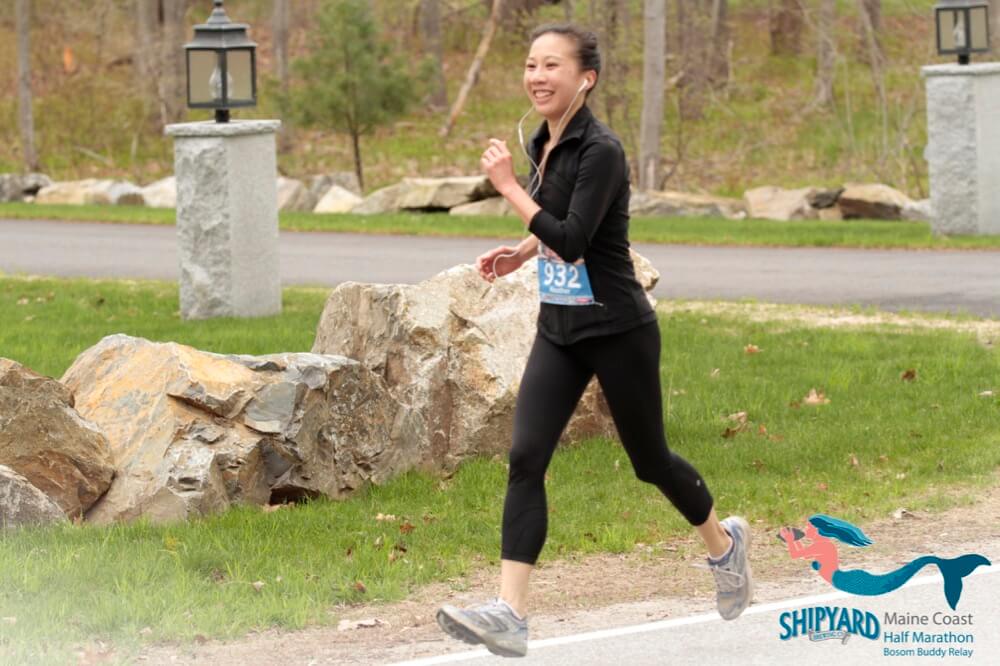 As usual, I started getting antsy towards the end. The last half-mile or so is always the toughest for me, when I just want the race to be over.
The course ended in a clever way. The final stretch went back into the University of New England campus, then through a small underpass that led right to the spectators near the finish line.
It was there where I saw Mal, Peter, Evan and my mom cheering me on. Clearly, I was thrilled to see them!
The finish line was right beyond. OurВ final time was 2:07:08—much faster than I had expected! Evan ended up running about 10:20 a mile, and I ran an average pace of 8:53.
Shipyard Brewing Co. sponsored the race, so there was free beer at the end, as well as pizza from the Portland Pie Co.В But we didn't stick around the festivities for too long. I was looking forward to celebrating my finish with a few crustaceous meals elsewhere!