Every summer, my friend Barb rents a house on Seneca Lake, rounds up a group of people, and heads upstate for a long weekend. Barb had invited me once or twice in the past, but I never made it up, owing, mostly, to a lack of vacation days. But this year, work wasn't an issue. I received Barb's invite just as I had finished a whirlwind month of freelance work and was itching for a vacation. A few days on a lake sounded good to me!
My carpool of four departed NYC on Wednesday afternoon. To get to the Finger Lakes region, we drove through New Jersey and Pennsylvania before cutting back into New York. Once we left the city behind, the scenery was beautiful; green mountains framed the road near the Delaware Water Gap, and we rode past valleys and farmland once we were back in New York State.
It was pitch black by the time we drove through Watkins Glen and the other little towns close to our rented house. During the daytime, the bustling downtown strips convey that retro, 1950s-small-town-USA feel, but at night, the deserted streets were a little spooky. At a local convenience, we purchased a YuenglingВ 12-pack for $11 from a bearded guy in camo overalls — an undeniable reminder that we were hours away from NYC. ("I feel like we're getting away with something…" one of my carpool members remarked.)
To get to the lake house, we had to turn off the main road and drive 15 minutes down a dirt road flanked by corn fields. All that was missing from this horror movie setting was a ax wielding psychopath jumping in front of our headlights. After a few harrowing wrong turns, we finally arrived at a row of houses perched along Seneca Lake.В
I expected our rental to be nice, but I was surprised at how nice it was. The two-story house was bright, airy, immaculately clean, and fully stocked with kitchenware and pluffy towels. Two of the four bedrooms had fireplaces; the one Ryan and I shared didn't, but it had cool mint walls, a high, white-paneled ceiling, and cute rustic signs advertising nautical attractions like "Yacht Club" and "Bait." Despite the country-style decor, the place wasn't lacking modern amenities: Every room had a flat-screen TV, and the entire house — plus the porch and private dock — were wired to a digital stereo system (which was perfect for blasting hours of MJ for a "memorial dance party" after we learned of the King of Pop's death on Thursday afternoon).
I didn't get to take in the beauty of our surroundings until the next morning. A brilliant blue sky and calm waters greeted me when I looked out the screen door. Every house near us had a private dock, and across the way, green hills loomed above the lake. The weather wasn't very warm during our time there, and the water was way too cold for swimming, though I probably wouldn't have spent much time in the water, anyway. (Seneca Lake is one of the deepest lakes in North American, and still bodies of water kind of creep me out — as in, who knows what's lurking beneath the surface…) We spent most of our time on the dock.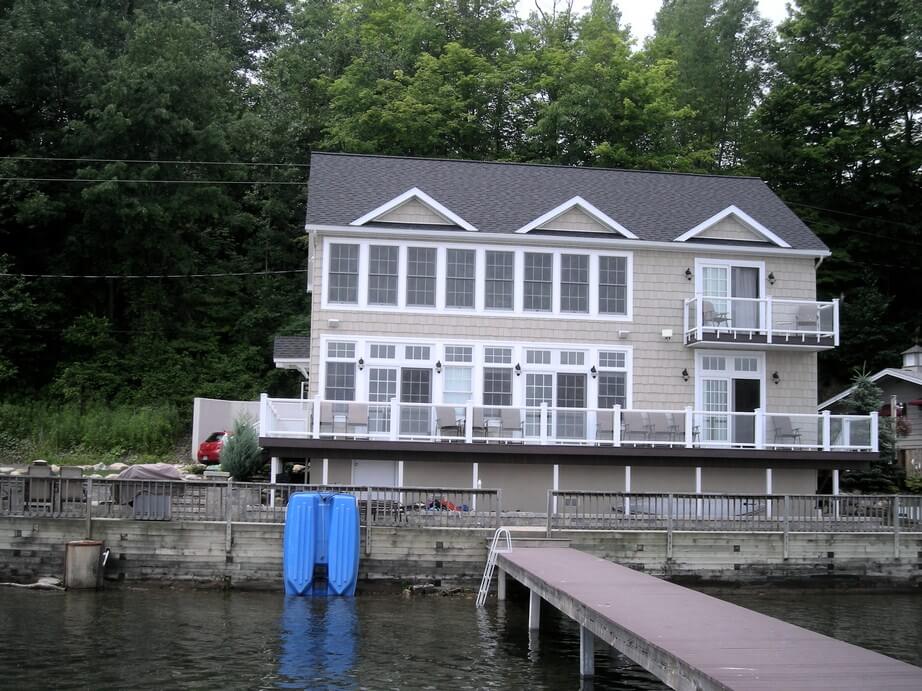 The house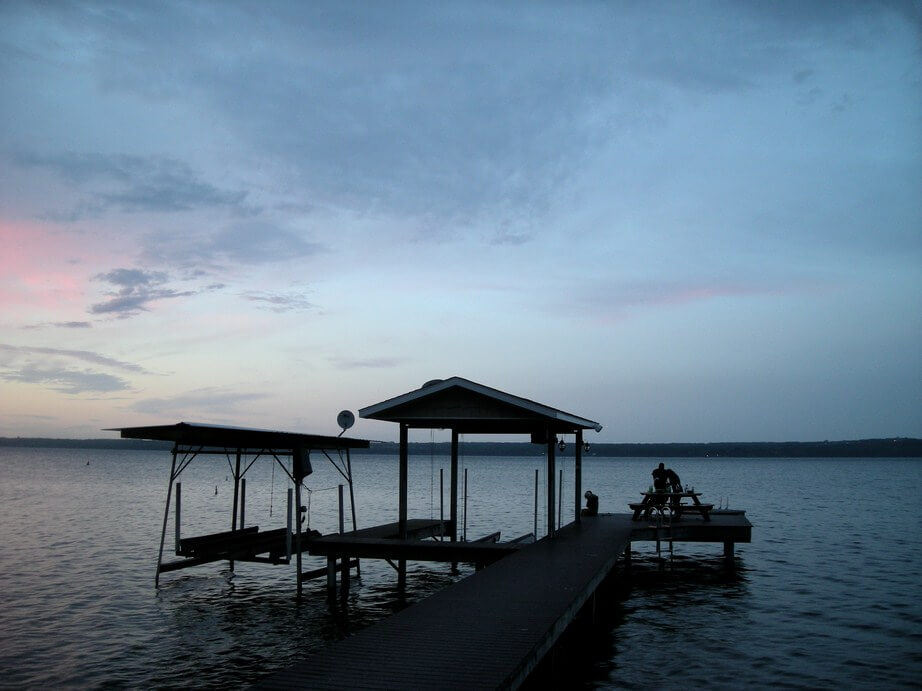 Our dock at dusk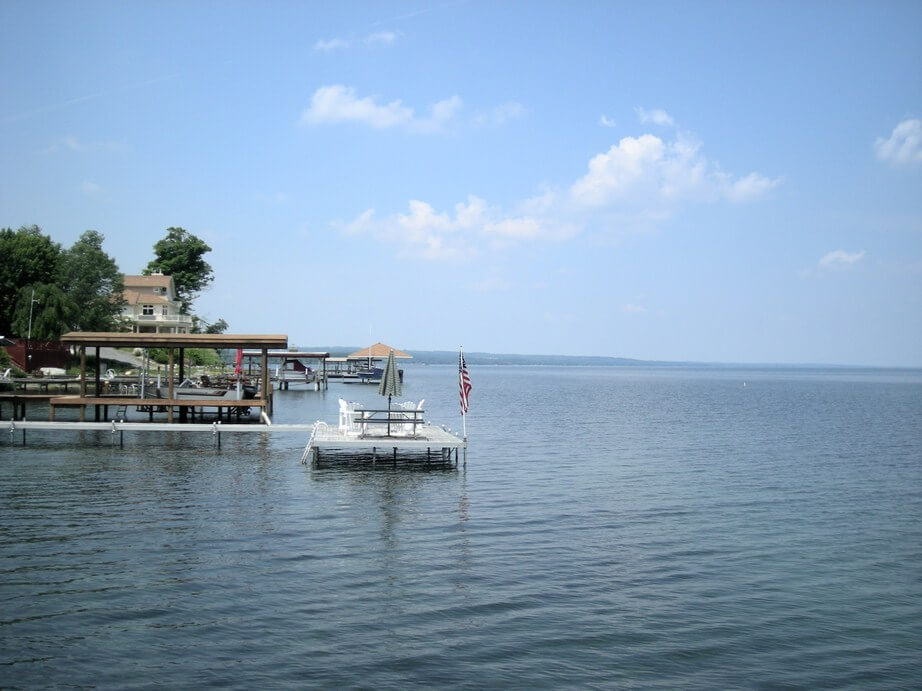 В View from the dock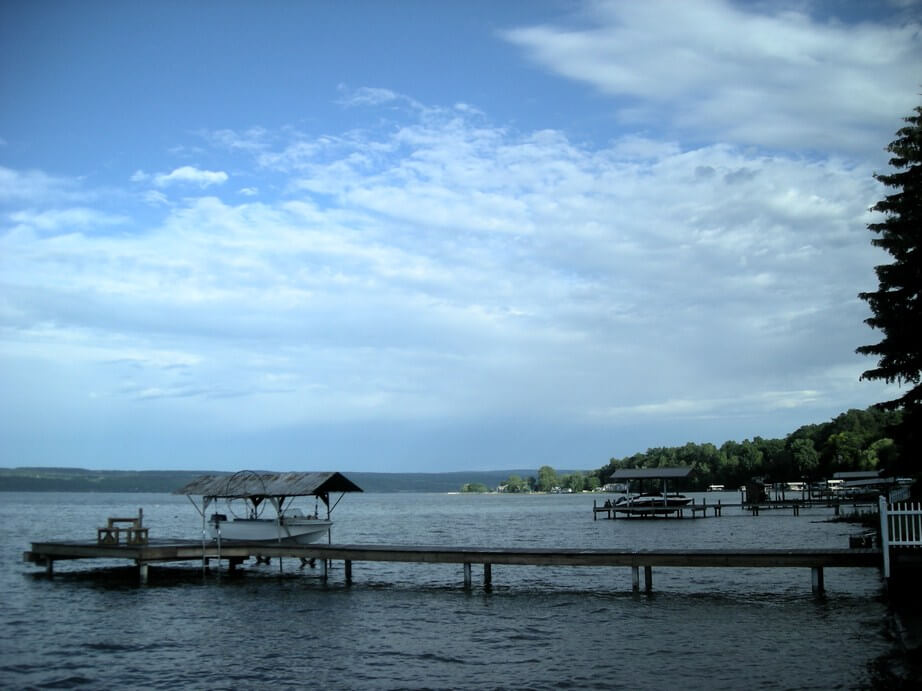 В Another view from the dock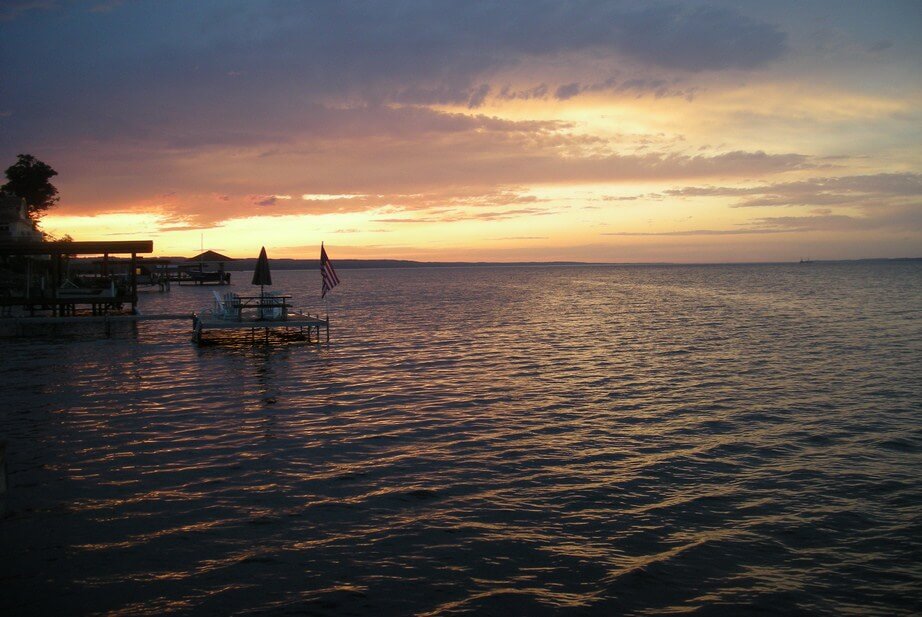 Sunset over Seneca Lake
On Friday, five of us peeled ourselves off the dock long enough to go wine tasting. Seneca Lake is home to 35 wineries, and the region is known for its whites. As we drove past vineyards on Route 14, we noted that many tasting rooms flew pink flags advertising Riesling.В
We hit four wineries: Red Tail Ridge Winery, Anthony Road Wine Company, Prejean Winery, and Four Chimneys Organic Winery. Red Tail Ridge boasts a number of green initiatives (such as designing its vineyards to conserve water and soil), and Anthony Road had gorgeous grounds that overlooked Seneca Lake. But none of the wines at the first three wineries wowed me. I most impressed with the vinoВ and the ambience at our last stop.В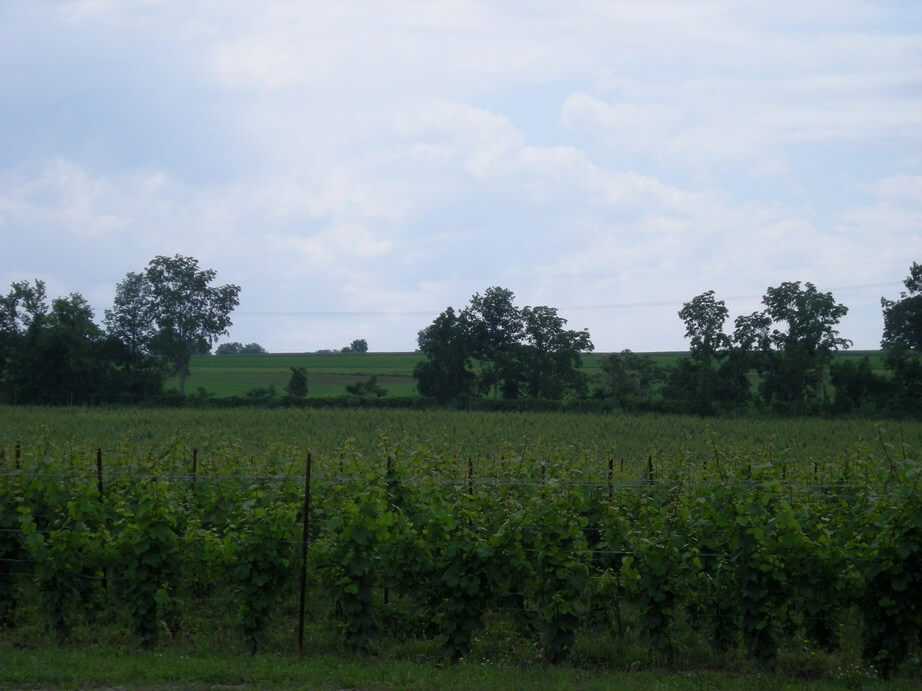 Red Tail Ridge's vineyard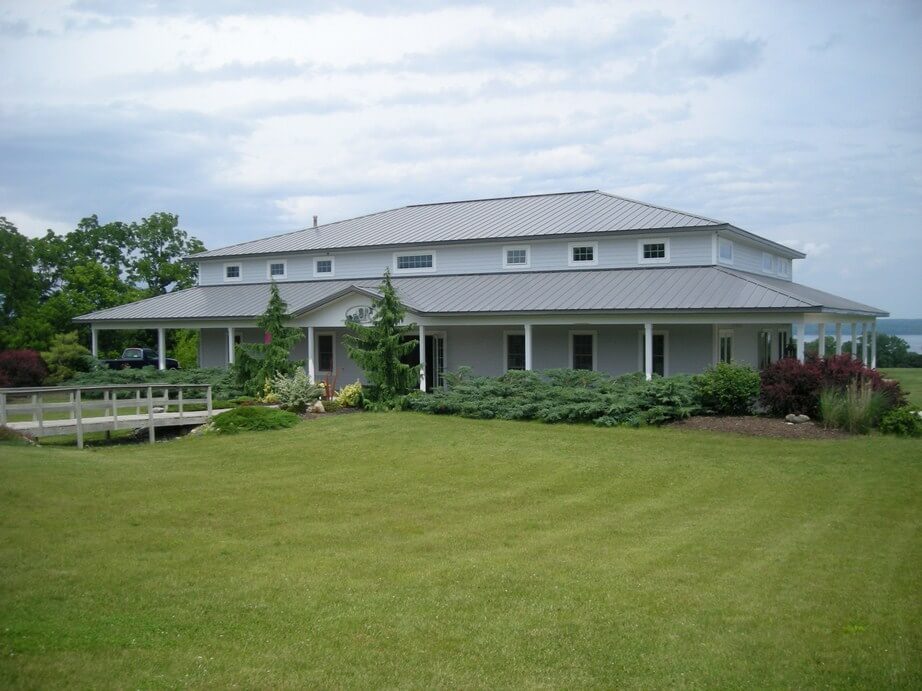 Anthony Road's tasting room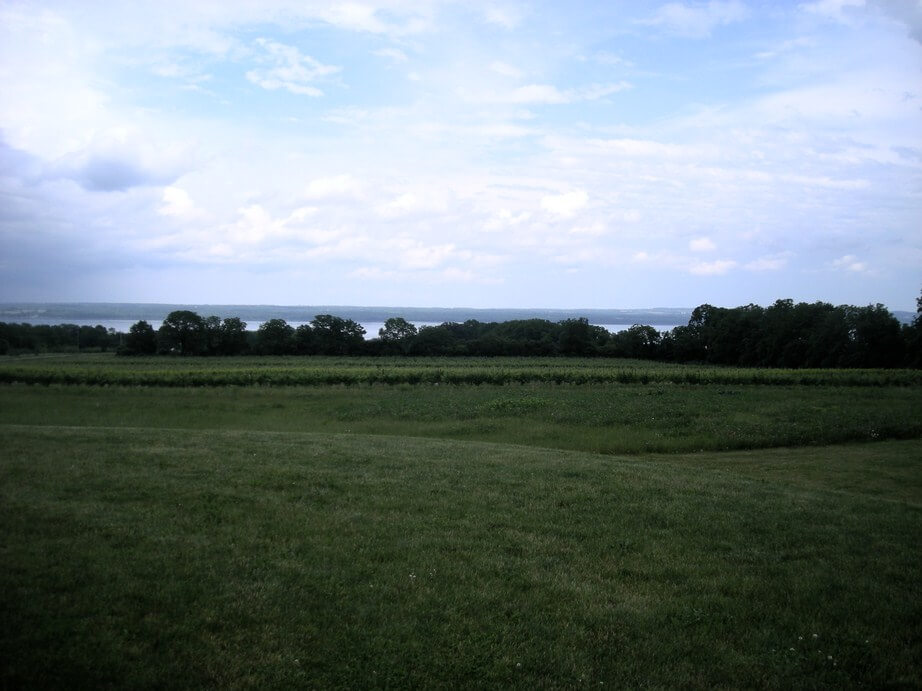 Anthony Road's grounds
Four Chimneys, which opened in 1980, claims to be the first organic winery in North America. It had a much more cozy, less refined atmosphere than the previous wineries.В Its tasting room was set in an old barn that had rough-hewn wooden floors. Two friendly cats strolled around soliciting pets from tasters. (Any place with cute cats wins points with me.) And right after we arrived, a flash thunderstorm blew in, trapping us in the tasting room. Tough life, I know.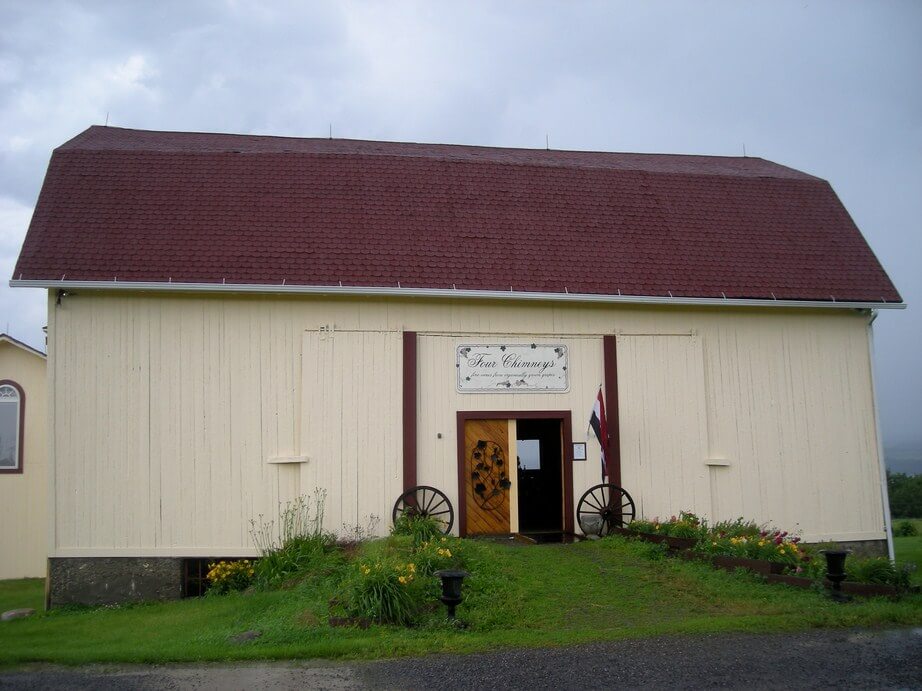 Four Chimneys Organic Winery
A slightly blurry shot of the Four Chimneys cats
We sampled several wines that bore playful names like Eye of the Bee (a grape flavored wine), First Love (a sweet white), and Raspberry Sunrise (a very sweet, fruity wine). I especially like the dry Kingdom Red and First Love.В
After we made our purchases, we saw that the skies had cleared — perfect timing for driving back to the house and heading to the dock.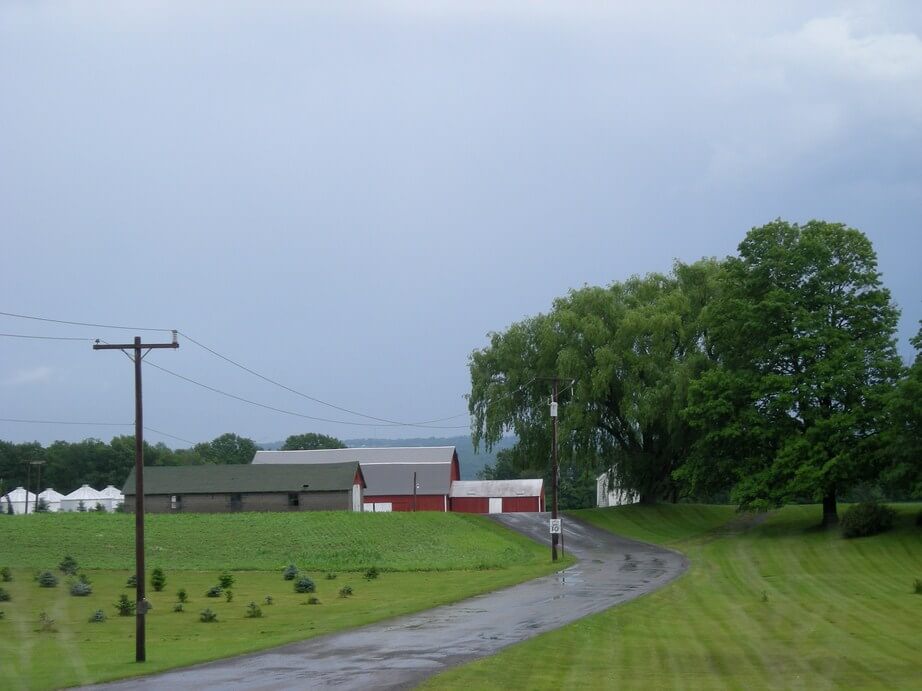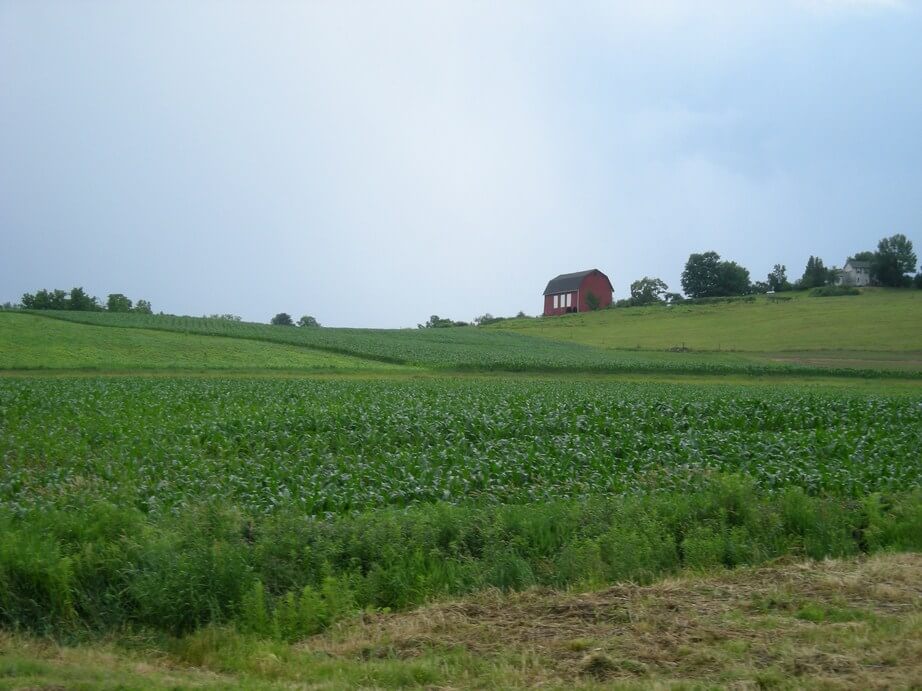 В